Guitarfest Artists
Douglas James
Douglas James has appeared as a classical guitarist throughout the United States as well as in Europe and Latin America. He has been a featured recitalist at such notable venues as Italy's L'Estate Chitarristica sul Lago Maggiore, the Great Lakes Classical Guitar Festival at Oberlin Conservatory, Charleston's Piccolo Spoleto festival, and New York's Carnegie and Merkin Halls. Soundboard magazine has noted his performances to be filled with"...appealing intensity and obvious enthusiasm." The Arizona Daily Star described his Bach as "...warm and ornate," and his Spanish pieces "...downright sexy...". Of another recent engagement, Violao Intercambio (Brazil) wrote: "an impeccable performance, the sound clear and clean with beautiful interpretation from the first to the last piece."
A noted proponent of period instrument performance, Dr. James uses 19th century guitars when playing music of the Classical and Romantic periods. In 1992 he was the top prize winner in the Arturo Toscanini Solo Guitar Competition (Italy) for 19th c. guitar performance. He has twice been awarded a National Endowment for the Arts Solo Recitalist Fellowship, and has received touring grants from Arts International and several state arts commissions. In addition to solo concertizing, he has played in duo with the Italian guitarist Pasquale Rucco since 1995. The Rucco-James Duo is recognized world-wide for their sophisticated interpretations of the 19th c. guitar duo literature. "Thinking to Presti-Lagoya duo, Abreu duo and Assad duo, we think that the inseparable Italian/American pair will be successfully on the same line as this important progeny, becoming their filological equivalent." Musica magazine.
Always an active performer, James' recent concert schedule has included engagements at the Oberlin Conservatory, the Cleveland Institute of Music, numerous American guitar societies, Piccolo Spoleto, and the Stetson International Guitar Workshop. Dr. James has served in the Artists-in-Residence program of the State of North Carolina, and as a touring artist for the Southern Arts Federation and the Arizona Commission on the Arts. He frequently serves as a judge for important guitar competitions, including such events as the Guitar Foundation of America International Solo Guitar Competition and the GOLD Competition at Oberlin Conservatory. As a radio recitalist, James has been featured on National Public Radio's Performance Today, as well as special broadcasts on the major classical stations of Los Angeles, Chicago, and New York.
James' critically acclaimed CD of Italian Romantic solo guitar music was followed by the release of two duo CD's with Italian guitarist Pasquale Rucco, Early Romantic Music for Two Guitars and A Night at the Opera. All discs are on the Cala Vista label. Gitarr och Luta (Sweden) notes that "Douglas James' playing on the record is for my taste totally splendid. His enthusiasm to explore the early guitar repertoire is obvious, and he has an ability to use the old instruments to their full capacity, with all of their timbral possibilities. He plays intensely and sensitively with flow, ease and elegance." Classical Guitar (England) states "Douglas James clearly has a great deal of sympathy for this repertoire and a carefully worked out approach to its interpretation. . . . everything is animated by concern for the life of the music on its own terms and in its own time. This is a welcome addition to the choice of 19th century repertoire played on genuine instruments of the time."
In addition to his work as a classical guitarist, James has in recent years expanded his musical horizons to include his earliest roots playing electric guitar in various contemporary styles, and playing Baroque music on the theorbo. For him there's a strong connection in the almost purely improvisational playing of contemporary electric guitar, and the improvisation involved in realizing continuo in Baroque music. It's all about style, timing and tone!
Douglas James is Professor of Guitar at Appalachian State University's Hayes School of Music. He has served on the Advisory Board and Board of Trustees for the Guitar Foundation of America, and holds a DMA in Guitar Performance from the University of Arizona, where he studied with Thomas Patterson.
Denis Azabagic
Denis Azabagic (Bosnia and Herzegovina), is one of the most compelling classical guitarists on the international concert circuit today. He performs concerts around the globe, maintaining a balance between his solo recitals, chamber music with the Cavatina Duo, and engagements as soloist with orchestras.
Critics are raving:
"The recital by Bosnian guitarist Denis Azabagic, was certainly the finest guitar recital that I have heard in a lifetime of concert-going, and one of the best concerts of any kind I have heard."
NC Arts Journal
"...And once he started playing his guitar he became ageless. One couldn't imagine where the man, the instrument and the music separated, if at all."
Los Angeles Valley Star
"Azabagic's playing is virtually flawless and his technical facility is a joy to see as well as hear; increasingly I hear him mentioned in the same breath as John Williams, and while such comparisons are invidious, this one is not without merit."
Soundboard Magazine, USA
Azabagic's flawless performances have set a standard for the new generation of guitar players. He has won twenty-four prizes in international competitions and Mel Bay has published a book based on his experience and insights on the subject of competitions.
Azabagic has recorded 11 CDs for international labels such as Naxos, Cedille, Opera Tres, Bridge records and Orobroy, as well as two DVDs for the Mel Bay Company. His recordings and live performances are highly praised by music critics, for his elegant approach to music and his unique way of communicating and reaching the audiences' hearts.
As a guest instrumentalist and soloist Azabagic has appeared with the Chicago Symphony Orchestra, Chicago Sinfonietta, Tallahassee Symphony Orchestra, Illinois Symphony Orchestra, Sacramento Chamber Orchestra, Madrid Symphony, Traverse Symphony, Monterrey Symphony, L'Orchestre Royal de Chambre de Mons, among many others. He has also collaborated with the Casals Quartet, Civitas Ensemble and Music Now members in Chicago.
Azabagic has performed at such venues as Chicago's Symphony Center; the Royal Concertgebouw in Amsterdam; Radio France in Paris; Aix-en-Provence Festival; France; El Palau de la Musica in Valencia, Spain; Savannah on Stage; Omni Foundation (San Francisco); Ravinia Festival; National Chang Kai Shek Cultural Center, Taiwan; and the the National Center for the Performing Arts in Beijing, China. Azabagic's performances have been broadcast live on NPR and WFMT radio, and on television in Asia, Europe and the United States.
His repertoire includes solo and orchestral music from the Baroque era to the present. As half of the active Cavatina Duo (with Eugenia Moliner, flute), he has performed a vast repertoire including many works written expressly for the duo.
Azabagic's love for performing extends to sharing with others his knowledge of music making. He frequently offers master classes while on tour, teaches at the University of Illinois and is the head of the guitar department at Roosevelt University in Chicago.
Highlights of his upcoming season include concerts tours in the US Mexico, South Korea, Brazil, Denmark, Germany, Spain, etc. He will appear as a soloist in recitals and with orchestras, and with the Cavatina Duo will release a new CD on Bridge Records.
For more info visit him at:
Denis Azabagic uses D'Addario strings
Corinne Cassini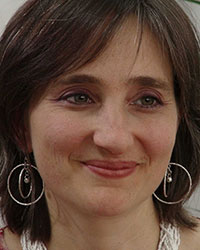 Franco-American cellist Corinne Cassini was born in Cincinnati, OH, and began playing the cello where she grew up in the Loire Valley, France. After graduating with a Bachelors in Music with Paul Katz from Rice University she moved to Freiburg, Germany for graduate studies in cello with Adriana Contino, and viola da gamba with Ekkehart Weber. Once there, her passion for Early Music on period instruments could no longer be contained, leading her to relocate to The Netherlands where she continued her studies. There she continued learning from top experts in the field such as Viola de Hoog, Anner Bylsma, Marc Destrubé, Lucy van Dael, Barthold and Sigiswald Kuijken, Stanley Hogeland and Richard Egar, to name but a few. During her 10 years in Holland, she co-founded several small chamber ensembles (baroque and early classical) which performed around Europe. She was also invited to play with Arte dei Suonatori, with Gerard Lesne and Il Seminario at the Festival de Royaumont and under Christophe Rousset at the Festival d'Ambronay.
Corinne Cassini is equally passionate about the mind-body-soul connection, and thus trained in the Alexander Technique both in Amsterdam and Boston between 2006 and 2012. The spring of 2010 was marked by a move to the East Coast, and a return to her American roots. In 2012, she was appointed to teach the Alexander Technique at the Hayes School of Music at Appalachian State University. As a professional musician, Ms. Corinne Cassini loves to work with other fellow musicians and brings to her AT teaching the merger of her intimate and personal experience of playing an instrument, performance issues, and the physical and mental challenges of the profession.
Since moving to Boone, Corinne has a growing private practice in the Alexander Technique, and regularly performs with the faculty of the Hayes School of Music both on and off campus.
Alan Hirsh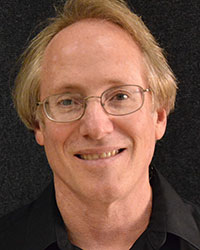 Composer, arranger, guitarist, and music educator, Alan Hirsh began a long-time collaboration with world renown pedagogue, Aaron Shearer back in the 1980's, writing music for the ground-breaking three-volume method series: Learning the Classic Guitar published with Mel Bay. In 2012, along with Thomas Kikta he worked as composer, co-author, and editor of the three-volume Alfred Music publication—The Shearer Method: Classical Guitar Foundations, Classical Guitar Developments, and Learning the Fingerboard, a work representing Shearer's lifetime culmination of thought on how the guitar should be taught.
Alan received his Bachelor's in Composition from the University of Arizona studying with Robert Muczynski and his Masters and Doctorate from the Peabody Conservatory of the Johns Hopkins University studying with Vladimir Ussachevsky and Jean Eichelberger Ivey. He currently resides in North Carolina where he works as Music Director and Fine Arts Department Chair at Bishop McGuinness High School, teaching Beginning Guitar, Honors Guitar Ensemble Orchestra, Chorus, AP Music Theory, and Recording Studio/Composition. Alan also teaches guitar at Wake Forest University, and is the founder and director of the Piedmont Guitar Orchestra. He actively directs festival guitar orchestras around the country, such as the US/Mexico Guitar Orchestra at GFA 2000 and Southwest Guitar Festivals, the Appalachian Guitarfest Orchestra, UNCG Guitarganza Orchestra, and the Long Island Guitar Festival Orchestra. Alan serves as Vice president of the Piedmont Classic Guitar Society and Vice President of Education in the Aaron Shearer Foundation. He remains active as a composer, having written and arranged extensively for orchestra, band, chorus, guitar and guitar ensemble. Alan's most recent guitar commissions include the Harrisdale Concerto for Guitar Orchestra, Violin, Saw, and Solo Guitar, Nunc Dimittis and Lullay Carol for Guitar Orchestra and Choir, and November for Guitar and Pipa (written for virtusoso artist, Liu Fang). Alan's many other guitar works include publications of Twenty Etudes in fixed Positions, New Music for Classic Guitar, Trio Concertino, Holiday, Folk, Sacred, and Renaissance Collections for guitar ensemble, as well as an extensive online catalogue of guitar ensemble music (guitarensemblemusic.com) which reaches to guitarists around the world.
Hazel Ketchum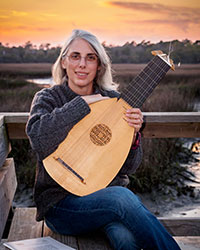 Hazel Ketchum is a singer and instrumentalist of diverse talents. While receiving degrees in Classical Guitar performance from the University of Southern California, Hazel also studied voice and Renaissance lute. Combining these diciplines, Ms. Ketchum began accompanying herself on guitars and lutes, performing the solo and song repertoire from the Renaissance to the present day.
Along with her solo performances, Ms. Ketchum has been a member of several chamber ensembles, most notably the early music ensemble Sonus, whose three CD's on the Dorian label feature Hazel's vocal and instrumental talents. As a member of Sonus, Hazel has performed throughout the United States and at the Tage Alte Musik Festival in Regensberg, Germany. She has also been featured on radio broadcasts both in the US and in Europe.
Hazel is also a composer of songs. Writing her first songs as a teenager, Ms. Ketchum has continued writing and performing her own compositions as a soloist and for her group The Hungry Monks. The Hungry Monks have 3 CDs – Superior Crust, Organic Tangerines and All Through the Night. In addition to the Hungry Monks Hazel plays drums for the blues/gospel trio the Harrows and guitar with the Irish duo banna de dhá. Hazel's music is also the focus of two children's CDs "Big as the World" and "Say Darlin' Say". In 2012 Hazel premiered her first commissioned work "Heloise and Abelard – a masque" a 30 min. piece for Counter Tenor, Alto and instrumental ensemble.
Hazel is in demand as a music teacher and directs music studies for the Cooper School, Meeting Street Academy, Oak Grove Montessori and develops song writing residencies for Engaging Creative Minds. In the summers Hazel teaches with her husband John Holenko for the Mark O'Connor Fiddle Method Camps at Berkley School of Music in Boston and the Method Camp in Charleston, SC. You can also find them teaching music at Green River Preserve in North Carolina where their musical performances and classes combine with outdoor experiences. Hazel is co-founder of Science Songs Rock which brings nature and music programs together for elementary school children and nature fans of all ages.
Hazel lives in Charleston with her family and together they run Hungry Monk Music where students of all ages come to play music, dance and sing.
Hazel Ketchum has performed countless times on Piccolo Spolato over the past 22 years and for the following groups and in the following series: Sonus, Na Fidlieri, The Hungry Monks, Charleston Pro Musica, The Taylor Festival Choir, The Harrows, Donnybrook Legacy, Fretwork and Folk Series, Early Music Series, Blues Series, Festival of Churches, and Contemporary Music Series.
Hazel has given master classes and seminars at Oberlin Conservatory, Appalacian State University, Boone, NC. University of Ohio, Akron. University of Southern California, Mississipi State University, Agnes Scott College, Atlanta. She has also presented seminars on music and movement and composition for the Music for Young Children conferences in Banff and Ottawa, Canada. Hazel with her Science Songs Rock partner Ian Sanchez are regular presenters for the Environmental Education Association of South Carolina.
Andy Page
ASU Jazz Guitar instructor Andy Page maintains an active schedule in the Southeast with a variety of jazz and rock ensembles. He has performed internationally at the Montreux Jazz Festival in Switzerland, Japan's Muroran Jazz Cruise, and for jazz workshops in Friburg, Germany. Andy worked in the cruise ship industry in the South Pacific, Mediterranean and Caribbean seas and also traveled with a nationally touring theatrical production. He has been a featured composer at the Jazz Composers Forum based in Asheville, NC. Andy has performed private engagements for former President Bill Clinton and poet Maya Angelou, and has performed informally with jazz artists such as Tony Monaco, Jamey Aebersold, Matt Wilson, Gary Smulyan, Jack Wilkins, Jon Metzger, and David Baker. A versatile musician, Andy has played with the funk/rock group The Deciders at the 2009 Gathering Of Nations Native American Pow-wow in Albuquerque, NM. Andy has worked as a session player on numerous recordings, and has a released a recording of gypsy waltzes entitled "Souvenirde Django" with the trio Musette Guitars.
Matt Palmer
Guitarist Matt Palmer has appeared as a soloist throughout the United States, Europe, Mexico, Canada, South America, and the Caribbean. A recent recipient of the "Up and Coming Guitarist of the Year" award by Guitar International Magazine, Matt has been described by critics as "a young artist about to make a real dent in the world of classical guitar" (Premier Guitar Magazine), "highly expressive and technically virtuosic" (Modern Guitars Magazine), "a truly accomplished and refined musician" (Cleveland Classical), and "one of the world's best guitar players" (The Royal Gazette). An active performer, winner of numerous guitar competitions, and author of The Virtuoso Guitarist method, Matt Palmer has gained worldwide recognition as a virtuosic and soulful concert artist.
His debut CD, Un tiempo fue Itálica famosa, has been applauded by Guitar International Magazine as "an album of the highest quality…with flawless technique, deep levels of personal expression, and an artistic integrity that seems far too rare these days." Classical Voice of North Carolina proclaims Matt's "positively nuclear" debut displays "stunning precision and unwavering accuracy enclosed in a huge dynamic envelope." In addition, Matt's pioneering guitar method, The Virtuoso Guitarist, has been recognized as a valuable addition to guitar pedagogy, and "indispensable for any advanced guitarist or teacher to include in their library" (Classical Guitar Review).
Matt Palmer holds the Doctor of Musical Arts degree from The University of Arizona, where he studied with Thomas Patterson and Artists-in-Residence David Russell, Sergio Assad, and Odair Assad. In demand as a performer, Matt's recent concert engagements have taken him to venues such as Carnegie Hall, Shakespeare Theatre, The Guitar Foundation of America International Convention, numerous universities, guitar societies, and dozens of international guitar festivals throughout the world. Matt Palmer is a Strings By Mail sponsored artist and plays D'Addario strings.
Alma Sehic
Alma Sehic is currently an adjunct guitar professor at the University of South Carolina, where she earned her Doctor of Musical Arts degree in Guitar Performance.
Alma received her first musical training at the six-year Elementary Music School in Bihac, Bosnia and Herzegovina. After graduating from rigorously academic Srednja Umjetnicka Skola (High School of Music and Arts), her career led her to the United States. She earned her bachelors degree from William Carey College and masters degree from Appalachian State University studying with Miroslav Loncar and Douglas James. During her undergraduate years Alma was the recipient of the "Outstanding Musical Performance" and "Artistic Achievement Award." She was appointed teaching assistant to Douglas James in 2006 along with a music scholarship and was awarded "Diversity Fellowship" from 2007-2008.
While a graduate assistant to Christopher Berg at USC, Alma was recognized for her exceptional teaching abilities in applied lessons, which resulted in an "Honorary Teaching Assistant Award" in 2011. Shortly afterwards, she was nominated for the "USC Outstanding Teaching Assistant Award" by the School of Music.
As a participant in various guitar festivals and competitions Alma received 2nd prize in the solo division at the Alabama Guitar Festival and Competition, and won several 1st prizes in the chamber division at MMTA (Mississippi Music Teacher's Association) Competition, William Carey College In-House Competition and Bosnian National Competition. She has also performed in many master classes for renowned guitarists such as Jason Viaux, Lorenzo Micheli, Ivan Rijos, Lily Afshar, Canadian Guitar Quartet, Ana Vidovic, Iliana Matos, Nuccio D'Angello, Rey Guerra, Zarko Ignjatovic, Jeffrey McFaden, Valery Hartzell, Olga Amelkina-Vera, and others.
Besides her performing career, Alma Sehic is a researcher and educator in the innovative somatic discipline called Body Mapping. Her project "Body Mapping for Guitarists" has been awarded The USC SPARC (Support to Promote Research and Creativity) Fellowship for its potential to provide major contribution to guitar pedagogy and performing practice. As a promoter of Body Mapping, Alma's goal is to educate guitarists about their physical movements, how these affect their artistic interpretations, and how to practice in the most efficient way possible.
Alma is also instructor at the Community Music School at USC, and Hammond School in Columbia, SC.
Gohar Vardanyan
Widely admired for her technique and artistry, Armenian guitarist Gohar Vardanyan has performed throughout the United States for numerous guitar societies, universities, and arts organizations, including the Smithsonian Institution in Washington, DC, Alice Tully Hall at Lincoln Center, and guitar societies in Seattle, San Francisco, Houston, Miami, and New York City to name a few. She has appeared on National Public Radio in the United Stated and Radio Nacional in Argentina. Ms. Vardanyan has performed with the Juilliard Opera Center and as a soloist with the Great Lakes Chamber Orchestra and Panama National Symphony Orchestra. She has also been a guest artist at the "Encuentro Internacional de Guitarra" in Panama and the Hamilton International Guitar Festival in Canada. Guitar International Magazine has described her as "the complete package," "with a musicality and emotional quality . . . that one would expect from someone much older than the young wunderkind. Not only is she able to draw you into her performances with engaging musical interpretations, but she has the technical facility that is required of any concert level guitarist." Her playing has been described as "passionate," "evocative," and "virtuosic."
In addition to her performing career, Ms. Vardanyan is an avid teacher. She frequently teaches master classes and guitar technique workshops on during her concert stops. Ms. Vardanyan is an author of two books from Mel Bay Publications with the third one on the way. She's a frequent writer on Mel Bay's Blog and instructor on Strings by Mail's YouTube Lessonettes, a series of mini video lessons. Ms. Vardanyan began studying the guitar in her native Armenia at the age of five under the careful guidance of her father, Vardan Vardanyan. At the age of eight, she gave her first public performance and also appeared on Armenian National Television. She was the first prize winner in the Armenian National Music Contest "Amadeus" and was accepted into the prestigious group, "New Names," for talented young musicians. She performed in numerous concert venues in Armenia, including Komitas Chamber Music Hall and the Small Philharmonic Hall. She went on to study with Antigoni Goni at the Pre-College Division of the Juilliard School. In 2001, Ms. Vardanyan studied with John Wunsch at the Interlochen Arts Academy. She was awarded the Young Artist's Certificate from Interlochen Center for the Arts and the Harold Randolph Prize in performance from the Peabody Conservatory.
Ms. Vardanyan holds a Master of Music Degree from The Juilliard School where she studied with Sharon Isbin, and a Bachelor of Music degree from the Peabody Conservatory of Music where she studied with Manuel Barrueco. She is also an alumna of the Aspen Music Festival and School.
Gohar Vardanyan is sponsored by Strings by Mail.
Stanley Yates
Stanley Yates enjoys an international career as performer, teacher and scholar. His performances have taken him throughout North America and Europe, as well as to Asia, Australia and South America. His CD recordings and numerous best-selling publications have likewise been the subject of wide critical-acclaim while his articles dealing with various aspects of the classical guitar have been published in nine languages.
The subject of interviews and extended reviews in numerous international magazines and journals, he is also featured in the recent Instrumental Influences: Reflections on the Classical Guitar from the Instrument's Most Influential Performers and the standard reference work The Classical Guitar: Its Evolution, Players and Personalities.
He has been an artistic advisory board member of the Guitar Foundation of America, an editorial board member of the European Guitar Teachers Association, guitar forum editor for the American String Teachers Association, and is Professor of Music at Austin Peay State University, home of Tennessee's Center of Excellence for the Creative Arts.