Guitarfest Artists
Douglas James
Douglas James has appeared as a classical guitarist throughout the United States as well as in Europe and Latin America. He has been a featured recitalist at such notable venues as Italy's L'Estate Chitarristica sul Lago Maggiore, the Great Lakes Classical Guitar Festival at Oberlin Conservatory, Charleston's Piccolo Spoleto festival, and New York's Carnegie and Merkin Halls. Soundboard magazine has noted his performances to be filled with"...appealing intensity and obvious enthusiasm." The Arizona Daily Star described his Bach as "...warm and ornate," and his Spanish pieces "...downright sexy...". Of another recent engagement, Violao Intercambio (Brazil) wrote: "an impeccable performance, the sound clear and clean with beautiful interpretation from the first to the last piece."
A noted proponent of period instrument performance, Dr. James uses 19th century guitars when playing music of the Classical and Romantic periods. In 1992 he was the top prize winner in the Arturo Toscanini Solo Guitar Competition (Italy) for 19th c. guitar performance. He has twice been awarded a National Endowment for the Arts Solo Recitalist Fellowship, and has received touring grants from Arts International and several state arts commissions. In addition to solo concertizing, he has played in duo with the Italian guitarist Pasquale Rucco since 1995. The Rucco-James Duo is recognized world-wide for their sophisticated interpretations of the 19th c. guitar duo literature. "Thinking to Presti-Lagoya duo, Abreu duo and Assad duo, we think that the inseparable Italian/American pair will be successfully on the same line as this important progeny, becoming their filological equivalent." Musica magazine.
Always an active performer, James' recent concert schedule has included engagements at the Oberlin Conservatory, the Cleveland Institute of Music, numerous American guitar societies, Piccolo Spoleto, and the Stetson International Guitar Workshop. Dr. James has served in the Artists-in-Residence program of the State of North Carolina, and as a touring artist for the Southern Arts Federation and the Arizona Commission on the Arts. He frequently serves as a judge for important guitar competitions, including such events as the Guitar Foundation of America International Solo Guitar Competition and the GOLD Competition at Oberlin Conservatory. As a radio recitalist, James has been featured on National Public Radio's Performance Today, as well as special broadcasts on the major classical stations of Los Angeles, Chicago, and New York.
James' critically acclaimed CD of Italian Romantic solo guitar music was followed by the release of two duo CD's with Italian guitarist Pasquale Rucco, Early Romantic Music for Two Guitars and A Night at the Opera. All discs are on the Cala Vista label. Gitarr och Luta (Sweden) notes that "Douglas James' playing on the record is for my taste totally splendid. His enthusiasm to explore the early guitar repertoire is obvious, and he has an ability to use the old instruments to their full capacity, with all of their timbral possibilities. He plays intensely and sensitively with flow, ease and elegance." Classical Guitar (England) states "Douglas James clearly has a great deal of sympathy for this repertoire and a carefully worked out approach to its interpretation. . . . everything is animated by concern for the life of the music on its own terms and in its own time. This is a welcome addition to the choice of 19th century repertoire played on genuine instruments of the time."
In addition to his work as a classical guitarist, James has in recent years expanded his musical horizons to include his earliest roots playing electric guitar in various contemporary styles, and playing Baroque music on the theorbo. For him there's a strong connection in the almost purely improvisational playing of contemporary electric guitar, and the improvisation involved in realizing continuo in Baroque music. It's all about style, timing and tone!
Douglas James is Professor of Guitar at Appalachian State University's Hayes School of Music. He has served on the Advisory Board and Board of Trustees for the Guitar Foundation of America, and holds a DMA in Guitar Performance from the University of Arizona, where he studied with Thomas Patterson.
Stephen Robinson
Acclaimed by The New York Times for his "effortless virtuosity," Stephen Robinson performs extensively and conducts master classes at leading musical institutions and festivals worldwide. He has appeared as guest soloist with orchestras including the Cincinnati Symphony and Boston Pops Orchestras and is an award-winning recording artist. Robinson's many CDs for Clear Note, Centaur, and Lakeside Records have received unanimous critical acclaim from the international publications American Record Guide, Fonoforum, Classical Guitar, Soundboard, Guitar Review, On the Air and Fanfare. The late renowned guitarist Andrés Segovia described him as "a magnificent guitarist, one of the most brilliant guitarists of our times." And of a recent performance, Soundboard Magazine said "Anyone who has not heard Robinson play is missing one of America's great guitarists, a performer of brilliance, elegance, and lyricism." Of his Clear Note CD Felicidade, Steve Marsh of Classical Guitar (UK) Magazine said "Occasionally a CD comes along in the review stack in which the featured performer immediately stands out from amongst the others for their sheer musicality, technical virtuosity and 'listenability' factor – and this new release from North American guitarist Stephen Robinson is such a CD. Everything about this disc smacks of quality: Where the music dictates a delicate touch, Robinson's playing has an almost spiritual intensity which is very moving; equally where the music needs dazzling bravura, this player supplies this commodity in heaps. His deft finger work brushes aside all the immense technical difficulties contained in much of this music."

Stephen Robinson is Professor of Music at Stetson University in Florida, where he is the founding director of the Guitar Program (since 1983). His graduates have excelled in the finest graduate programs of Yale University, The Eastman School of Music, The Peabody Conservatory, Florida State University, and The University of Southern California, among others, and many now hold prominent positions in the professional music world. Of his multi-faceted career, Guitarra Magazine says "Robinson's career as a teacher is well known. He founded and runs the guitar program at Stetson University. At the same time, he has won a bunch of competitions, recorded a score of CDs, and continues touring regularly. What you have with Robinson is a player who has married the two opposite ends of the guitar experience (teaching/performing) by finding a way to express the impetus for both simultaneously. It's a remarkable feat and one to aspire to."
Corinne Cassini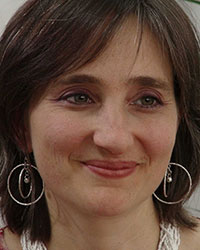 Franco-American cellist Corinne Cassini was born in Cincinnati, OH, and began playing the cello where she grew up in the Loire Valley, France. After graduating with a Bachelors in Music with Paul Katz from Rice University she moved to Freiburg, Germany for graduate studies in cello with Adriana Contino, and viola da gamba with Ekkehart Weber. Once there, her passion for Early Music on period instruments could no longer be contained, leading her to relocate to The Netherlands where she continued her studies. There she continued learning from top experts in the field such as Viola de Hoog, Anner Bylsma, Marc Destrubé, Lucy van Dael, Barthold and Sigiswald Kuijken, Stanley Hogeland and Richard Egar, to name but a few. During her 10 years in Holland, she co-founded several small chamber ensembles (baroque and early classical) which performed around Europe. She was also invited to play with Arte dei Suonatori, with Gerard Lesne and Il Seminario at the Festival de Royaumont and under Christophe Rousset at the Festival d'Ambronay.
Corinne Cassini is equally passionate about the mind-body-soul connection, and thus trained in the Alexander Technique both in Amsterdam and Boston between 2006 and 2012. The spring of 2010 was marked by a move to the East Coast, and a return to her American roots. In 2012, she was appointed to teach the Alexander Technique at the Hayes School of Music at Appalachian State University. As a professional musician, Ms. Corinne Cassini loves to work with other fellow musicians and brings to her AT teaching the merger of her intimate and personal experience of playing an instrument, performance issues, and the physical and mental challenges of the profession.
Since moving to Boone, Corinne has a growing private practice in the Alexander Technique, and regularly performs with the faculty of the Hayes School of Music both on and off campus.
Alan Hirsh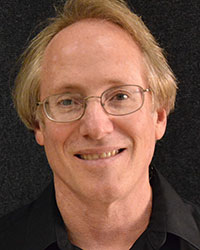 Composer, arranger, guitarist, and music educator, Alan Hirsh began a long-time collaboration with world renown pedagogue, Aaron Shearer back in the 1980's, writing music for the ground-breaking three-volume method series: Learning the Classic Guitar published with Mel Bay. In 2012, along with Thomas Kikta he worked as composer, co-author, and editor of the three-volume Alfred Music publication—The Shearer Method: Classical Guitar Foundations, Classical Guitar Developments, and Learning the Fingerboard, a work representing Shearer's lifetime culmination of thought on how the guitar should be taught.
Alan received his Bachelor's in Composition from the University of Arizona studying with Robert Muczynski and his Masters and Doctorate from the Peabody Conservatory of the Johns Hopkins University studying with Vladimir Ussachevsky and Jean Eichelberger Ivey. He currently resides in North Carolina where he works as Music Director and Fine Arts Department Chair at Bishop McGuinness High School, teaching Beginning Guitar, Honors Guitar Ensemble Orchestra, Chorus, AP Music Theory, and Recording Studio/Composition. Alan also teaches guitar at Wake Forest University, and is the founder and director of the Piedmont Guitar Orchestra. He actively directs festival guitar orchestras around the country, such as the US/Mexico Guitar Orchestra at GFA 2000 and Southwest Guitar Festivals, the Appalachian Guitarfest Orchestra, UNCG Guitarganza Orchestra, and the Long Island Guitar Festival Orchestra. Alan serves as Vice president of the Piedmont Classic Guitar Society and Vice President of Education in the Aaron Shearer Foundation. He remains active as a composer, having written and arranged extensively for orchestra, band, chorus, guitar and guitar ensemble. Alan's most recent guitar commissions include the Harrisdale Concerto for Guitar Orchestra, Violin, Saw, and Solo Guitar, Nunc Dimittis and Lullay Carol for Guitar Orchestra and Choir, and November for Guitar and Pipa (written for virtusoso artist, Liu Fang). Alan's many other guitar works include publications of Twenty Etudes in fixed Positions, New Music for Classic Guitar, Trio Concertino, Holiday, Folk, Sacred, and Renaissance Collections for guitar ensemble, as well as an extensive online catalogue of guitar ensemble music (guitarensemblemusic.com) which reaches to guitarists around the world.
Hazel Ketchum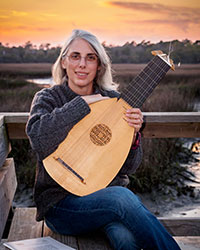 Hazel Ketchum is a singer and instrumentalist of diverse talents. While receiving degrees in Classical Guitar performance from the University of Southern California, Hazel also studied voice and Renaissance lute. Combining these diciplines, Ms. Ketchum began accompanying herself on guitars and lutes, performing the solo and song repertoire from the Renaissance to the present day.
Along with her solo performances, Ms. Ketchum has been a member of several chamber ensembles, most notably the early music ensemble Sonus, whose three CD's on the Dorian label feature Hazel's vocal and instrumental talents. As a member of Sonus, Hazel has performed throughout the United States and at the Tage Alte Musik Festival in Regensberg, Germany. She has also been featured on radio broadcasts both in the US and in Europe.
Hazel is also a composer of songs. Writing her first songs as a teenager, Ms. Ketchum has continued writing and performing her own compositions as a soloist and for her group The Hungry Monks. The Hungry Monks have 3 CDs – Superior Crust, Organic Tangerines and All Through the Night. In addition to the Hungry Monks Hazel plays drums for the blues/gospel trio the Harrows and guitar with the Irish duo banna de dhá. Hazel's music is also the focus of two children's CDs "Big as the World" and "Say Darlin' Say". In 2012 Hazel premiered her first commissioned work "Heloise and Abelard – a masque" a 30 min. piece for Counter Tenor, Alto and instrumental ensemble.
Hazel is in demand as a music teacher and directs music studies for the Cooper School, Meeting Street Academy, Oak Grove Montessori and develops song writing residencies for Engaging Creative Minds. In the summers Hazel teaches with her husband John Holenko for the Mark O'Connor Fiddle Method Camps at Berkley School of Music in Boston and the Method Camp in Charleston, SC. You can also find them teaching music at Green River Preserve in North Carolina where their musical performances and classes combine with outdoor experiences. Hazel is co-founder of Science Songs Rock which brings nature and music programs together for elementary school children and nature fans of all ages.
Hazel lives in Charleston with her family and together they run Hungry Monk Music where students of all ages come to play music, dance and sing.
Hazel Ketchum has performed countless times on Piccolo Spolato over the past 22 years and for the following groups and in the following series: Sonus, Na Fidlieri, The Hungry Monks, Charleston Pro Musica, The Taylor Festival Choir, The Harrows, Donnybrook Legacy, Fretwork and Folk Series, Early Music Series, Blues Series, Festival of Churches, and Contemporary Music Series.
Hazel has given master classes and seminars at Oberlin Conservatory, Appalacian State University, Boone, NC. University of Ohio, Akron. University of Southern California, Mississipi State University, Agnes Scott College, Atlanta. She has also presented seminars on music and movement and composition for the Music for Young Children conferences in Banff and Ottawa, Canada. Hazel with her Science Songs Rock partner Ian Sanchez are regular presenters for the Environmental Education Association of South Carolina.