Guitarfest Artists
Douglas James
Douglas James has appeared as a classical guitarist throughout the United States as well as in Europe and Latin America. He has been a featured recitalist at such notable venues as Italy's L'Estate Chitarristica sul Lago Maggiore, the Great Lakes Classical Guitar Festival at Oberlin Conservatory, Charleston's Piccolo Spoleto festival, and New York's Carnegie and Merkin Halls. Soundboard magazine has noted his performances to be filled with"...appealing intensity and obvious enthusiasm." The Arizona Daily Star described his Bach as "...warm and ornate," and his Spanish pieces "...downright sexy...". Of another recent engagement, Violao Intercambio (Brazil) wrote: "an impeccable performance, the sound clear and clean with beautiful interpretation from the first to the last piece."
A noted proponent of period instrument performance, Dr. James uses 19th century guitars when playing music of the Classical and Romantic periods. In 1992 he was the top prize winner in the Arturo Toscanini Solo Guitar Competition (Italy) for 19th c. guitar performance. He has twice been awarded a National Endowment for the Arts Solo Recitalist Fellowship, and has received touring grants from Arts International and several state arts commissions. In addition to solo concertizing, he has played in duo with the Italian guitarist Pasquale Rucco since 1995. The Rucco-James Duo is recognized world-wide for their sophisticated interpretations of the 19th c. guitar duo literature. "Thinking to Presti-Lagoya duo, Abreu duo and Assad duo, we think that the inseparable Italian/American pair will be successfully on the same line as this important progeny, becoming their filological equivalent." Musica magazine.
Always an active performer, James' recent concert schedule has included engagements at the Oberlin Conservatory, the Cleveland Institute of Music, numerous American guitar societies, Piccolo Spoleto, and the Stetson International Guitar Workshop. Dr. James has served in the Artists-in-Residence program of the State of North Carolina, and as a touring artist for the Southern Arts Federation and the Arizona Commission on the Arts. He frequently serves as a judge for important guitar competitions, including such events as the Guitar Foundation of America International Solo Guitar Competition and the GOLD Competition at Oberlin Conservatory. As a radio recitalist, James has been featured on National Public Radio's Performance Today, as well as special broadcasts on the major classical stations of Los Angeles, Chicago, and New York.
James' critically acclaimed CD of Italian Romantic solo guitar music was followed by the release of two duo CD's with Italian guitarist Pasquale Rucco, Early Romantic Music for Two Guitars and A Night at the Opera. All discs are on the Cala Vista label. Gitarr och Luta (Sweden) notes that "Douglas James' playing on the record is for my taste totally splendid. His enthusiasm to explore the early guitar repertoire is obvious, and he has an ability to use the old instruments to their full capacity, with all of their timbral possibilities. He plays intensely and sensitively with flow, ease and elegance." Classical Guitar (England) states "Douglas James clearly has a great deal of sympathy for this repertoire and a carefully worked out approach to its interpretation. . . . everything is animated by concern for the life of the music on its own terms and in its own time. This is a welcome addition to the choice of 19th century repertoire played on genuine instruments of the time."
Adam Kossler
Dr. Adam Kossler began his musical studies with his father William Kossler and continued his musical training through college with Dr. Elliot Frank receiving his BM degree at East Carolina University. He then earned a MM degree at Appalachian State University as a teaching assistant to Dr. Douglas James. Most recently, he completed a DMA degree at Florida State University where he served as a teaching assistant to Bruce Holzman. As a performer, Adam Kossler has been a top prizewinner in a number of international guitar competitions including the Columbus Guitar Symposium, East Carolina Guitar Competition, MANC international guitar competition, the Texas International Guitar Competition, MTNA, and the Appalachian Guitarfest Competition. Dr. Kossler currently resides in Sterling, VA where he teaches guitar in the Loudoun County School system. He performs regularly as a solo artist, as a member of the NOVA Guitar Quartet, and with the Kossler Guitar Trio alongside his father Bill and brother John.
"Adam is one of the finest players of his generation. His playing is characterized by a virtuoso technique, beautiful sound and a sincere musicality."
-Bruce Holzman
"Adam Kossler is both a spectacularly gifted guitarist and equally gifted musician. His playing is at the same times technically brilliant and subtly refined. In my career as a teacher I have never encountered a more gifted performer."
-Dr. Elliot Frank
"Adam Kossler has been playing guitar almost since birth – he literally cannot remember when he didn't play guitar! He now possesses a virtuoso technique which, combined with his sophisticated musicality and dedication to the art, puts him in the forefront of his generation of guitarists."
-Dr. Douglas James
Aron/Berkner Duo

The AronBerkner Duo has been playing concerts together for over ten years. Their repertoire includes all the flute/guitar masterworks and features several works specially written for them. Their appearances in Italy have led to the establishment of an annual summer chamber music festival there, Suonare in Italia. The duo's first CD, "Tropicale," was released in 2012 on the Clear Note label and welcomed by Soundboard Magazine as "a first rate and thoroughly enjoyable recording."
Jane Berkner is the Interim Flute Professor at the University of Akron where she is performing with the faculty woodwind quintet, Solaris. She has played in the Akron, Ashland, Canton and Youngstown Symphonies, the Ohio Ballet Orchestra, the Botzum Summer Festival Orchestra, and for touring shows at EJ Thomas Hall in Akron, Playhouse Square in Cleveland, and Blossom Center's Porthouse Theater. As a chamber musician, she has performed with the O'Neil Chamber Players, Garth Newel Chamber Players and the Chamber Music Society of Ohio. In 2007 she released a CD with pianist Kim Bakkum, "In Cynthia's Garden", described by Cleveland Classical as "wonderfully charming…and magnificently performed." Together they have performed for the National Flute Association and with Singers Companye at the National Gallery in Washington, DC, as well as Sere Musicale and Corofest Assisi in Italy.
Ms. Berkner has been on the Ohio Touring Artist's Roster since 1992. A frequent clinician, judge and flute choir conductor at regional festivals and classes, she has been invited to perform and present workshops for National Flute Association conventions in Atlanta, Washington DC, Pittsburgh, Charlotte, Chicago and New Orleans. Recognized for her expertise as a flute choir director, she was Coordinator of the National Flute Association's High School Flute Choir from 2001 to 2006, and is currently the Director of a summer Flute Choir Camp for adults at the Interlochen Center for the Arts. Ms. Berkner's major flute teachers include Geoffrey Gilbert, George Pope, Martha Aarons and Jeffrey Khaner.
Described by the New York Times as "cultivated and musical," Stephen Aron has established himself at the center of the American classical guitar scene. Recent activity has taken him across North America and Europe, including appearances in Canada, France, Denmark and Italy and Germany.
An active recording artist, he has released eight cd's, to critical acclaim. Notably, the music Aron has recorded is almost entirely of his own creation, either by arrangement or composition, and includes the complete mazurkas of Chopin, volumes of music of Mendelssohn and Schumann, and new works by both contemporary composers and "lost" works, such as the complete guitar compositions of Walter Burle Marx. Most recently, Aron has turned his attention to composing; his newest solo recording features his own original works. Aron's arrangements and compositions can be found in print in editions by Tuscany/Theodore Presser, Mel Bay and Clear Note Publications.
In addition to his work with the AronBerkner Duo, he performs regularly with JoNell Aron (soprano), the Gabrieli Ensemble (strings) and Poco Tango (a quartet with flute, bass and percussion).
Stephen Aron is Professor of Music and Chairman of Guitar Studies at the University of Akron and Teacher of Classical Guitar and founder of the classical guitar studies program at the Oberlin Conservatory of Music.
www.aronberknerduo.com, www.janeberkner.com, www.stephenaron.net www.playmusicinitaly.com
Texas Guitar Quartet
The Texas Guitar Quartet is Isaac Bustos, Jonathan Dotson, Alejandro Montiel and Joseph Williams II. As soloists, they have garnered acclaim on concert stages around the world and prizes in dozens of international guitar competitions. Together, they bring their unique passions and talents to an ensemble dedicated to presenting chamber music of the highest quality. Recent performances were presented by the New York City Classical Guitar Society, Victoria Bach Festival, Austin Classical Guitar Society, Guitar Houston, Texas Music Festival, Troubadour Series at Wofford College, University of Texas at Brownsville Guitar Ensemble Festival and Competition, and Austin Chamber Music.
The quartet has developed an exciting repertoire by commissioning new works and creating their own arrangements and compositions. Earlier this year, the quartet commissioned Tracks, a major new work by composer Peter Lieuwen. They have also premiered works by Andrew Dickinson, Alfredo Barros, Mark Anthony Cruz, and Joseph Williams II. Their daring arrangements, such as Beethoven's Egmont Overture, offer fresh perspective on works from other repertoires and push the boundaries of the medium.
Their critically acclaimed 2012 debut recording, Red, was featured on the internationally syndicated radio show Classical Guitar Alive.
Reviews of Red:
"This recording marks a tremendous accomplishment for the classical guitar...Their technical mastery, scholarship, passion, and intuitive ensemble playing contribute greatly to the remarkable nature of this recording...the TxGQ perform with virtuosity, clarity, balance, and a refined character which will no doubt help to establish them as one of today's leading guitar quartets."
-Brad Conroy, Guitar International
"There is no frantic rush to impress with velocity but, instead, a unified conception of phrase, motif and articulation that reveals the remarkable structure of the music at all time scales rather than just the athleticism of each player. While their playing is tremendously skillful, there is no sign of strain and effort, just a magnificent unfolding of the music."
- Richard Yates, The Transcribers Art
"The musicality is refined, their tone is rich, full, and pliable to their desires, and the repertoire is multi-faceted and unique unto the quartet...What I enjoy so much about this performance is that the musicians do a wonderful job balancing the interest of each melodic line without becoming convoluted. At anyone time the listener can choose which layer of the music to pay attention to and will find that it is thought-provoking and musical at every level. I love the care and careful shaping that is involved in music like this. Not a single note made it to the paper without proper consideration, and likewise not a single note leaves the hands of the performers without similar scrutiny...I sincerely believe that quality of musicianship can speak beyond genre barriers and any musical predisposition "
- Dave DeDionisio, Those who dig
"This is truly an excellent work, sensitively performed and beautifully recorded, I must confess raising an eyebrow (or two) when first going over the tracklist, but any trepidation on my part was premature: the TxGQ guys know what they are doing, and they manage to pull off every piece on this recording in a musical and convincing manner... As an album, Red is flawless both in terms of the execution of the four players (all accomplished soloists in their own right, yet truly gifted and attuned as an ensemble), as well as in the quality of the production, with its lush, clear, and rich sound. After a debut of this caliber, I am eager to see where they will be going next."
-Giacomo Fiore, classicalguitar.org
Corinne Cassini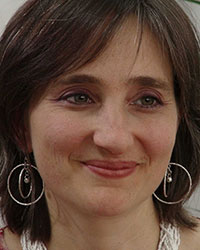 Ms. Corinne Cassini, Alexander Technique teacher and cellist, left her New York City teaching practice to take the position of adjunct professor of the Alexander Technique (AT) at Appalachian State University, Hayes School of Music. As an AT teacher, she is certified by both AmSAT (American Society for the Alexander Technique) and ATI (Alexander Technique International) and is an active member of these professional organizations, taking part in Annual General Meetings and International Congresses.
An Ohio native, Ms. Corinne Cassini lived in France while growing up, and later in Germany and The Netherlands. She completed her three-year AT training in Amsterdam, The Netherlands, while working as a free-lance Baroque cellist, teaching the cello, and also teaching French as a foreign language. She has just completed two years of post graduate work under Tommy Thompson at the Alexander Technique Center at Cambridge, MA. She also holds a BM in performance and pedagogy in both Modern (Rice University) and Baroque cello with a minor in the Viola da Gamba (Utrecht School for the Arts).
As a professional musician, Ms. Corinne Cassini loves to work with other fellow musicians and brings to her AT teaching the merger of her intimate and personal experience of playing an instrument, performance issues, and the physical and mental challenges of the profession.
As a multi-lingual and multi-cultural citizen, she understands people from many different backgrounds and walks of life. To her the AT is also a language, the language of touch, spoken and understood by all regardless of origin, age or race. With her trained hands, she practices the art of communicating directly to someone's being through their body. She strives to elicit the twinkle in students' eyes as they discover, learn and apply something new for themselves.
Ms. Corinne Cassini teaches AT at Cannon Music Camp and looks forward, as she settles down in Boone, to growing a flourishing private AT practice for the community that complements her Appalachian State University teaching.
Dennis Davis
Dennis Davis directs the guitar program at Eastern Kentucky University and has presented numerous regional, national, and international concerts and performances during his career. His recent concert tours in Spain (2011 & 2012) were broadcast on Spanish National Radio and Television. His publications have appeared in Soundboard, The Encyclopedia of Appalachia, and TI:ME. He has presented numerous clinics and workshops at conferences for educators and has received grants from the National Endowment for the Arts and the Kentucky Arts Council. He has performed in masterclasses for Christopher Parkening, David Russell, Eduardo Fernandez, Sharon Isbin, and Oscar Ghiglia, and has received private coaching from David Russell, Manuel Barrueco, Eduardo Fernandez, Scott Tennant, and William Kanengiser. Dr. Davis studied jazz guitar with Scott Henderson and jazz improvisation with Jamey Aebersold and David Baker. Along with his active solo and chamber career, which included performances with the Lexington Guitar Trio, he also performs with The Kentucky Jazz Repertoire Orchestra, The Walnut Street Ragtime Ramblers, and the EKU Faculty Jazz Quartet. Dr. Davis is an Artist Endorsee for Godin Guitars and Luthier Jeroen Hilhorst.