Group Instructors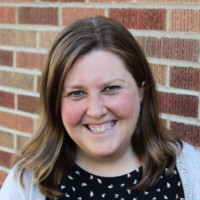 Dr. Meg Stohlmann - Appalachian Youth Chorale Director
Dr. Meg Stohlmann is an Assistant Professor in the Hayes School of Music where she conducts the Appalachian Glee Club, Appalachian Chorale, Appalachian Youth Chorale, teaches and coordinates Class Voice, supervises choral music education practicum and student teachers, along with offering seminars on musical theater and American Black composers. Originally from Santa Rosa, California, Meg taught choir and guitar at the middle and high school level in Lexington, KY for six years and conducted the Danville Children's Choir. Her children's choir and high school advanced women's choirs performed at the Kentucky Music Educators State Conference in 2014 and 2015, respectively. She earned her Doctoral of Musical Arts Degree at the University of Washington and Masters degree in Voice Performance and Choral Conducting from the University of Kentucky. A graduate of the United States Air Force Academy, Meg also served on active duty in the Air Force for 5 years in Arizona, Korea and Germany. She separated from the military in 2004 to pursue a second bachelor's degree in Music Education at Sonoma State University. Meg's lifelong love of choral music began as a charter member of the Santa Rosa Children's Chorus where she sang for over 10 years and credits with her decision to make music education her career.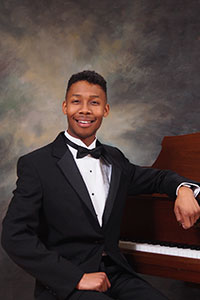 Brandon Winbush - Appalachian Youth Chorale - Assistant Choral Director and Collaborative Pianist
Brandon Winbush is a graduate of Appalachian State University, where he studied piano with Dr. Rodney Reynerson and choral conducting with Dr. Stephen M. Hopkins. A member of both the American Choral Directors' Association and the National Association for Music Educators, Mr. Winbush is frequently invited to serve as a collaborative pianist for various school and honor choirs around the state of North Carolina. In addition to serving as choral director at Watauga High School, Mr. Winbush runs his own private piano studio and is also the principal organist and choirmaster at St. Elizabeth of the Hill Country Catholic Church in Boone.
Taryn Wooten - Appalachian Youth Orchestra
Miss Wooten is currently in her eleveth year of teaching and in her third year as Director of Bands at Watauga High School. Her duties as band director include instructing the WHS Marching Band, Symphonic Band, Concert Band, and Jazz Band. In addition to her band duties, Miss Wooten also teaches a percussion class, AP Music Theory, and co-teaches the WHS Pioneer Symphony.
Miss Wooten graduated Magna cum Laude from the Mariam Cannon Hayes School of Music at Appalachian State University with a Bachelor's Degree in Instrumental Music Education. During her time at the HSOM, Miss Wooten performed in many ensembles, including the ASU Marching Mountaineers, ASU Wind Ensemble, Symphonic, and Concert Bands, Appalachian Symphony Orchestra, the Steely Pan Steel Band, Percussion Ensemble, Mid-East Ensemble, and Horn Choir. While at ASU, she studied percussion with Dr. Shawn Roberts, Dr. Robert Falvo, and Mr. Rick Dilling, studied horn with Dr. Karen Robertson, and studied conducting with Dr. John Ross and Dr. Scott Tobias. In addition to teaching at Watauga High School, she is also a counselor for Cannon Music Camp, a three-week music-filled summer music retreat hosted on the campus of ASU. Her professional affiliations include: the National Association for Music Education, North Carolina Bandmasters Association, North Carolina Association of Educators, and Kappa Kappa Psi, National Honorary Band Fraternity. In her free time, Miss Wooten plays horn with the Watauga Community Band and in her brass quintet (the Blew Ridge Brass), rings with the Boone First Baptist Church handbells group, and enjoys running, cooking, and hanging out with her cat, Idgie.
Will Selle - Appalachian Youth Orchestra
Will Selle is the conductor and orchestra director at Watauga High School, and teaches band and orchestra at Hardin Park Middle School in Boone NC. His work as director of the WHS Orchestras has strengthened the program in numbers and depth, and his ensembles have received numerous superior ratings at state performance adjudication. Selle serves as an adjunct music education professor at Appalachian State University where he teaches stringed instrument methods, string pedagogy, and provides field experience and internship experiences for pre-service teachers. He is also active as a guest conductor and clinician with school and community groups in North Carolina and Tennessee. Selle served as the interim conductor of the Asheville Symphony Youth Orchestra in the spring of 2016, and also led the Appalachian Symphony Orchestra during their 2015-2016 season. In addition to conducting, Selle is a violinist and horn player, and frequently performs with the Western Piedmont Symphony, the Kingsport Symphony of the Mountains, and the Appalachian Philharmonia. Selle is a graduate of UNC-Greensboro, where he received his BM in Instrumental Music Education. Selle also holds a Master's Degree in Instrumental Conducting. He has studied violin with Nancy Bargerstock, John Fadial, Margery Bagley, Paul Statsky, and Dorothy Bennett. Selle has studied conducting with Chung Park, Robert Gutter, Rebecca Macleod, and James Allen Anderson. Mr. Selle loves travelling with his wife Erin, is an avid whitewater kayaker, and also enjoys gardening, welding and instrument repair.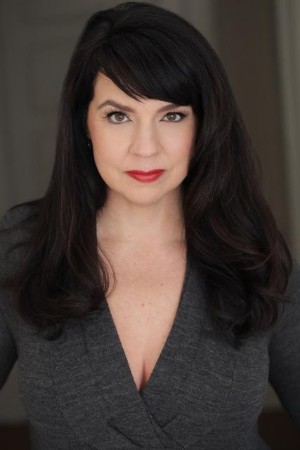 Kelly Kitchens - Appalachian Vocal Academy
Kelly Kitchens is professional director, actor, and arts educator based out of Seattle, Washington. Her honors include: three-time nominated and two-time recipient of the Gregory Fallsfor Outstanding Director; winner of the Broadway World Critics Picks for Best Direction of a Play; two time winner of Seattle Theater Writers award for Best Direction of a Play; Broadway World nominee for Best Direction of a Musical; named Best Director by the Seattle Weekly Readers Poll; named in Seattleinaugural list of "Top 20 Most Talented People in Seattle"; and a nominee for the Seattle Office of Arts & Culture Mayor's Arts Award. Some past projects include: directing Mozart's The Marriage of Figaro and for Kentucky Opera; directing the NYC workshop of Esther, a new dance musical; directing the US Premier of Meek (Denizen Theater, NY); stage directing O+E, a new adaptation of Gluck's Orfeo ed Euridice (Seattle Opera); stage directing The Tender Land (Seattle Opera Academy); directing The Light in the Piazza (Showtunes Theatre Company); directing The Thanksgiving Play, Hand to God (Gregory Award recipient for Outstanding Production), Ironbound (Gregory Award nominee for Outstanding Production), Grounded, On Clover Road, The Other Place, Christmastown (Seattle Public Theater); directing Medea, As You Like It, and The Tempest and performing the roles of Jaques in As You Like It and Kate in The Taming of the Shrew (Seattle Shakespeare Company); directing Pride and Prejudice (THEATERWORKS, Colorado); adapting and directing She's Come Undone (Book-It Repertory Theatre). Some upcoming directing projects include directing the Pulitzer Prize winning Cost of Living for Seattle Public Theater and O+E for Kentucky Opera in collaboration with the Louisville Ballet. Kelly is a Guest Lecturer in acting and directing at the University of Washington, a member of Actor's Equity Association, and a member of The Stage Directors and Choreographers Society. Kelly earned her B.A. from Vanderbilt University and her M.F.A. from the University of Texas at Austin.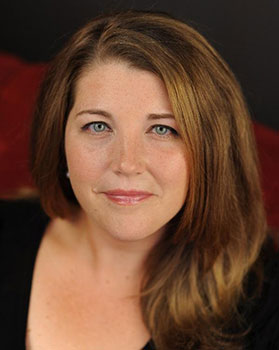 Dr. Nicole Sonbert - Appalachian Vocal Academy
Dr. Nicole Sonbert, Mezzo-Soprano is recognized for work as a performer, clinician, guest presenter, adjudicator, and guest conductor. She has performed roles including Aunt Lou in Still's Highway One, USA, Madame Flora in Menotti's The Medium, Suzuki in Puccini's Madama Butterfly, the Mother in Menotti's The Consul, the ghost mother in Offenbach's Les contes d'Hoffmann, Buttercup in Gilbert and Sullivan's H.M.S. Pinafore, and Bloody Mary in Rodger and Hammerstein's South Pacific. She is also known for her orchestral performances as the alto soloist in Handel's Messiah.
Dr. Sonbert is a graduate of University of Kentucky with a Doctorate of Musical Arts in Vocal Performance. Her research area encompasses Evaluating Appropriate Repertoire for Developing Singers: An African-American Art Song Anthology. Sonbert was previously the Youth & Family Programs Manager for Seattle Opera, as well as a part of the voice faculty at the University of North Carolina at Chapel Hill. She has also taught in several other training programs, with many of her students winning first place awards for NATS and concerto competitions. In 2006, she was the recipient of the "My Teacher, My Hero" award, honoring her as a teacher andfor young voices. Dr. Sonbert is currently the Director of the Community Music School for the Hayes School of Music at Appalachian State University in North Carolina.
Molly Reid - Let's Play Piano!
Molly Reid is a pianist from Cary, North Carolina. An experienced and enthusiastic piano teacher since 2013,she has served on the piano faculties of Appalachian's Community Music School and the Cary School of Music. She is passionate about piano pedagogy and enjoys teaching students of all ages and levels. She aims to provide her students with a well-rounded foundation in piano while fostering a love for music that lasts a lifetime. Her lessons delve into piano technique, music theory, ear training, sight reading, improvisation, active listening, musical confidence, and fun! In addition to being a committed educator, Molly is a versatile performer. In 2019-2020, she won First Prize in both the State (NC) and Division (Southern) rounds of the MTNA Young Artist Piano Competition, advancing with only six other pianists in the U.S. to the National final round. Other competition awards include First Prize in ASU's Concerto-Aria Competition, and Third Prize and the Audience Choice Award in the Rosen-Schaffel Young Artist Competition. Molly has enjoyed diverse collaborations as a chamber musician, instrumental and vocal accompanist, and orchestral keyboardist. In May 2020, she earned a Master's degree in Piano Performance from Appalachian State University. Molly also holds a Master's degree in Music Theory from University of Cincinnati's College-Conservatory of Music and a Bachelor's degree in Piano Performance from Appalachian State University. Outside of music, Molly enjoys practicing yoga, hiking, and spending time with her sweet cats Franz and Juniper!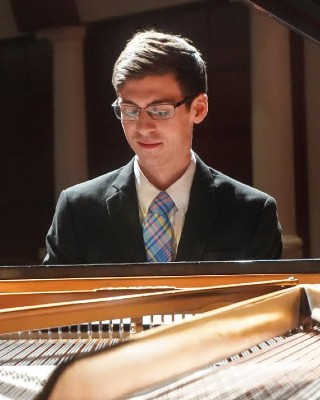 Tyler Dellaperute - Let's Play Piano!
Tyler Dellaperute is pursuing a MM in Piano Performance and a Certificate in Music Theory Pedagogy at Appalachian State University.
His special interests include historical improvisation and using improvisation to teach music theory. In his free time, Tyler enjoys jazz, biking, and homemade Italian cooking. He also tunes pianos for a bargain price, so feel free to contact him if you ever need your piano tuned.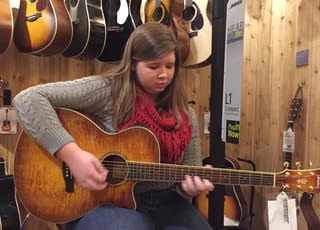 Jenna Kyber - Let's Play Piano/Guitar/Ukulele
Jenna Kyber, from Greenville, SC, is a second-year graduate student pursuing her Equivalency and Master's Degree in MusicTherapy. She graduated with her BA in Music from Winthrop University in 2019, where she studied jazz guitar, completed a secondary study in piano, and minored in business administration. Combining her guitar and music therapy backgrounds, Jenna travelled in 2020 to present a Jazz Guitar seminar at the Southeastern Region American Music Therapy Association annual conference. Before coming to App State and turning her focus to music therapy, she performed with Winthrop's Jazz Guitar Ensemble, the Winthrop Chorale, and accompanied many student recitals. She even travelled with the Chorale to perform in Carnegie Hall in 2019. In her free time she was an active officer of Winthrop's chapter of Sigma Alpha Iota. Jenna has taught music lessons since 2014, and has training in percussion and ukulele in addition to her Winthrop guitar and piano studies.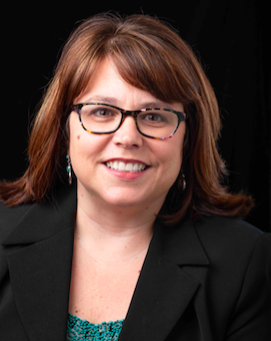 Dr. Jennifer Snodgrass, Program Consultant for Hit Maker!
Jennifer Sterling Snodgrass is professor of music theory in the Hayes School of Music at Appalachian State University, teaching both undergraduate and graduate courses in music theory, aural skills, songwriting, and pedagogy. Dr. Snodgrass received a B.M. in vocal performance from Meredith College a M.M. in music theory from the University of Tennessee. and a Ph.D. from the University of Maryland in music theory.
Snodgrass has written several textbooks about music theory, contemporary music, and music theory pedagogy, including Contemporary Musicianship: Analysis and
the Artist (Oxford University Press, 2015, 2020), Teaching Music Theory: New Voices and Approaches. (Oxford
University Press, 2020) and Fundamentals of Music (Pearson 2019).
Snodgrass has received numerous awards in relation to excellence in undergraduate education, including the UNC Board of Governors Excellence in Teaching Award, the Plemmons Leadership Medallion, the Outstanding Professor Award from the Appalachian Student
Government Association, the Hayes School of Music Outstanding Teaching Award, and the College Music Society Innovations in Technology and Teaching Award. In 2016, Snodgrass was Faculty of Distinction at Appalachian State and in 2017 was named an official quarter finalist for the Grammy Foundation Music Educator Award.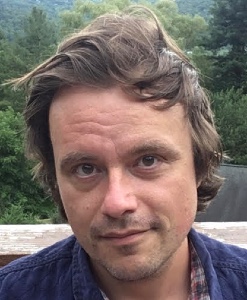 David Harris - Hit Maker!
David Barton Harris is a composer, singer and songwriter on his way to becoming a professor. He earned his bachelor's degree from theUniversity of North Carolina at ChapelHill and is currently finishing his masters at Appalachian State. He has written a number of choral pieces, a string quartet and he has an album of original songs called Banks of the Watauga (2016) which is available on Spotify and iTunes. David taught improv and sketch comedy in Los Angeles for 8 years, where he honed his fun and personable teaching style.www.davidthecomposer.com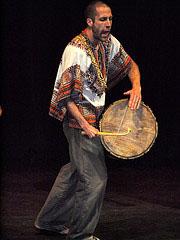 Dr. Shawn Roberts - Let's Play Drums!
Shawn M Roberts has been an adjunct instructor in the Hayes School of Music since 2005, currently serving as lecturer of Analyzing Styleand Form in the General Humanities/Education area. He received his Doctorate of Musical Arts from West Virginia University where he focused on non-Western percussion while maintaining performance in Western traditions. He holds an MM in Percussion Performance and a BM in Music Education, both from Appalachian State University.
Dr. Roberts is an active and eclectic performer, serving as Principal Percussionist with the American Prize winning Western Piedmont Symphony, providing accompaniment for the Appalachian State Dance Department, and percussionist with da Capo Brass. Notable performances include the Millennium Stage at the Kennedy Center in Washington, D.C., the Lotus Blossom World Music and Arts Festival in Bloomington, Indiana, and Director of the West Virginia University Steel Band during the induction of Ellie Mannette into the Percussive Arts Hall of Fame. Dr. Roberts founded World Wide Productions in 2005, overseeing various musical and artistic endeavors, including Eya! Afrolachian Drum and Dance Troupe performing and teaching traditional music and dance from a variety of countries across the African continent, the Caribbean and Middle-East.
In addition to performance, Dr. Roberts is passionate about community programs. He conducts numerous workshops in schools both public and private, has served as a scholar and coordinator for Mapping the Beat, a program under the aegis of Arts Bridge America and funded by National Geographic, partnered with the Western Youth Network in creating music programs for underprivileged youth, and is a regular instructor for the Duke University Talent Identification Program (TIP) serving academically gifted children across North Carolina.
Tanner McAteer - Let's Play Ukulele/Guitar!
My name is Tanner McAteer and I am a second year classical guitar performance graduate student and assistant to Dr. Douglas James at Appalachian State University. Hailing from Fayetteville, North Carolina, where I gained experience as a self taught guitarist playing in several local bands of varying genres. I received my undergrad degree in general music from UNCW in May 2020, and have taught private guitar lessons for over ten years in the blues, rock, and more recently the classical style. As a teacher, I believe in meeting students where they are at, whether that be as a beginner or an intermediate player, and finding out what skills they would like to develop and how to best achieve their personal goals as musicians.
Julie Goforth - Let's Play Piano!
Julie Goforth is a graduate of Appalachian State University, where she studied piano performance with Dr. Rodyney Reynerson and cello performance with Dr. Kenneth Lurie. She was principle cellist in the Appalachian Symphony Orchestra and the Appalachian String Orchestra, and also performed with the Cello Quartet. She was a winner of the Concerto-Aria competition, and was also an accompanist for numerous music students during her years at ASU. After marrying her college sweetheart, she spent the next 20 years playing cello and piano in their church orchestras and worship bands in Fort Worth, TX and Macon, GA, as well as leading children's choirs, kids worship teams, and directing children's choir musicals. When their family moved to Anchorage, AK she began teaching private piano and cello lessons, as well as playing cello with the Anchorage Symphony Orchestra. After 9 years in Alaska, she has recently moved back to Boone with her husband. Their three children are in college and graduate school in Portland, OR; Honolulu, HI and at App State. In her free time, Julie enjoys hiking with her husband, reading, baking, and taking walks with their dog.
Dwight McGlynn - Let's Play Ukulele! (HUB Station)
Dwight McGlynn received a music education degree from Liberty University, with a concentration in classical guitar. His interests, beyond classical guitar performance, include songwriting under his project Trouvére, and performing guitar and bass for various rock, and americana groups around the Western North Carolina region. Currently, Dwight McGlynn teaches music for Caldwell County Schools at Baton Elementary. McGlynn strives to assist each student in finding their connection with music, and believes the greatest way to learn is through playing.
Chris Mayhew - Community Drumming (HUB Station)
Chris Mayhew is a Graduate Student pursuing a Masters of Music degree in Percussion Performance at the Hayes School of Music at Appalachian State University. He is currently the Marching Percussion Instructor at Lenoir-Rhyne University and a former Band Director at Lincolnton Middle School where he spent 5 years. Chris was a December 2015 graduate from the Hayes School of Music with a Bachelor degree in Percussion Performance and in Music Education. He is a 2011 NC Teaching Fellow and has received other honors during his undergraduate career including: The Carl Anderson Jr. Memorial Music Scholarship, Hayes School of Music Student Teaching Scholarship, and Undergraduate Student Speaker for the December 2015 Graduation. Chris was also a winner of the 2015 NC Day of Percussion Competition and was invited to return as a Discussion Panelist for the 2019 NC Day of Percussion.