Evan Adair, voice
Experience:
Adjunct Faculty, Wilkes Community College
Recitalist, ASU Quintessential! ensemble
Voice Teaching Artist, ASU-CMS
Education:
BM, UNC-Chapel Hill
MM, Appalachian State University
Evan Adair is a Master's Graduate in Vocal Performance who studied under the direction of Dr. Joseph Amaya at Appalachian State University. He completed his Bachelors of Music in Vocal Performance at the University of North Carolina at Chapel Hill. Originally from Raleigh, NC, Evan's performance career has taken off with productions in Canada, Italy, Germany and throughout the east coast of th U.S. as a recitalist. Recent roles include Uberto in Pergolesi's La Serva Padrona, the title role in Puccini's Gianni Schicchi, Frank Murrant in the Weill's American opera Street Scene, Kecal in Appalachian's 2016 production of Smetana's The Bartered Bride, and Papageno in their 2017 production of Mozart's Die Zauberflöte. Since 2017 he has worked with the music programs of Wilkes Community College, Caldwell Community College, and the Community Music School while preparing to audition for the Doctor of Musical Arts degree.
Evan believes that progress in the studio occurs as students learn to enjoy the distinct qualities of their own voice, and as such he teaches students to perfect what they already know through the re-introduction of concepts such as the importance of posture, breathing, and goal-oriented practice as they relate to vocal production. In his spare time Evan enjoys documentaries, Contra and Swing dancing, and working with the Rumple Memorial Presbyterian Church in Blowing Rock.
Allison Bishop, piano
Pianist Allison Bishop received a bachelor's degree in piano performance from the University of North Carolina at Greensboro, where she studied with Dr. Joseph DiPiazza, Dr. Andrew Willis, and Dr. Inara Zandmane. After graduating, Allison moved to Asheville to teach piano full-time as well as pursue other musical performance opportunities. Allison has recently completed a Master's Degree in piano performance at Appalachian State University, studying with both Dr. Bair Shagdaron and Dr. Rodney Reynerson. Allison made it to the final round in the school's Concerto-Aria competition during the fall semester and was a finalist in the 2018 Rosen-Schaffel Competition.
Experience:
Instructor, CMS
Accompanist, Appalachian State University
Accompanist, BUUF
Instructor, Piano Lab, Asheville, NC
Education:
BM in Piano Performance, UNC-Greensboro
MM in Piano Performance, Appalachian State University
Teaching Philosophy:
As an instructor of piano, my aim is to encourage each student to grow at their own pace and with their own goals ahead of them. I believe in establishing a solid musical foundation for each student, but also in allowing there to be room to explore and create without added pressure. I closely collaborate with my students in the process of discovering the music that is already inside of them, and love watching them learn without even realizing it!"
Diane Bonds, cello
Experience:
25 years
Instructor, Parker Music Academy, Houston, TX
Adjunct Professor, Greensboro College
Currently: Cello Instructor, Music Academy of North Carolina; Cello Teaching Artist, ASU-CMS
Education:
BM, UNC-Chapel Hill
MM, University of Texas, Austin
Specialized Certification:
Suzuki Teacher Training, University of Houston
All Level Music Certification, University of Houston
Achievements:
Students twice invited to perform at Suzuki Association of America Conferences
Former students attending major music schools such as Juilliard and Curtis Institute
Diane Bonds, cello faculty, comes to the Community Music School with extensive teacher training and many years of teaching and performing experience. After receiving a BM from UNC-Chapel Hill and MM from the University of Texas at Austin, she completed All-Level Music Certification at the University of Houston and Suzuki Cello training from teachers across the country. One of the highlights was participating in 1999 at the International Suzuki Teachers Conference in Matsumoto, Japan. Up until 2005, most of Diane's teaching was centered in Houston, TX. She taught for over 20 years at Parker Music Academy, a music magnet school, building the program from just a few to over 55 cello students. During that time her students were honored with the invitation to perform in both 1996 and 1998 for the National Suzuki Teachers Conference in Chicago. Former students have gone on to major music schools and conservatories including Curtis Institute and the Juilliard School, one student being a top prize winner in the 2001 Rostropovich Competition and the XII Tchaikovsky Competition in 2002. Returning to Greensboro in 2005, Diane first held an adjunct position at Greensboro College and now continues as teaching artist for the Community Music School at Appalachian Sate University. When not teaching in Texas or here in Greensboro, she freelances having performed in such orchestras as the Austin and Galveston Symphonies, Opera in the Heights in Houston, Opera Roanoke and Roanoke Symphony and the Greensboro Symphony.
Faith Church, violin and piano
My name is Faith Church, and I have been playing the violin since I was 9. My first teacher was my older sister Kate. Over the years, I have studied under Nan Drum, and Dr. Nancy Bargerstock, Professor of Violin at Appalachian State University. In May 2019, I graduated with a Bachelor of Music in Violin Performance from the Hayes School of Music at Appalachian State University.
I have been playing weddings as a solo violinist for a number of years, and have also helped organize duos, trios, and quartets for weddings, church performances, and other gigs. I've been teaching violin and piano lessons for seven years, and also teach music theory and music history. It is exciting to pass along the love of music to young people, and to impress upon them the techniques I've learned from my instructors, especially Dr. Nancy Bargerstock.
I grew up in Valle Crucis, NC, and lived there for most of my life. My husband Isaac and I married in December 2018, and we now live in Boone, NC. In our free time, we enjoy cooking together, walking on the greenway, hiking, spending time with family, playing soccer, and watching movies.
Teaching Philosophy:
I began playing the piano at the age of eight and the violin at the age of nine. As long as I can remember, I have loved making music. My grandmother imparted the love of music to me, and I now have the privilege of passing it on to others. I enjoy helping people develop their sound through intricate bowing and fingering techniques. Music is much more than notes on a page; rather, it is a means to develop listening, technical, and musical skills, and to build fine motor skills. My desire is to teach my students to spread their love of music and bless others with their talents and knowledge.
Bryan Culler, flute
Bryan Culler is a senior Instrumental Music Education and Flute Performance double major at ASU. He currently studies flute with Dr. Nancy Schneeloch-Bingham. He has performed in masterclasses for flutists Göran Marcusson and SFC Robert Aughtry of the United States Army Band "Pershing's Own" Woodwind Quintet and has also studied clarinet with Dr. Andrea Cheeseman and has a passion for woodwind instruments.
Bryan is a very involved performer and loves to play with others. He has performed as a flutist with the ASU Concert Band, Community Band, Symphony Band, Wind Ensemble, and Symphony Orchestra. Bryan has served as a Piccolo Section leader for the Marching Mountaineers and as Woodwind Caption Head For Appalachian's student led Video Game Ensemble. He has also performed in various chamber groups ranging from flute quartets to woodwind quintets and has received chamber coaching from Dr. Nancy Schneeloch-Bingham, Dr. Alicia Chapman, and Dr. John Ross. In 2018, Bryan placed as a finalist in the Hayes School of Music Concerto-Aria Competition.
In addition to the modern concert flute, Bryan also has experience studying Baroque flute under Nancy Schneeloch-Bingham and has played Baroque flute in Appalachian's Collegium Musicum. In the summer of 2019, he studied abroad in Ireland as a Irish traditional flute and penny whistle player at University College Cork under Oisin Morrison and Mary Mitchell Ingoldsby.
As a teacher, Bryan strives to instill in his students a sense of confidence and freedom through flute playing. He believes the most important aspect of flute playing is the player's ability to create a warm, resonant sound as it translates to both more efficient and more fun playing in every other technical area.
Outside of music, Bryan loves running, pets, playing video games and listening to podcasts.
Lisl Kuutti Doughton, cello
Teaching Philosophy:
Coming from a family of a dozen music educators and more musicians besides, Lisl grew up loving classical music and the community it fosters. She encourages students of all levels to play chamber music with their friends and learn to listen deeply. Lisl is also a professional artist and has done research on the creative process in art and music.
Lisl believes that everyone has something to express through music, and that the goal of study and practice is to develop that "voice" until the student can speak their mind through their playing. In addition to teaching cello technique, she incorporates music theory and music history appropriate to the student's level and age, giving them tools for understanding music that will last them a lifetime.
Education:
M.M. in Cello Performance, Appalachian State University, Boone, NC
B.A. in Art and Music, cum laude, Furman University, Greenville, SC
Experience:
Cello Instructor, ASU Community Music School
Principal Cellist, Appalachian Symphony Orchestra
Substitute Cellist, Western Piedmont Symphony, Hickory, NC
Section Cellist, Orchestra Yura, Osaka, Japan
Hayes Graduate String Ensemble, Appalachian State University
Solo recital at Sugawara Lifelong Learning Center, Hirakata, Osaka, Japan
Soloist in Edward Elgar Cello Concerto, DeKalb Youth Symphony, Atlanta, GA
Professional Affiliations:
Member, American String Teachers' Association
Member, College Music Society
Madeline Hamrick, voice
Soprano, Madeline Hamrick holds a Master of Music in Vocal Performance from the University of Tennessee and a Bachelor of Music in Vocal Performance from Appalachian State University. She has performed operatic roles such as Pamina in Mozart's Die Zauberflöte, Micaela in Bizet's Carmen, Arminda in Mozart's La finta giardiniera, Ludmilla in Smetana's The Bartered Bride, and Marcellina in Mozart's Le Nozze di Figaro. In 2018, Madeline attended the American Institute of Musical Studies in Graz, Austria where she sang in excerpts from Puccini's La Bohéme in the role of Mimì with the AIMS Festival Orchestra.
While attending the University of Tennessee and working as a Graduate Teaching Assistant, Madeline developed a passion for teaching voice. She believes that a pedagogical approach to vocal technique, a deep understanding of the text, attention to musical details, and freedom of self-expression is what enables singers to create beautiful art and to communicate with audiences in a meaningful way. Madeline's students are guided in a unique way that is specific to their individual needs and goals, regardless of experience level or age.
A current resident of Winston-Salem, Madeline enjoys hiking, dancing, and spending time with her cat, Ellie.

Michelle Jaluvka, clarinet
Michelle Jaluvka is a Senior at Appalachian State University majoring in Clarinet Performance. She loves to play in both orchestra and band ensembles as well as various chamber groups. While she is majoring in performance, she has always had a passion for education and loves any opportunity to teach! She is a member of the Appalachian Honors College as well as Sigma Alpha Iota, an international music fraternity. Outside of music, she loves hiking and visiting her six pets at home (3 cats and 3 dogs!).
Philosophy: I believe that music and quality education should be accessible for every student regardless of individual circumstances and strive to make each student comfortable. The success of the individual is the primary goal of my teaching, and education should always be centered around what helps the individual student thrive.
Nicholas Lipsette, trumpet
Mr Lipsette is a Junior at Appalachian State University studying music performance under Dr James Stokes. He has also studied under Dr Sheryl Linch-Parker from Georgia College for most of his music career.
Mr Lipsette has performed across the United States performing in New York on The Today Show as well as the Macy's Thanksgiving Day Parade. He has traveled the world playing both Classical and Jazz music including tours in London, Italy, Germany, Austria, and Sweden as well as many other countries.
When teaching, Mr Lipsette's number one goal for a lesson is for the student to have the knowledge on how to fix their own problems. This is a similar philosophy to William Adam, a past trumpet professor from Indiana University. Mr Lipsette tries his best to give his students the resources they need to improve themselves without the need for a teacher.
In his spare time, Mr Lipsette enjoys playing sports games with his friends. He also loves to listen to music on long road trips.
Zack Litty, trombone
Zack Litty is currently a senior bass trombone performance major at Appalachian State University. He is a member of the Appalachian Symphony Orchestra, Jazz Ensemble I, Appalachian Trombone Choir, and the Appalachian State University Video Game Ensemble. He has also been a member of the Appalachian Wind Ensemble, Jazz Ensemble II, and the Appalachian Symphony Band. He has performed solo literature accompanied by the Appalachian Wind Ensemble, Appalachian Trombone Choir, and Jazz Ensemble II. Zack was the winner of the 2019 Appalachian University Wind Ensemble Concerto Competition. He has experience on both tenor and bass trombone.
Zack strongly believes in making music fun and accessible for everyone. He strives to make each individual he works with a better musician in thoughtful, entertaining, and engaging ways that works with each student's needs and goals. Outside of music, Zack enjoys amateur cooking, playing video games with friends, and drawing.
Benjamin Nistor, piano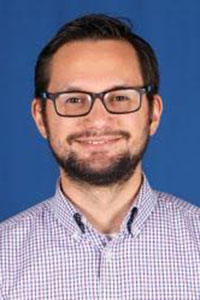 Benjamin Nistor is a pianist and teacher with over 10 years of teaching experience. Ben received his Bachelor of Arts degree in Piano from Wheaton College, IL, and studied with Dr. Sunghoon Mo during that time. Ben has played and performed in many ensemble and orchestral groups, including multiple chamber groups and the Wheaton College Concert Choir.
Over the past 10 years, Ben has taught students of all ages learn music, achieve their musical goals, and enjoy the process! Ben has significant teaching experience in both private and group lessons. He taught private piano lessons for several years to students grades 1-12 at Sheridan Hills Christian School (SHCS), FL, as well as led high school choir. For the past 5 years before moving to Boone, Ben led as a Music/Worship Pastor at Sheridan Hills Church in Florida. He planned the music for each Sunday service, led rehearsals each week for musicians, and played in and led the worship band each Sunday.
Ben's teaching philosophy is to help students become comfortable on the piano and have fun playing, as well as to teach a well-rounded musical curriculum including music theory, technique, improvisation, ear training, and a varied repertoire of music. Ben personalizes instruction for each student so they can excel on their instrument and learn to love and enjoy music in the process!
In his free time, Ben is working on his Master's degree and also enjoys spending time with his wife and two young kids, reading, and woodworking.
Esther Nistor, piano and violin
Esther Nistor is a pianist and violinist who finds joy teaching both piano and violin to students of all ages and levels. Esther received her Bachelor of Music degree in Piano Performance from Wheaton College, IL, and is an experienced performer and teacher. Esther has played and performed in many ensemble and orchestral groups, including the University of MN Symphony Orchestra, the Wheaton College Symphony Orchestra, the Wheaton College Concert Choir, and multiple chamber groups.
Over the past 10 years, Esther has taught students from age 3-adults to learn their instrument, achieve their musical goals, and to have lots of fun in the process. She has taught privately, as well as at schools such as MacPhail School of Music-Minneapolis, the Community School of Music at University of Northwestern-St Paul, and Sheridan Hills Christian School-FL.
In both private and group lessons, Esther helps students to play comfortably on their instrument and teaches a well-rounded musical curriculum including music theory, technique, improvisation, ear training, and a varied repertoire of music. Esther's goal in teaching is to personalize instruction to each student so they can excel on their instrument and learn to love and enjoy music in the process! With younger students, Esther collaborates closely with parents to understand their goals for their child, as well as to give them the information and tools they need to help their child succeed in their home practice.
In her free time, Esther enjoys hiking and exploring the area with her husband and two sweet kiddos, discovering unique coffee shops, and baking.
Kelsey Parsons, saxophone
Kelsey Parsons is a Senior at ASU, and is pursuing a degree in Instrumental Music Education, enhanced by a Certificate of Recognition in Saxophone Performance. She studies the tenor, alto, and baritone saxophones with Dr. Scott Kallestad.
Kelsey has performed with many of the university's ensembles, including the Appalachian Wind Ensemble, Jazz Ensemble I, the Appalachian Symphony Orchestra, the ASU Saxophone Choir, and saxophone quartet and trios. In addition to performing, Ms. Parsons serves as the conductor of the Appalachian Video Game Ensemble, a student-run concert band dedicated to the performance and promotion of the music of video games. Prior to accepting the conducting position, she served as the ensemble's librarian.
As a teacher, Kelsey believes anybody and everybody who is interested in learning an instrument and making music should have the opportunity to do so. Student learning should be nurtured in creative, fun, and thought-provoking ways in order to instill a lifelong passion in each and every student. As a teacher, Kelsey hopes to help develop confidence, curiosity, and open-mindedness in all of her students.
Kelsey Philbrick, violin
Violinist Kelsey Philbrick currently resides in Greensboro, NC and maintains an active teaching and performing career. Kelsey began learning the violin through the Suzuki Method at the age of eight. She continued her studies in solo, chamber, and orchestral music through the Duke University String School. Kelsey went on to receive a Bachelor's degree in violin performance from UNC-Greensboro, where she studied with Dr. Fabián López. Kelsey then taught private violin lessons in Chapel Hill for a year while preparing for graduate school auditions. She attended Appalachian State University for her Master's in violin performance, receiving instruction from Dr. Nancy Bargerstock and playing as a graduate assistant in the Hayes Graduate String Quartet. After graduating, Kelsey accepted a contract to start teaching violin as an Adjunct Professor at ASU. Kelsey also maintains an active symphony performance schedule, playing as Assistant Concertmaster with the Western Piedmont Symphony and first violinist with the Symphony of the Mountains, among others.
Experience:
Adjunct Professor of Violin, ASU
Violin Teaching Artist, ASU-CMS
Violin Instructor, Chapel Hill School of Musical Arts
Education:
BM, UNC-Greensboro
MM, ASU
Teaching Philosophy:
I greatly enjoy being able to see the growth of each student over time as they practice, play for me in their lessons, and perform. I try to find what each student needs in order to help them understand concepts, and I strive to provide various scales, exercises, and music reading tools to help with their technical progress. In addition to guiding them with solo music, I also enjoy assisting my students with orchestral music and with preparing to participate in various outside events. I believe that practicing not only increases your musical capabilities, but also strengthens your abilities to learn and grow in other areas.
Brad Poe, guitar
Brad Poe is a Guitarist and Educator living in the Boone area. He has over a decade of experience teaching students of all ages. He is well versed in a myriad of different genres, music theory and, pedagogy. After teaching as guitar as an adjunct at Middle Tennessee State University, he decided to get his masters at App state. He completed his Masters of Music in the spring of 2018 and stayed in Boone to train in the Alexander Technique. He is a strong believer in teaching through kindness and catering to the student's desired outcomes.
Molly Reid, piano
Molly Reid is a pianist from Cary, North Carolina. She is pursuing the MM in Piano Performance at Appalachian State University, where she is a Chancellor's Fellow. After graduating from Appalachian with her BM in Piano Performance (summa cum laude, University Honors), she attended the University of Cincinnati College-Conservatory of Music (CCM) where she received the MM in Music Theory and also studied piano with Eugene Pridonoff. Molly subsequently studied music theory at the CUNY Graduate Center in New York. Thrilled to be back in Boone, Molly performs frequently as a solo pianist, collaborative pianist, and chamber musician. Molly is a devoted piano teacher and has been on the piano faculty of the Community Music School at Appalachian State (2013-14, present) as well as the Cary School of Music in downtown Cary, NC.
Outside of music, Molly enjoys practicing yoga, hiking, and playing Mario Kart. She is an animal lover who loves spending time with her two amazing cats, Franz and Juniper!
Teaching Philosophy:
Molly believes that the number one goal of piano lessons is to foster a love for music that lasts a lifetime. To that end, her lessons provide students with a "toolbox" of skills and concepts--such as technique, musicality, music theory, ear training, music notation, sightreading, improvisation, active listening, and confidence--that empower the student to achieve their own musical aspirations. She believes that piano lessons should be a fun and supportive place for the student to explore their innate musicianship, and feels strongly that any person who wants to take piano lessons is welcome in her studio!
Alex Sipes, tuba & euphonium
Mr. Alex Sipes is an aspiring music educator, currently enrolled at Appalachian State University, focused in Instrumental Music Education and Euphonium Studies. Mr. Sipes also has extensive experience when playing the trombone, tuba, trumpet, and piano. Mr. Sipes was born and raised in the Carolinas: originally from Garner, raised in Troutman, and a current resident of Boone. He enjoys long weekend camping trips, Appalachian State football games, quiet hours with a good book, and quality time spent with his cat Skipper.
My philosophy of music education is that all children are unique, as artists and as youth; they must have a stimulating and inclusive environment where they can grow physically, emotionally, and socially. A love for music cannot be forced upon a person, but must be nurtured and individualized so that each person can create meaningful change within themselves and their community.
Laura Chu Stokes, Piano Club Instructor
Laura Chu Stokes has been a pianist and music educator for forty years. A graduate of Indiana University Jacobs School of Music in piano performance, Laura has taught hundreds of students in her private studio and as the former director and an instructor at Appalachian State University's Community Music School (CMS).
As a performer, Laura has been a staff accompanist at ASU and collaborative artist with her husband, trumpeter Jimmy Stokes. She has also performed with the Columbus and Cincinnati Symphony Orchestras.
Laura also conducts hands-on workshops and clinics for E-Z Notes, a full line of music learning tools developed by her mother, Lucy Chu. She has been a featured clinician for professional music teacher associations and music dealers/retailers nationally.
Brandon Winbush, Assistant Choral Director and Collaborative Pianist
Brandon Winbush is a graduate of Appalachian State University, where he studied piano with Dr. Rodney Reynerson and choral conducting with Dr. Stephen M. Hopkins. A member of both the American Choral Directors' Association and the National Association for Music Educators, Mr. Winbush is frequently invited to serve as a collaborative pianist for various school and honor choirs around the state of North Carolina. In addition to serving as choral director at Watauga High School, Mr. Winbush runs his own private piano studio and is also the principal organist and choirmaster at St. Elizabeth of the Hill Country Catholic Church in Boone.