Youth Drum and Dance
Youth Drum and Dance
Kids ages 5-10 (and their adults!) are invited on a 12-week journey through drumming and dancing traditions of the world. Dr. Shawn Roberts will lead the class in rhythms, drumming techniques, and dances from cultures across the globe. No musical experience is necessary - just come ready to learn, move, play, and have fun!
Program Information
Age: Ages 5-10

Adult family members are encouraged to join! Each adult family member should be registered separately.
No experience necessary.

Instructor: Dr. Shawn Roberts in partnership with the Hayes School of Music
Price: $0-$275 with Pay What You Can options
Location: Broyhill Music Center
Times: 6:00-6:45pm on Wednesdays
Classes begin September 7.
Community Drumming will use the Hayes School of Music's class set of drums and percussion instruments.
Meet Our Staff
Dr. Shawn Roberts, Instructor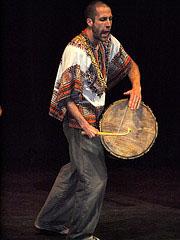 Shawn Roberts is an active and eclectic performer, serving as Principal Percussionist with the American Prize-winning Western Piedmont Symphony since 2010, accompaniment for the Appalachian State University Dance Department, and active percussionist with the Hickory Choral Society, Piedmont Chamber Singers, NC Brass Band, and da Capo Brass. Notable performances include the Millennium Stage at the Kennedy Center in Washington, D.C., the Lotus Blossom World Music and Arts Festival in Bloomington, Indiana, and Director of the West Virginia University Steel Band during the induction of Ellie Mannette into the Percussive Arts Hall of Fame. Dr. Roberts founded World Wide Productions in 2005, overseeing various musical and artistic endeavors, including Eya! Afrolachian Drum and Dance Troupe performing and teaching traditional music and dance from a variety of countries across the African continent, the Caribbean and Middle East.
In addition to performance, Dr. Roberts is passionate about community programs. He conducts numerous workshops in schools both public and private, has served as a scholar and coordinator for Mapping the Beat, a program under the aegis of Arts Bridge America and funded by National Geographic, partnered with Upward Bound, Gear Up, and the Western Youth Network in creating music programs for underprivileged youth, and residencies with the Duke University Talent Identification Program (TIP) serving academically gifted children across North Carolina.
He received his Doctorate of Musical Arts from West Virginia University where he focused on non-Western percussion while maintaining performance in Western traditions. He holds an MM in Percussion Performance and a BM in Music Education, both from Appalachian State University. Dr. Roberts currently teaches humanities courses at both Caldwell Community College and Appalachian State University, as well as private and group instruction through the ASU Community Music School.
Register Here!
Before registering, please read the Community Music School's Musician Handbook and COVID-19 Policies.
Register Here! > https://appstate.irisregistration.com/Form/DrumMove22
Choose from our "Pay What You Can" options in registration. Your selection will be kept private.
If you do not have an Iris account, you will need to create one (tutorial here).
If asked for a code, enter DrumMove22.
An adult will need to complete the registration. To register another student or adult in your family, click "Create Additional Registration"
Permission Forms
Connect with CMS!
Have questions about Iris? Katie Jensen (jensenke3@appstate.edu, 828-262-6568) can help with the registration forms.
For questions about our programs, contact us at asucommunitymusic@appstate.edu or (828) 262-6629.