Private gifts play a vital role in our continuous mission to enhance and maintain the quality of the Hayes School of Music as a premiere school of music in the Southeast for future performers, composers, conductors, music educators, music industry leaders and music therapists. Donations support student scholarships, program endowments, equipment, guest artists and operations that make the School of Music an exemplary place of learning.
Public institutions like Appalachian State University receive most of their funding from state government appropriations and student tuition, but these dollars are limited. Private financial support has become a major and growing source of revenue to enhance programs and create new initiatives.
Fast and Easy Ways to Give...
Fundraising Priorities
Annual Giving - Hayes Circle
Contributions to the Hayes Circle allow the Hayes School of Music to support innovative programs, urgent priorities, and other unforeseen opportunities that arise during the academic year.
Appalachian Partners In Education (Appal PIE) Music Scholarships
With the Appal PIE Music Scholarships, the Hayes School of Music is able to attract and nurture the finest young scholars and performers. Too often premier students are forced to bypass Appalachian State University to go to a school or conservatory that can offer more lucrative awards. The Appal PIE Music Scholarships present an opportunity for a donor to provide financial assistance to a music student through the four years of his/her undergraduate education. These "adopt-a-student" scholarships are $2,500 per year with a commitment for four years.
Scholarship Endowments
Endowed scholarships allow the Hayes School of Music to attract and nurture the finest young scholars and performers. To continue to attract top students, we must significantly increase scholarships. Many students rely on scholarship support to offset the cost of a post-secondary education.
Appalachian State University - Community Music School
Appalachian State University Community Music School (ASU-CMS) seeks funding to provide financial aid for underserved youths to participate in ASU-CMS private and group music instruction. ASU-CMS collaborates with local schools and non profit agencies to recruit underserved students, as well as provide instruments and transportation. ASU-CMS was founded in 2005 and began offering programs in the Fall of 2006.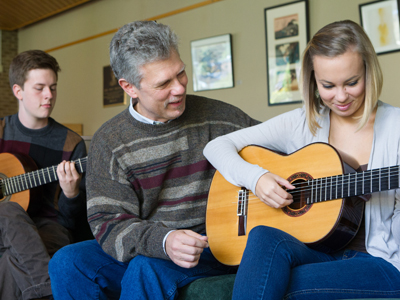 ASU-CMS strives to provide quality music instruction and programs for interested individuals of all ages and levels with financial assistance for those in need. Our Artist-Teachers are faculty members of the Mariam Hayes School of Music and highly qualified teachers and performers from the community.
Cannon Music Camp
Cannon Music Camp seeks to provide the finest summer music experience for high school students in the Southeast. During a three week session, students are provided with individual and group instruction in a variety of settings. Ensembles include Symphony Orchestra, String Orchestra, Wind Ensemble, Symphonic Band, Jazz Ensembles, Concert Choir, Chamber Singers, Jazz Vocal Ensemble, Women's Choir, Flute Choir, Percussion Ensemble, and a variety of chamber music opportunities. Unique to this comprehensive summer music experience is a six-tier music theory program that is supplemental to individual private instruction and master classes for each performance medium (instrumental, vocal and keyboard). The Hayes School of Music seeks funding to provide scholarship and faculty support for Cannon Music Camp and to expand the opportunities of the students to interact with professional musicians.
Student Teacher Tuition Aid Program
The Student Teacher Tuition Aid Program provides financial assistance to music education majors during the student teaching experience. Music education students often have financial difficulty during the student teaching semester; in addition to the cost of tuition, they incur additional costs for housing at the internship location, travel, and increased living expenses. The Student Teacher Tuition Aid Program will encourage students to complete the program of study, increasing retention in the music education program and graduate more music teachers to enrich the lives of the children of North Carolina and beyond. The Hayes School of Music seeks funding to provide scholarships for student teachers.
Guest Artists
Support of guest artists advance the quality of our programs. Exposure to recognized leaders in music can have a tremendous impact on the careers of young artists and add immeasurably to the quality of the artistic work they create. Funds are needed to bring guest artists to campus so students can enhance their studies and learn from those whose insight and experience exemplify the highest levels of musical achievement.
Travel
Student travel, ensemble touring, concerts and community programming significantly enhance students' learning and performance experience. Through travel our students have the opportunity to share their artistry and expertise. This experience is vital to the growth and development of our students.
Additional Information
To learn about ways you can help the Mariam Cannon Hayes School of Music, please contact Melinda Fudge at
828-262-8692 or fudgemf@appstate.edu.