The Hayes School of Music Hayes Circle of Giving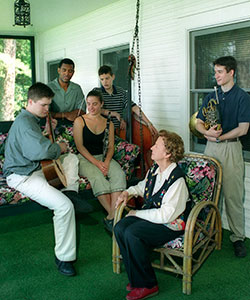 The Hayes Circle is an elite group of patrons who believe in supporting young artists. By providing opportunities for research, scholarship, and travel to our students and faculty, this group follows in the footsteps of our namesake and benefactor, Mariam Cannon Hayes. Mrs. Hayes believed that music is integral to the fabric of our society, and understood that when young artists are given opportunities to flourish, the benefits are boundless. When you join the Hayes Circle, your gifts support young artists as they become performers, music therapists, music industry professionals, and teachers, and as they nurture a passion for the arts in others. Join us, and help us share the legacy of Mrs. Hayes and her love for the arts. Guided by vision - and with your support - together, we can make a difference in the world.
The Hayes Circle Inaugural Year
In our first year, the Hayes Circle has shown considerable enthusiasm amongst our alumni and friends. We look forward to cultivating this society's growth and ensuring that each gift has a meaningful impact on the Hayes School of Music.
Join the Hayes Circle Today
Every gift makes a difference. Supporters donating up to $499 will receive notices of special events and concerts, allowing you direct access to witness the benefits of your gift in the passion and performances of our students. Gifts of $500 and above qualify donors to become members of the Hayes Circle.
Hayes Circle Patrons ($500 - $999)
Recognition in Hayes School publications, at alumni events, and on our website
Regular updates sent electronically from the Dean of the Hayes School
Hayes School of Music students in studioInvitations to events, including house parties and concerts, featuring Hayes School musicians
Credit toward membership in Appalachian's Chancellor's Society ($2,500), which offers free parking on campus
Hayes Circle Benefactors ($1,000 and above)
In addition to the patron level benefits, benefactors shall receive the following:
Invitations to special guest artis and artist-in-residence events, including receptions in conjunction with An Appalachian Summer Festival
Hayes School of MusicExclusive invitations to "Dinner with the Dean and Scholars" events
Benefactors at the $2,500 level will receive invitations to indoor seating at an Appalachian football game (game day will vary according to Appalachian State University Foundation suite availability)
To join, contact Hayes School of Music Development Director Melinda Fudge at 828-262-8692 or fudgemf@appstate.edu.
Impact
Every dollar raised through membership in the Hayes Circle touches each area of the Hayes School of Music. Whether it's providing scholarship opportunities to deserving students, or helping fund course-related travel, each dollar has an impact.