Douglas James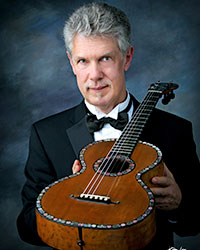 Douglas James has appeared as a classical guitarist throughout the United States as well as in Europe and Latin America. He has been a featured recitalist at such notable venues as Italy's L'Estate Chitarristica sul Lago Maggiore, the Great Lakes Classical Guitar Festival at Oberlin Conservatory, Charleston's Piccolo Spoleto festival, and New York's Carnegie and Merkin Halls. Soundboard magazine has noted his performances to be filled with"...appealing intensity and obvious enthusiasm." The Arizona Daily Star described his Bach as "...warm and ornate," and his Spanish pieces "...downright sexy...". Of another recent engagement, Violao Intercambio (Brazil) wrote: "an impeccable performance, the sound clear and clean with beautiful interpretation from the first to the last piece."
A noted proponent of period instrument performance, Dr. James uses 19th century guitars when playing music of the Classical and Romantic periods. In 1992 he was the top prize winner in the Arturo Toscanini Solo Guitar Competition (Italy) for 19th c. guitar performance. He has twice been awarded a National Endowment for the Arts Solo Recitalist Fellowship, and has received touring grants from Arts International and several state arts commissions. In addition to solo concertizing, he has played in duo with the Italian guitarist Pasquale Rucco since 1995. The Rucco-James Duo is recognized world-wide for their sophisticated interpretations of the 19th c. guitar duo literature. "Thinking to Presti-Lagoya duo, Abreu duo and Assad duo, we think that the inseparable Italian/American pair will be successfully on the same line as this important progeny, becoming their filological equivalent." Musica magazine.
Always an active performer, James' recent concert schedule has included engagements at the Oberlin Conservatory, the Cleveland Institute of Music, numerous American guitar societies, Piccolo Spoleto, and the Stetson International Guitar Workshop. Dr. James has served in the Artists-in-Residence program of the State of North Carolina, and as a touring artist for the Southern Arts Federation and the Arizona Commission on the Arts. He frequently serves as a judge for important guitar competitions, including such events as the Guitar Foundation of America International Solo Guitar Competition and the GOLD Competition at Oberlin Conservatory. As a radio recitalist, James has been featured on National Public Radio's Performance Today, as well as special broadcasts on the major classical stations of Los Angeles, Chicago, and New York.
James' critically acclaimed CD of Italian Romantic solo guitar music was followed by the release of two duo CD's with Italian guitarist Pasquale Rucco, Early Romantic Music for Two Guitars and A Night at the Opera. All discs are on the Cala Vista label. Gitarr och Luta (Sweden) notes that "Douglas James' playing on the record is for my taste totally splendid. His enthusiasm to explore the early guitar repertoire is obvious, and he has an ability to use the old instruments to their full capacity, with all of their timbral possibilities. He plays intensely and sensitively with flow, ease and elegance." Classical Guitar (England) states "Douglas James clearly has a great deal of sympathy for this repertoire and a carefully worked out approach to its interpretation. . . . everything is animated by concern for the life of the music on its own terms and in its own time. This is a welcome addition to the choice of 19th century repertoire played on genuine instruments of the time."
In addition to his work as a classical guitarist, James has in recent years expanded his musical horizons to include his earliest roots playing electric guitar in various contemporary styles, and playing Baroque music on the theorbo. For him there's a strong connection in the almost purely improvisational playing of contemporary electric guitar, and the improvisation involved in realizing continuo in Baroque music. It's all about style, timing and tone!
Douglas James is Professor of Guitar at Appalachian State University's Hayes School of Music. He has served on the Advisory Board and Board of Trustees for the Guitar Foundation of America, and holds a DMA in Guitar Performance from the University of Arizona, where he studied with Thomas Patterson.
Rene Izquierdo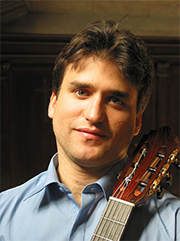 Rene Izquierdo, a native from Cuba, graduated from the Guillermo Tomas, Amadeo Roldan Conservatory and Superior Institute of Ar
t in Havana. In the United States, Mr. Izquierdo earned a Master of Music and an Artist Diploma degrees from the Yale University School of Music, where he studied with Benjamin Verdery. While at Yale he represented the university in an exchange program with the Conservatoire National de Musique et de Danse du Paris and worked with guitarists Olivie Chassain and Roland Dyens. Rene has a
ppeared as a guest soloist and in chamber music concerts throughout the United States, Cuba and Europe. He has shared the stage with prestigious guitarists including Eliot Fisk, Benjamin Verdery and Jorge Morel, as well as renowned flutist Ransom Wilson, soprano Lucy Shelton, David Jolley and Paquito d'Rivera. Renowned composers such as Jorge Morel and Carlos R. Rivera have dedicated works to him.

Mr. Izquierdo is a recipient of numerous awards. He is a winner of the JoAnn Falletta International Guitar Competition in 2004, Extremadura International Guitar Competition, Schadt String competition, and the Stotsenberg International Guitar Competition among others.

He is currently a professor of classical guitar at the Wisconsin State University in Milwaukee and an active solo performer and chamber musician. Rene has studied with Leo Brouwer, David Russell, Shin-Ichi Fukuda, Eli Kassner, Pepe Romero, Angel Romero, Carlos Barbosa-Lima, David Starobin, Eduardo Fernandez, Jorge Morel, Robert Beaser and Anthony Newman among others.

"I have rarely seen a musical talent equal to Rene Izquierdo. He is a virtuoso guitarist and a profound musical thinker." Benjamin Verdery, 2001
Dale Kavanaugh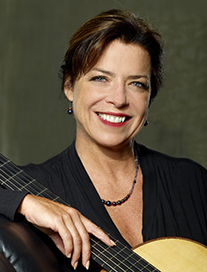 Dale Kavanagh studied at Acadia University, Dalhousie University, the University of Toronto, and the Banff Center in Canada, then completed her graduate studies with the Solisten Diplom at the Musik Akademie der Stadt Basel with Oscar Ghiglia, in Switzerland.
Dale Kavanagh performs internationally as a soloist, and in concertos with orchestra. She also is part of the Amadeus Guitar Duo with German guitarist Thomas Kirchhoff. She has given over one thousand recitals in more than forty countries, and is a regular recitalist and teacher in music festivals throughout Europe, North and South America, and Asia.
As a guest soloist with Orchestra, Ms. Kavanagh has performed on many occasions with the Prague Chamber Orchestra, Gewandhaus Orchestra of Leipzig, Würtemberger Chamber Orchestra, Philharmonic Orchestras of Ankara, Izmir and Antalya, the Edmonton Symphony, Thüringen Philharmonie Gotha, to mention a few.
Dale Kavanagh is Professor of Guitar at the Musikhochschule in Detmold, Germany. She held the appointment of "Musician in Residence" at Acadia University between 2003-2010.
Dale was an exclusive artist with (Hänssler Classic) since 1999 which enabled Dale to make seventeen (17) CDs. She is now a Naxos Artist with more CDs in the works. She has received superlative reviews in many international magazines including Acoustic Guitar, Classical Guitar Magazine, Fono-Forum, Hi-Fi-Vision, Gendai Guitar, Gitarre & Laute, La Cahir de la Guitare, Musikblatt, Staccato, Soundboard Magazine, Gitar och Luta.
Many composers have written works for Dale Kavanagh such as Christian Jost Harald Genzmer, Carlo Domeniconi, Roland Dyens, Jaime M. Zenamon, Stephen Dodgson, Stephen Funk-Pearson, and Bruce Shavers,
Dale Kavanagh plays D'Addario strings and a guitar by Antonio Müller.
Hazel Ketchum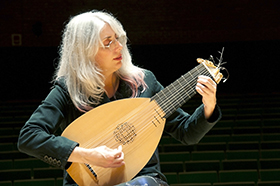 Hazel Ketchum is a multi-instrumentalist and vocalist. She received her Master of Music degree from the University of Southern California where she studied with James Smith and William Kanengiser for classical guitar and James Tyler for lute. Since then Hazel has performed a wide variety of styles and can be seen playing lute with The Columbia Baroque and Corde Cantanti, drums with The Harrows, guitar with The Marshgrass Mamas and electric guitar for The Women And series. Hazel has performed the music of Dowland, Monteverdi, Sor, Led Zeppelin, David Bowie, Leonard Cohen and Stevie Wonder. Hazel's recordings include projects with the medieval group Sonus, original music with The Hungry Monks and a recording of self-accompanied lute songs and solos. She also has recorded music for children and families including Big as the World, Say Darlin Say and Science Songs Rock.
As an educator Hazel has developed the music programs for The Cooper School, Hungry Monk Music and Oak Grove Montessori in Charleston, SC. Hazel is a sought after workshop teacher and has taught at Appalachian State University (Guitarfest), Oberlin Conservatory, Cincinnati Conservatory, Berkeley School of Music, and more. As an artist in residence Hazel spent summers at the Cuyahoga National Park, Green River Preserve and the Charlotte Children's Theater. Hazel has taught at the Sorrento Guitarfest in Sorrento, Italy and been Storyteller in Residence at the Cairo American College in Cairo, Egypt. Hazel has also performed traditional American music for concerts sponsored by the American Embassy in Cairo, Egypt.
Hazel is currently the director of the Mountain School of Strings in Brevard, NC which offers classes to all Transylvania County schools and at the Brevard Music Center. Hazel develops music curriculum for Mountain School of Strings, Science Songs Rock and Ms. Hazel's Music which provides teacher training and music for pre-school and elementary students.
Alan Hirsh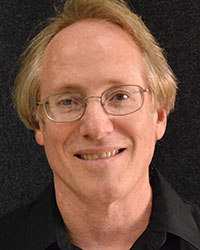 Canadian-born Dale Kavanagh is acclaimed as one of the guitar world´s most gifted interpreters. Between 1986 and 1988 Ms. Kavanagh was a top prize-winner in Spain's "Segovia Competition," Italy's "Gargnano Competition," Switzerland's "Neuchatel Competition," and First and Special Prize winner in Finland's "Scandinavian International Guitar Competition."
Composer, arranger, guitarist, and music educator, Alan Hirsh began a long-time collaboration with world renown pedagogue, Aaron Shearer back in the 1980's, writing music for the ground-breaking three-volume method series: Learning the Classic Guitar published with Mel Bay. In 2012, along with Thomas Kikta he worked as composer, co-author, and editor of the three-volume Alfred Music publication—The Shearer Method: Classical Guitar Foundations, Classical Guitar Developments, and Learning the Fingerboard, a work representing Shearer's lifetime culmination of thought on how the guitar should be taught.
Alan received his Bachelor's in Composition from the University of Arizona studying with Robert Muczynski and his Masters and Doctorate from the Peabody Conservatory of the Johns Hopkins University studying with Vladimir Ussachevsky and Jean Eichelberger Ivey. He currently resides in North Carolina where he works as Music Director and Fine Arts Department Chair at Bishop McGuinness High School, teaching Beginning Guitar, Honors Guitar Ensemble Orchestra, Chorus, AP Music Theory, and Recording Studio/Composition. Alan also teaches guitar at Wake Forest University, and is the founder and director of the Piedmont Guitar Orchestra. He actively directs festival guitar orchestras around the country, such as the US/Mexico Guitar Orchestra at GFA 2000 and Southwest Guitar Festivals, the Appalachian Guitarfest Orchestra, UNCG Guitarganza Orchestra, and the Long Island Guitar Festival Orchestra. Alan serves as Vice president of the Piedmont Classic Guitar Society and Vice President of Education in the Aaron Shearer Foundation. He remains active as a composer, having written and arranged extensively for orchestra, band, chorus, guitar and guitar ensemble. Alan's most recent guitar commissions include the Harrisdale Concerto for Guitar Orchestra, Violin, Saw, and Solo Guitar, Nunc Dimittis and Lullay Carol for Guitar Orchestra and Choir, and November for Guitar and Pipa (written for virtusoso artist, Liu Fang). Alan's many other guitar works include publications of Twenty Etudes in fixed Positions, New Music for Classic Guitar, Trio Concertino, Holiday, Folk, Sacred, and Renaissance Collections for guitar ensemble, as well as an extensive online catalogue of guitar ensemble music (guitarensemblemusic.com) which reaches to guitarists around the world.
Andy Page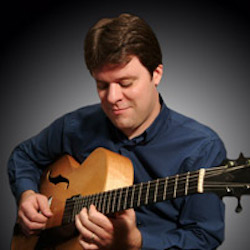 Jazz guitarist Andy Page maintains an active schedule in the Southeast with a variety of jazz and rock ensembles. He has performed internationally at the Montreux Jazz Festival in Switzerland, Japan's Muroran Jazz Cruise, and for jazz workshops in Friburg, Germany. Andy worked in the cruise ship industry in the South Pacific, Mediterranean and Caribbean seas and also traveled with a nationally touring theatrical production. In recent years he has performed at Asheville's Django Reinhardt Celebration and the Dizzy Gillespie Jazzfest in South Carolina, and has been a featured composer at the Jazz Composers Forum based in Asheville, NC. Andy has performed private engagements for former President Bill Clinton and poet Maya Angelou, and has performed with jazz artists such as Phil Woods, Jamey Aebersold, Tony Monaco, Matt Wilson, and many others. Andy has worked as a session player on numerous recordings, and has a released a recording of gypsy waltzes entitled "Souvenir de Django" with the trio Musette Guitars. Andy has a Masters degree in Jazz Studies from the University of Tennessee and a Bachelor's degree in Music Performance from University of North Carolina-Wilmington. He has studied privately with renowned jazz educators Jerry Coker and Donald Brown and with guitarists Mark Boling, Bob Russell, and Robert Nathanson. Andy currently is on the music faculty at Appalachian State University where, in addition to Applied Jazz Guitar, he also teaches History of Rock Music, Jazz in American Society, and Jazz/Pop Theory.