By Mallory Sadler
Four faculty and staff members at Appalachian State University have been selected to receive Mandela Washington Fellowship Reciprocal Exchange Awards. The four awards bring Appalachian's total number of Reciprocal Exchange grants since the beginning of the program to nine.
The Reciprocal Exchange — a component of the Mandela Washington Fellowship for Young African Leaders — provides up to $5,000 in funding for American professionals to travel to sub-Saharan African countries in order to build upon strategic partnerships and professional connections developed during the Mandela Washington Fellowship in the United States. The Mandela Washington Fellowship is sponsored by the U.S. Department of State with funding provided by the U.S. government and administered by the International Research and Exchanges Board (IREX).
Appalachian's Reciprocal Exchange Award recipients will use the award funding to work alongside Appalachian Mandela Washington Fellowship alumni this spring on four separate projects, forming lasting partnerships, expanding markets and networks, and increasing mutual understanding between the United States and countries in Sub-Saharan Africa.
The award recipients:
Dr. Jesse Lutabingwa, associate vice chancellor of international education and development, director of international research and development, and professor of public administration in the Department of Government and Justice Studies. Lutabingwa is co-director of Appalachian's Mandela Washington Fellowship Institute.
Dr. Brian MacHarg, director of academic civic engagement in Appalachian's University College, which is a component of the university's Division of Academic Affairs. MacHarg is co-director of the Mandela Washington Fellowship Institute at Appalachian.
Dr. Suzi Mills, professor and music education coordinator in the Hayes School of Music.
Dr. Chishimba Nathan Mowa, professor of physiology and endocrinology in the Department of Biology.
"I am very thrilled that four Appalachian faculty members have been awarded four different Reciprocal Exchange projects," Lutabingwa said. "This is a great honor for Appalachian, and it demonstrates the strong relationship that many members of our community have developed with the Mandela Washington Fellows while they are in Boone."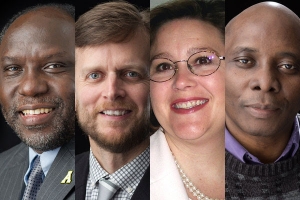 Tags: