By Linda Coutant
Dr. Craig Phillips '93, bass singer with the twice Grammy-nominated vocal ensemble New York Polyphony and University of Oregon music professor, is making national news for restoring the musical legacy of The Revelers, an early 20th-century vocal group.
"In 2015, I located the 'lost songs' of a singing group that was very popular on record and radio during the 1920s and '30s called The Revelers," said Phillips, a graduate of Appalachian State University's Hayes School of Music.
Stashed in the attic of a Redding, Connecticut, home, were nine wooden crates full of dusty, handwritten scores containing more than 500 of the group's signature, unpublished arrangements, Phillips said. They belonged to a descendent of one of The Revelers' members, who Phillips found through the comments section of a blog.
He calls his research The Revelers Project. "Since their discovery, I've worked to reconstruct/rebuild the arrangements so that the songs can be performed by modern musicians. Last week, in New York City, I staged an informal revival of select songs from The Revelers collection. It was a big success," he said.
Music critic and blogger David Patrick Stearns agreed the National Opera Center performance July 11 was a success, writing "the neo-Revelers pulled it off."
In describing Phillips' research project, Stearns also wrote, "Attic music speaks quietly — and with wide-open possibilities. A secret garden, perhaps? ... For the past three years or so, he has researched how The Revelers tumbled from the ultimate mainstream fame to complete obscurity."
Phillips said the original group disbanded in 1940. After a reboot with new members in 1947, The Revelers toured until 1955 and then faded away.
"Because their recorded output predated the invention of magnetic tape by nearly two decades, their music was not properly anthologized and therefore consigned to obsolete, low-fidelity shellac 78s," Phillips said.
The signature arrangements that propelled The Revelers to worldwide fame in the 1920s and '30s were retired, never published and effectively lost, he said.
After the attic discovery, Phillips converted the autograph material into modern musical scores, which has required interpreting composer intent from original charts, reconstructing missing or fragmentary material, and verifying content against extant audio media.
Phillips, who majored in music performance, said he's been thrilled to bring back to life the works of the most successful vocal ensemble from what's known as the "electrical period," he said.
"They were integral both to the mainstreaming of jazz and to the promotion of American songwriters Jerome Kern, Richard Rodgers and Cole Porter among others," he said.
About Craig Phillips
Director of The Revelers Project, bass baritone Craig Phillips is a founding member of the twice Grammy-nominated male vocal quartet New York Polyphony. Founded in 2006, the ensemble tours extensively, participating in major concert series and festivals around the world. Outside of New York Polyphony, Phillips is an established opera and concert soloist. He has performed a wide range of repertoire with companies including Glimmerglass Opera, Florida Grand Opera, New York City Opera and Boston Lyric Opera. In 2017, Phillips joined the faculty of the University of Oregon School of Music and Dance as assistant professor of voice and vocal pedagogy.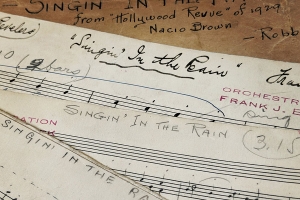 Tags: