When Duncan Boatright '12 plays music, he's not moved so much by the artistry of sound, but rather the mechanics behind each chord.
"I've always had an interest in computers and math, and music theory is like that – it's the mechanical side of music. It makes it cooler in my mind to see a chord and analyze it, to understand how it works rather than to just play the notes," said Boatright, a music performance major from Charlotte. He graduated from the Hayes School of Music in May 2012.
A percussion student, Boatright researched whether music theory could be taught just as well using the steel drum as it can with the most predominant instrument used in music theory instruction, the piano. He experimented with students on campus who did not know how to play either instrument. "To my knowledge, there's not a lot of work in this area," he said.
He presented his research at the National Conference for Undergraduate Research this past spring, one of 29 students selected from Appalachian to participate.
Before this project, Boatright thought his talents were as a composer. He even performed compositions at the State of North Carolina Undergraduate Research and Creativity Symposium. However, the opportunity to tackle deeper research under the mentorship of Dr. Jennifer Snodgrass changed his career path. He now wants to be a music theorist and teach at the college level.
"I wouldn't have gone anywhere else for music school," he said. "Appalachian is such a progressively academic campus that it's hard not to learn here, and the faculty are so interwoven with the students that it's easy to find someone to be a mentor for your research."
Snodgrass said Boatright's research topic grew from conversations they had in class. "My motto is 'empower the undergraduate,'" Snodgrass said. "When a student comes to me and says, 'I always was curious as to why...,' I help them to form that into a research idea. It is imperative to let students know that you believe they can handle it, that you believe they can excel, that they can discover something new."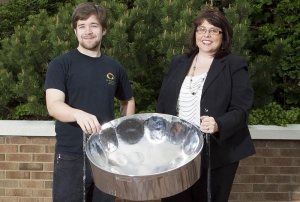 Tags: