The Community Music School at Appalachian State University held its fifth annual Scale Olympiad on Saturday, Nov. 10, for High Country area pre-college pianists. Almost 30 students demonstrated their technical and theory skills, earning ribbons and rosettes for varying levels of mastery.
"Every year, the Scale Olympiad event encourages young musicians to reach goals on their technical skills, strengthening their overall playing," said CMS Director Laura Chu Stokes. "Whether a student has taken lessons for five months or five years, there is a benefit for everyone."
Pianists participating in (successive year) Olympiads included Gwendolyn Anderson (3), Lexi Cornia (2), Teila Eddins (2), Leigha Harrs (2), Sophie Helms (3), Stevie Helms (3), Ariail Lewis (3), Julia Mawhinney (3), Leo McEvoy (2), Sofia McEvoy (2), Alex Ong (2), Vivi Rushing (2), Maggie Souza (4), Miriam Spaulding (3), Luke Wallace (3), Grace Watson (3), Hadley Woods (2) and Riley Woods (2). First-year Olympiad pianists included Owen Canu, Sophia Canu, Raylen Christian, Grace Floyd, Davis Hunt, Lian Langley, Max Midgett, Brian Newmark, Emma Norris, Michelle Spaulding and Ian Wallace.
Judges for the event were CMS piano instructor and student-coordinator Walker Ballard, ASU Hayes School of Music graduate Eric Luke and students Michael Countryman, Summer Parks and Paola Cortes.
Every student earned a handful of ribbons, and several pianists earned a top prize of a rosette for exceptional mastery in all six categories of scales, cadences, arpeggios, inversions, sight reading and theory.
"All the judges were impressed by the preparation of these Scale Olympians, as many had been working on their skills since the beginning of the year," Stokes said.
The Community Music School provides non-credit music instruction for youth and adults in the local community as well as surrounding western N.C. counties. Instructors include Appalachian State faculty, students and performing artists with teaching expertise to provide outstanding musical training. Registration for the winter/spring 2019 semester will be open online from Dec. 3 through Jan. 11.
Information including instructors, rates, policies and more are available on the CMS website at music.appstate.edu/about/cms. Please contact Laura Chu Stokes at stokeslc@appstate.edu for further information.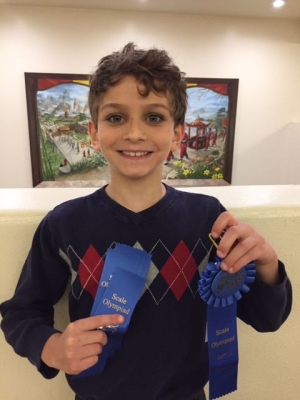 Tags: