Loose fitting jeans and sneakers provide a stark contrast to the state-of-the-art recording equipment found in Studio A of the Robert F. Gilley Recording Studio here at Appalachian State. At first glance, senior Music Industries major Cory Halterman seems more like the nice guy who lives down the street and not one of the most in-demand student engineer in the Hayes School of Music. A plethora of knobs and flashing lights all around the room could easily give off the impression of being in the cockpit of a 747. When Cory sits behind the soundboard he's grown familiar with over the past three years, he's every bit as much of a pilot as he is a humble kid from Franklinton, North Carolina with a passion for music.
"Music was always around the house," he says of his earliest musical memories. Cory decided to learn guitar out of boredom while nursing a broken wrist sustained during a soccer game. Listening to his mother's Motown records inspired a love for the blues, and Cory soon began to mimic the guitar stylings of the Three Kings of Blues — Freddie, Albert, and B.B. — as well as more rock-oriented players like Stevie Ray Vaughan and Jimi Hendrix. Not long after, Cory developed a love of acts such as The Beatles, Kendrick Lamar, and Radiohead. These artists helped Cory discover an art form that arguably transcends performance; an art form he has hungrily chased for his entire career: making records.
As a recording engineer, Cory often operates as a vessel for the artist's vision. Citing his work with local band Jack Marion and the Pearl Snap Prophets, Cory sits back and discusses how the band largely facilitated the music's direction. His creative contribution amounted to suggesting some different flourishes here and there, such as tambourines and shakers. Though he does have a knack for facilitating the artist's creativity, Cory is a gifted session musician himself — those are his hands guiding the slide guitar on Jack's song "Quit." When the artist's are more open to outside ideas, Cory is a creative force to be reckoned with on his own.
"With the album we did for Barefoot Modern [a local indie-pop band], that was a lot more involved. I was able to be a lot more hands-on because they were really open to input. I got to add drum machines and synthesizers — things like that. It's really fun to be able to have as many ideas as you want, and to have them all end up in the song."
Ultimately, Cory's involvement with the direction a song takes relies strictly on the artist's vision. Cory almost always meets with his artist prior to the start of the sessions in order to get a good idea of what the artist wants. A more recent practice he has adopted is asking the artist to describe their vision in three or four words. Throughout the sessions, Cory keeps those words on the console in order to maintain a goal and to "physically create these abstract ideas."
For new and old musicians alike, going into the studio and laying your soul bare into a microphone can be an intimidating process. Over the past few years of working on recording sessions, Cory has developed a gift for easing nerves and making his recording sessions feel more like a gathering of friends, and there's one tried-and-true method he relies on more than any other: laughter.
"Most of my sessions turn into people joking around and giving each other a hard time. That's how I grew up. We showed each other love by giving each other a hard time, and that's how I try to run my sessions. I crack a couple bad jokes so that the most humiliated person in the room is me. If the vocal take is bad that's okay, because I've already made more of a fool of myself than they ever could."
All laughing matters aside, Cory sits back in his chair and reveals just how far beyond the console he can actually see. To him, music is greater than any of the equipment that surrounds him; a song is far more than a few pitches bent into a melody, set to a toe-tapping rhythm.
"It's a matter of remembering it's not just a song, it's a person. You have to think about the person first."
His empathy and dedication towards his clients have gotten him far in the Hayes School of Music, but Cory realizes he is only at the beginning of his journey. In January, Cory will begin an internship at Castle Recording Studios just south of Nashville. When he graduates in the spring he plans on relocating to the city permanently. He hopes to feed himself, and maybe a family too. If all goes well, it'll produce records that put the food on the table.
"You move to any city, and there's already going to be hundreds of people that are better than you. I'm going to have to put my nose to the pavement. It's going to take time to move up the ladder, and I'm stoked to do it."
At just 21 years old, Cory has his own key to a room storing some of the highest-quality technology in the world of recorded music. Whether it's through a cheerful anecdote exchanged between classmates, the sounds of his latest project, or the scrappy looking guitar case with a piece of tape asserting its ownership, Cory Halterman feels just as much a part of the studio as the wall-spanning recording console or the Keurig that sits in the lobby for the students who prefer to do their dreaming wide-awake with an instrument in hand.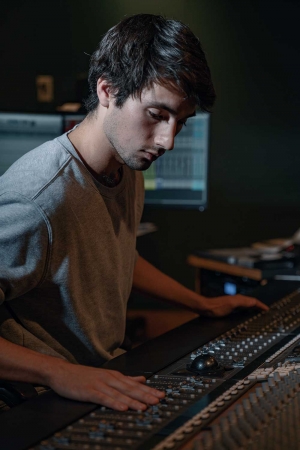 Tags: