Hayes School of Music - Recognition of Graduates
Hayes School of Music undergraduates will walk in the Commencement ceremony at 1:00pm on Friday, Dec. 10.
Hayes School of Music graduate students will walk in the Commencement ceremony at 5:00pm on Friday, Dec. 10. In addition, Hayes School of Music graduate students can celebrate their achievements in front of friends, family, faculty, and staff in a Graduate Hooding on Friday, December 10 at 10:00 AM. The Graduate Hooding will be livestreamed at music.appstate.edu/performances.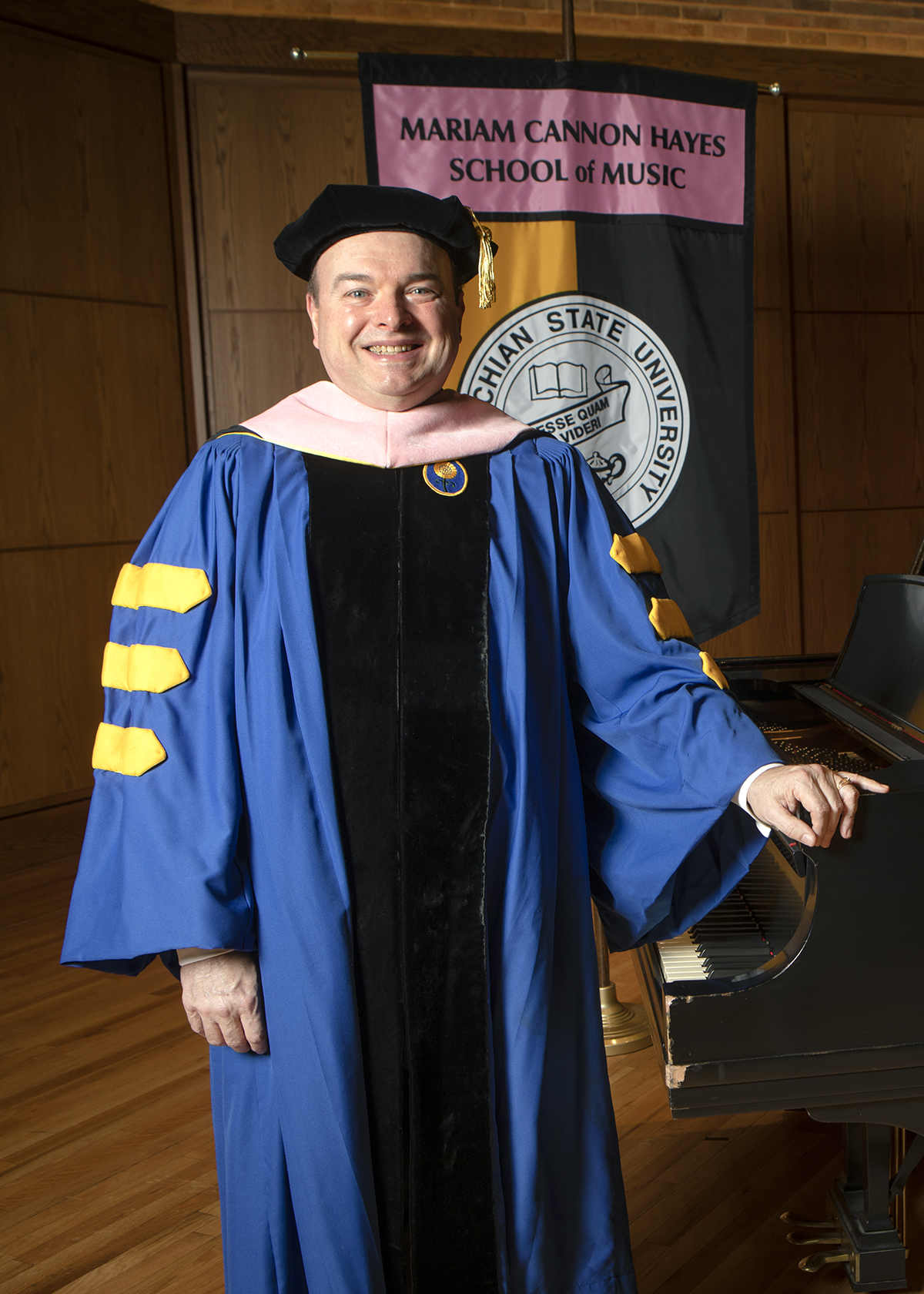 The faculty and I stand at the ready to assist you during the next years of your career. We hope that we are a part of that moment and look forward to sharing your challenges and successes as you engage your passion for music in your profession for life.
Message from Dean James Douthit
Dear Hayes School of Music Graduating Class of Fall 2021,
Congratulations on your many achievements. Not only have you completed the requirements for your degree, but you have done so in an environment that has increased the challenges that you were already facing with the process. When you entered the Hayes School of Music, you probably had never had a lesson online. You probably had never experienced methods, theory, history, or aural skills class. Yet, close to half of your degree has been completed in an online or hybrid format. You have taken the challenges that have been presented to you and achieved your goals despite those challenges. As in any good learning community, the faculty and staff had to grow with you in the learning process, as many of them (some with decades of experience) had never thought they would be teaching online.
In contrast, we all thought Zooming had something to do with moving forward at a fast pace. While you have experienced these challenges, I would like to posit that I believe you have seen the University at its best. We functioned successfully as a learning community, growing, conquering new information together, and experiencing new ways of teaching and learning. Administration, faculty, staff, and students have been engaged in a community journey of moving our work forward with a new zeal and appreciation for what we do and how we do it.
On behalf of our community, I would like to congratulate our graduates. The faculty, staff, and I are tremendously proud of your work and personally grateful that we were a part of your journey. Our paths have intersected in a way that will allow that influence to remain with us for years to come. We will be better deans and staff, and you will be music professionals educated at a time when you could never have anticipated what would happen and what skills you would need to accomplish this work. You are joining an alumni community of successful educators, music therapists, performers, and music industry professionals that are impacting the world around them, sharing their passion for music uniquely and boldly that carries the traditions of Appalachian State University and the Hayes School of Music with them. Feel free to turn to the alumni community for your advice. Feel free to come back to visit and share your challenges with us.
We have prepared you to transform your passion for music into a profession for life. That will take many forms and shapes as you move forward in your professional lives. However, we hope that we have connected with you in a way that will allow you to experience the same joy that we have felt working with you and observing your growth and development. Thank you for taking this journey of growth and discovery with us—all the best in your future professional endeavors.
Sincerely,
Dr. James Douthit
Dean, Hayes School of Music
Congratulations!
Congratulations to the 1,676 Mountaineers graduating today — especially the 26 graduating from the Hayes School of Music. We are so proud of all you've accomplished! Visit appstate.edu/commencement/#social to see the ways you can view and participate in today's commencement ceremony.