Grant Smith '16, an Appalachian State University alumnus and trombonist from Charlotte, is navigating the New York City jazz scene while pursuing a Master of Music in jazz performance at the Manhattan School of Music (MSM).
Smith graduated from Appalachian's Hayes School of Music (HSOM) with a Bachelor of Music in music performance, studying under Dr. Drew C. Leslie, associate professor of trombone, Todd Wright, professor and jazz area coordinator, and Andy Page, lecturer of jazz guitar.
Appalachian's small class sizes made for "a lot of one-on-one time with faculty, which made it easy to connect with professors and learn in a more personalized way," he said. "I'm really thankful for the connections I made with the music faculty… I don't think I'd be the musician I am now without their guidance."
The ability to use Broyhill Music Center's practice rooms any time of day and late into the night also contributed to where he is today as a musician, Smith said.
He also had access to the Nicholas Erneston Music Library, where he could check out and listen to various CDs, exploring the history of jazz and trombone's place within its improvised, syncopated notes. Smith described this experience as a "very hands-on way to learn."
A winning passion
Smith said he became interested in playing trombone at age 10, but fell in love with the instrument by accident. In high school, he attended a local jazz festival where he won an award for soloist of the day. Surprised by the win, he said to himself, "You have the potential to be good at something. You should put in more effort and see where it takes you."
His passion for the trombone led him to Appalachian's Hayes School of Music and an initial interest in the music industry studies program. As he progressed into his studies, Smith said he developed a greater interest in performing and was pleased to find that Appalachian also offers a strong music performance program.
His hard work paid off at the 2016 Texas State Trombone Symposium, where he won the Rath Jazz Trombone Competition and was awarded a Rath R100 trombone valued at $1,600. Smith said he practiced for four hours each day in preparation for the event.
The steppingstone from mountains to metropolis
While at Appalachian, Smith said he knew he wanted to attend graduate school and live in New York City so he could explore the many jazz venues and performance opportunities and develop his playing to meet the city's high musical standards.
"New York has the most vibrant and innovative array of creative musicians in the world right now," he said.
He has played at Dizzy's Club Coca-Cola in New York City with the Manhattan School of Music's Jazz Orchestra. These concerts, he said, featured Grammy-nominated vibraphonist Stefon Harris, who was appointed director of MSM's Department of Jazz Arts in September 2017. "It was truly an amazing experience to be able to stand up and blow a solo next to someone of his stature," he said.
Smith said living in New York City has opened up many opportunities, and he's playing a steady stream of gigs in jazz, pop and musical theater. He also works part time for JazzReach, a nonprofit dedicated to the promotion, performance, creation and teaching of jazz music through educational programs for young audiences.
When asked about his career aspirations, Smith explained that musicians living in New York City tend to perform various jobs. After finishing his master's, he will likely combine performing with teaching and continued work in arts administration for such organizations as JazzReach. "I really like that about being a musician — I'm not being pigeonholed into one thing," he remarked.
Reflecting on his time at Appalachian, Smith said, "I think the Hayes School of Music has really strong music education and music industry programs, which have great tie-ins with the school of education (Reich College of Education) and school of business (Walker College of Business), respectively." After realizing an interest in the business side of the music industry, Smith chose to pursue a business minor alongside his music major.
"Appalachian has tons of really great opportunities to be a well-rounded person, not just to excel in music," he said.
About the Hayes School of Music
The Hayes School of Music prepares young musicians for professional lives as performers, composers, music educators, music therapists, conductors and music industry professionals, ensuring the next generation of musical leadership for the state, region and nation. Noted for quality instruction by national and internationally recognized faculty musicians, the school offers four undergraduate degree programs and three graduate-level programs.
About Appalachian State University
Appalachian State University, in North Carolina's Blue Ridge Mountains, prepares students to lead purposeful lives as global citizens who understand and engage their responsibilities in creating a sustainable future for all. The transformational Appalachian experience promotes a spirit of inclusion that brings people together in inspiring ways to acquire and create knowledge, to grow holistically, to act with passion and determination, and embrace diversity and difference. As one of 17 campuses in the University of North Carolina system, Appalachian enrolls about 19,000 students, has a low student-to-faculty ratio and offers more than 150 undergraduate and graduate majors.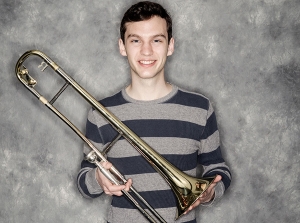 Tags: