Appalachian Opera Theatre presents a modern rendition of Dido and Aeneas, a Baroque opera in 3 acts by Henry Purcell with libretto by Nahum Tate (written and sung in English). It is remembered as the only full opera by Purcell, and one of his finest theatrical pieces. The performance will be at the historic Appalachian Theatre of the High Country in downtown Boone. Experience the myth and drama of opera performed by the vocalists and chamber orchestra of Appalachian State University's Hayes School of Music!
Student Tickets: $5 + fees & tax
General Admission: $15 + fees & tax
Click on a performance date to learn more and purchase tickets:
General Admission Seating - All Ages. Suggested for audiences 13 and up.
Doors open 45 minutes before each performance. Visit Apptheatre.org for parking and ticketing information.
The opera performances will not be live-streamed. Come hear and see us in person!
Dr. Gennard Lombardozzi, Director
Dr. Alexandra Dee, Conductor
See the program details and musicians here.
Synopsis
In this abstract interpretation of Dido and Aeneas, our heroine finds that she has stepped through her own canvas and into the shoes of Dido, the Queen of Carthage, who is very distraught over her complicated affection for the Prince of Troy, Aeneas. With a bit of convincing from her sister, Belinda, and her royal attendants, Dido allows herself to be swayed by the Prince's romantic efforts and surrenders to her feelings for him.
Obsessed with his hatred for the Queen of Carthage (also referred to as Diana), a Sorcerer plots her downfall with his scheming fellow witches. The coven resolves to conjure a storm and send a message to Aeneas through a puppet disguised as the Roman God, Mercury. The message will remind Aeneas of his duty to the Gods which demand that he set sail to Italy, and away from Dido. Interrupted by the storm, Dido and her royal court are hastily removed from their celebratory picnic while Aeneas receives the Sorcerer's message and agrees to leave.
At the seaside, Aeneas' sailors prepare their ship for travel while the Sorcerer and his coven revel in their accomplishment. Dido, who has caught word of her lover's plan to leave, laments her fury to Belinda and her court. Aeneas arrives and vows to stay, but Dido briskly declines his efforts and orders him to leave. Overcome with grief from Aeneas' betrayal and absence, Dido embraces death and gives a final plea to be remembered when she is gone.
Poster design by Jenna Moynihan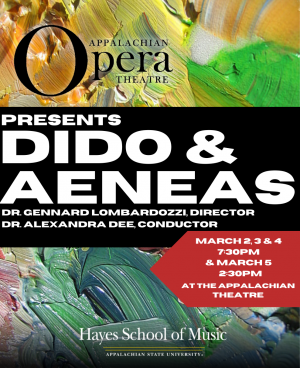 Tags: