By Elisabeth Wall
Craig Phillips '93 is the bass singer with New York Polyphony, a men's early music quartet. (Polyphony, as described by one of the singers, literally means "many sounds," but it's essentially the interplay of individual lines that come together in perfect unity.) The quartet's new CD is "Times go by Turns," the group's follow-up album to one of The New Yorker's Top Ten Notable Classical Music Recordings of 2012.
Nominated for a 2014 Grammy Award in the Best Chamber Music/Small Ensemble Performance category, "Times go by Turns" takes its title from a poem by the Jesuit martyr Robert Southwell. The album documents the impact of religious and political conflict on the musical expressions of Roman Catholicism in 15th- and 16th-century England.
Pretty heady stuff and the music is exquisite. But Phillips, who is definitely enjoying this up-side phase of his career, is not the buttoned-down, classical aesthete you might expect. During a rambling phone interview – his 2 ½-year-old daughter, Grace, occasionally demanding a moment of his attention – he shared insights into his art, his life, his affection for Appalachian and his music.
As a 17-year-old living in Damascus, Md., Phillips knew he wanted "to go away and test his wings." His trumpet teacher spoke highly of Appalachian State University. He visited. It was beautiful. He auditioned and was offered a scholarship.
"The decision was easy," he said. Although each of the faculty "was amazingly supportive and I was afforded opportunities I wouldn't have had at a larger school," one professor stands out in Phillips' memory. His vocal instructor, Dr. Joseph Amaya, encouraged him to try out for his first opera – " Amahl and the Night Visitors" – and he was hooked. "The trumpet sort of disappeared my sophomore year," he said.
Between graduation and 2006, Phillips honed his art and traveled around the country singing with numerous opera companies. Now an established concert and operatic soloist, the New York Times has praised Phillips for his "handsome, elegant bass." His concert credits include performances at the Washington National Cathedral, Carnegie Hall and with ensembles and organizations such as New York Collegium, Miami Bach Society and the Cincinnati Symphony Orchestra. On the opera stage, Phillips has performed more than 40 roles with companies such as Glimmerglass Opera, Florida Grand Opera, Arizona Opera, New York City Opera and Boston Lyric Opera.
His career took a turn six years ago when he joined with the New York Polyphony's other three voices, each active in the church music scene in New York City. "Collaborative music making in a small ensemble appealed to my sensibilities and the lifestyle I wanted," he explained. At the end of this season, the group will have completed 150 performances and crossed 33 states and 12 countries.
Asked what next, he mused: "As our reputation and visibility continues to grow, we hope to be more active in commissioning new works, contributing to this repertoire. The financial aspect (of commissioning work) is daunting and difficult to balance. Touring is our source of income but we have to balance it with our family needs. The four of us are in a marriage of sorts, and we're very proud of what we've accomplished but it's not bullet proof. We'll have to see where it takes us."
For now, he'll keep singing and enjoying his friends and family. His advice to young musicians is some he's apparently put into action. "It's a small world," he said. "Do yourself a favor and take care of your relationships, your colleagues. It will enrich your music and it will help your career."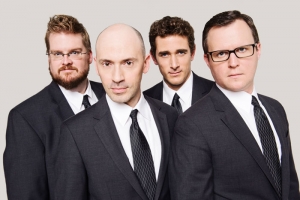 Tags: