Hayes School of Music Choral Ensembles Present Virtual Concert on Nov. 20
By Lisl Doughton
The Choral Ensembles of the Hayes School of Music at Appalachian State University will broadcast their virtual concert on Friday, Nov. 20, 2020 at 8:00 on the Hayes School of Music Performances page. The concert will feature a variety of pieces, many of which address how we as human beings should treat one another.
The members of the Glee Club, Treble Choir, Appalachian Chorale, and University Singers recorded their parts individually and those were then combined to create a virtual choir performance. Some songs feature videos of the students as well.
"Due to concerns about singing together the choirs did most of their learning this semester remotely. Some of us did meet outside in small groups (wearing masks) a few times so we could get some sense of community," says Dr. Stephen M. Hopkins, Professor and Director of Choral Activities and conductor of the University Singers.
The Hayes School of Music fosters creative responses to the COVID-19 pandemic, providing opportunities for students who are determined to study and make music despite the atypical school year. The efforts of the singers, conductors, pianists, and staff make it possible to keep performing for the community.
"We really miss singing together and sharing our efforts with a live audience. It is our hope that that will be a reality again sooner rather than later," says Dr. Hopkins. "In the meantime, we hope you enjoy what we've been able to do this semester."
The following Hayes School of Music Choral Ensembles will be participating:
Glee Club: Dr. Meg Stohlmann, conductor; Dr. Joby Bell, piano; Merideth Church, assistant conductor
Treble Choir: Dr. Priscilla Porterfield, conductor; Eric Luke, piano
Appalachian Chorale: Dr. Linda Larson, conductor; Dr. Rodney Reynerson, piano
University Singers: Dr. Stephen M. Hopkins, conductor; Molly Reid, piano
The Choral Ensembles concert will be streamed at https://music.appstate.edu/performances on Friday, Nov. 20, 2020 from 8:00-9:30.
The program for the concert, including a list of all pieces and participants, will be available on the Performances page.
Some of the choral ensembles can be heard again along with other Hayes School of Music ensembles on the Holiday Scholarship Concert, which will be a part of the virtual Schaefer Center Presents Series this year. The event is free but pre-registration is required. Visit the event page and scroll down for a link to order your virtual ticket. The Holiday Scholarship Concert will be available from Friday, December 4 at 8:00pm through Sunday, Dec. 6 at 10:00pm.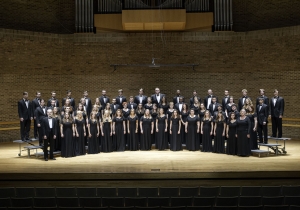 Tags: