Hayes School of Music Nominates Hannah Koch for Appalachian Student Teacher of the Year Award
by Lisl Doughton
The Hayes School of Music has selected Hannah Koch as its Fall nominee for the 2020-21 Appalachian Student Teacher of the Year award.
Koch graduated in December 2020 with a Bachelor's of Music in Instrumental Music Education and was on the Dean's List. A trumpet player and native of Apex, North Carolina, Koch fulfilled her student teaching with the Apex Friendship High School Band in Wake County, North Carolina.
During her online teaching experience at Apex Friendship High School, Koch was supported by her Clinical Educator, Paul Rowe, who was impressed with her enthusiasm, professionalism, consistency and musicality. Koch was observed throughout the semester by Sherry Blevins, her University Supervisor, and Dr. John Ross, Associate Professor and Director of Bands, her Academic Consultant.
"I feel so honored!" Koch says. "I was so surprised to see that I was nominated, but it feels like a great conclusion to a very unexpected semester."
Each of the colleges at Appalachian State University nominated an excellent student teacher as a Fall finalist on the basis of a written narrative by the student and strong recommendations by supervisors and faculty. The overall winner for 2020-21 will be announced at the end of the Spring 2021 semester after spring finalists have been selected.
The social aspect of virtual learning
Apex Friendship High School held classes online for most of the Fall semester due to COVID-19 precautions. Each band class session consisted of forty minutes of live online instruction followed by forty minutes of asynchronous learning.
To help the high school musicians feel comfortable and connected, Hannah Koch and Paul Rowe, her Clinical Educator, spent the first few minutes of each class chatting with students over video and the chat box in Google Classroom. "We discussed anything from favorite artists, least favorite foods, and would even frequently have a pet 'show and tell'," Koch says. This experience encouraged many to turn on their cameras and participate in class.
"Students are missing out on being students," Koch says. Conversations and group activities helped cultivate the camaraderie of a band class online. "Band is a unique class in that some of our students have been in a music class together since sixth grade. When we would send students to breakout rooms, they would frequently stay after class to just chat and catch up with their friends!"
Koch suggested that the class follow a weekly schedule, which she and Rowe developed to incorporate playing lessons, music theory lessons, and music history or listening lessons. This helped students plan their work and let other family members know when they would be expected to play their instrument during class time.
For the asynchronous time period, students could choose a time slot to get personalized help. "We typically would only meet for about ten minutes, but this gave me the opportunity to problem solve and come up with ways to help students, just like if we were all in a classroom together."
Keeping things moving during class
Koch learned that keeping things moving during class was the most successful method of classroom management. Planning each 40-minute live session beforehand was essential. "We were constantly moving from activity to activity for the day and left little room for interruptions or distractions," she says.
Students enjoyed small group work and activities with social elements. "One person would play a short four-note melody utilizing a diatonic scale, and the other person would have to try and mimic. We had a composition assignment where students first created a composition as a class, then in their small groups, and lastly individually."
Connecting the class material with students' musical interests helped them own the new concepts. "A great example was using Billie Eilish's song "bury a friend" to teach aspects of the harmonic minor scale. Since I knew students listened to this song, it was a great way to bridge that music theory is present in all music and isn't just limited to classical music!"
"My student teaching goal was to include underrepresented minorities in music," Koch says. "Daily, we would show videos of music composed, conducted, or performed by minorities. We actually dedicated our entire jazz lesson to 'The Women of Jazz.'" Koch and Rowe incorporated music from different areas and cultures of the world.
Small steps to large accomplishments
A collaborative virtual concert with the Choral Department was the highlight of the semester. Band and choir students recorded their parts to the National Anthem and the Apex Friendship High School Alma Mater along with a click track. One of the choir students synced the audio and video tracks. The project took over a hundred hours of work.
"The results were outstanding," Koch says. "We were able to have a virtual concert with parents and students attending and talk about it through the live chat feature." Koch also got to connect with parents and students through the outdoor marching band rehearsals in October.
Small steps led to success in music theory as well. To help the students fulfill a class objective of harmonically analyzing a short four-bar phrase of music, Koch broke down the goal into its component parts.
"I started with teaching students how to read both bass and treble clef, then moved to identifying notes on the piano, followed by diatonic intervals, then triads, then triad inversions and finally the harmonic analysis." Students built on the previous lessons's skills over six weeks to achieve the goal.
Learning to teach
Sherry Blevins, Koch's University Supervisor, and Dr. John Ross, her Academic Consultant and the Director of Bands, observed Koch's student teaching over the course of the semester. "They provided me with wonderful feedback after each observation that I used to continue to learn and grow as an educator," Koch says.
Blevins and Ross helped Koch accept the awkward silence after asking a question instead of giving the answer. "After my first observations, I began to be more comfortable with waiting out the silence as students would think, develop their answer, and then unmute or type in the chat box."
When it came to her student teaching experience, Koch asked her Clinical Educator, Paul Rowe, if the online format was causing her to miss out on classroom management. "Mr. Rowe described that this is a skill that is ever changing and always evolving."
Koch learned classroom management methods relevant to the situation - for example, redirecting tangents in the chat box, referring to the class as "we" and "us" to create a sense of cohesion, and encouraging students to attend class from somewhere other than their bed.
The technology used in online teaching provided some useful advantages. Students took quizzes through Google Forms, which provided graphs of student responses. "It would be clear to see what questions students were struggling with the most, and we could immediately address those issues in the next class period as a warm up exercise," Koch says.
Koch said the ability to be flexible and adaptive was the most important lesson she learned while student teaching.
"Students would be extremely goofy and having a great time in one class and the very next day it would almost like pulling teeth to get any sort of response! However, this is natural, and even as a teacher, I feel like I had those days too! It is so important to 'read the room' and recognize what is working best for your students that particular day."
Music Education Program Director Dr. Suzi Mills says, "We know that flexibility and adaptability are the main ingredients for being resilient. Hannah's student teaching took place in a semester where student teachers had to continually demonstrate a resilient disposition, change teaching strategies, use online and hybrid platforms, and find new ways of addressing instructional challenges."
The Appalachian State experience
"A lot of my personal experiences with applied faculty really helped pave the way for me to understand and develop my own teaching skills," says Koch. She was a student of Dr. James Stokes, Jr., Professor of Trumpet.
App State was a natural choice for Koch. "My family took several vacations to Boone as I was growing up, and I always felt a special connection to the Blue Ridge Mountains. I initially started as a communications major."
However, music drew her to a different career path. "I continued to load my schedule with as many music classes as I could take before I realized my true passion involved my instrument. I met Dr. Stokes and he helped me reach my goal of getting into the Hayes School of Music." Koch valued the opportunity to learn among a strong cohort of music student teachers in her lessons and classes.
After graduating, Hannah Koch is on her way to turn a passion for music into a profession for life. "I just moved to New York City, and am currently looking for a wonderful school in need of a music educator!" she says.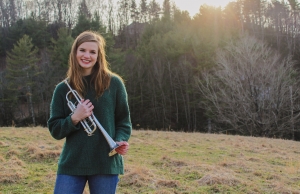 Tags: