Orchestra Chamber Ensembles Premiere Music by Composition Competition Winners
By Lisl Doughton with Dr. Mélisse Brunet - April 26, 2021
The Appalachian Symphony Orchestra Chamber Ensembles, directed by Dr. Mélisse Brunet, will perform two concerts of chamber music: Tuesday, April 27, at 8:00pm and Wednesday, April 28 at 8:00pm.
The concerts, which will be streamed from music.appstate.edu/performances (without audiences in the hall), will feature world premieres of winning pieces from the Hayes School of Music's Composition Competition, as well as a variety of pieces for different kinds of instrumental ensembles.
Tuesday, April 27, at 8:00pm - Program
Wednesday, April 28 at 8:00pm - Program
Hayes School of Music Composition Competition 2021
The winners in the Orchestra Category will have their pieces performed this week:
Orchestra Category, High School Division
Top Prize: Leona Liu (Chappaqua, NY), Scherzo
Runner-up: Spencer Cha (Los Altos, CA), Migration
Orchestra Category, Hayes School of Music Division:
Top Prize: Jason Wise (Boone, NC) - The Blue Ridge
Runner-up: Sophie Rymarowicz - Quietly Unspoken
An additional composer, Kyle Sapp (Clemmons, North Carolina) will have his piece Through the Gates performed at Tuesday's concert.
The winners in the Wind Ensemble category will have their pieces performed in a future semester by the Appalachian Bands:
Wind Ensemble, High School Division
Top Prize: Vera Gjaja (New York, NY) - Quadricycle
Runner-up: Koharu Sakiyama (West Linn, OR) - Toy Soldier
Dr. Andrew Hannon, Assistant Professor of Music Composition and Theory, says, "Working with performers and ensembles is an integral part of the compositional process. It provides the composer with an experience that is difficult to replicate through any other means. This competition offers opportunities for composers from the Hayes School of Music and high school composers from around the country to work with our amazing ensembles and fantastic faculty."
Q&A with Dr. Mélisse Brunet, Appalachian Symphony Orchestra Music Director
Q: What did you consider when selecting the music for the concert?
A: I chose pieces that were challenging but not overwhelming, interesting for the players, and able to accommodate those who wanted to rehearse online. The pieces are great in so many different ways and I think everybody will enjoy the variety of styles!
Q: What was the rehearsal process like?
A: The ASO learned fifteen pieces for these concerts and I could not have done it alone! Thirteen colleagues from the Hayes School of Music helped with coaching and rehearsal. The graduate assistants worked hard to schedule the many rehearsals needed for these individual pieces.
Q: Did any of the composers attend the rehearsals to offer suggestions on the performances?
A: Yes! All the composers visited us in person or online. The composition professors, including Dr. Andrew Hannon, helped guide the collaborative process.
The winners in the Hayes School of Music division, Jason Wise and Sophie Rymarowicz, attended many rehearsals in person, as did Kyle Sapp. They gave feedback and sometimes conducted their own pieces in rehearsals. It was exciting to work with them and the composers grew tremendously from that opportunity!
Leona and Spencer visited us online. They were very impressive in the quality and complexity of their compositions. It was engaging and motivating for the ASO musicians to take direction from excellent high school students. These composers met with us on ZOOM, thirty minutes together at a time, to try things and review different versions of the performances.
ASO has been motivated to do things well and be on recordings of world premieres. Composers will use these recordings to apply to jobs and auditions. It is great for ASO musicians to see their names and that of the HSOM on recordings.
Q: What stood out to you about the high school composers' music?
A: The winning piece (Scherzo by Leona Liu) was impressive. String quartet is so difficult to write - how do you make it sound great while also being different? Even big-name composers struggle. Major composers begin these late in life. This one is so well-written for strings and showed an understanding of form. Leona only had to submit a MIDI but recorded all parts herself instead! And it was a difficult piece, too!
Spencer's Cha's piece, Migration, has mixed meters all the time, complex rhythms - it's astonishing for someone so young that he could feel the rhythms in his body. We never get tired of it - we keep learning from it rehearsal to rehearsal. All families of instruments are in his piece.
Kyle Sapp's piece reflects a strong North Carolina tradition of brass playing, mature and great. The orchestra was happy to play it, enjoying the suspensions and harmonies. This is something North Carolina can be proud of as part of their band tradition.
Q: What did the ASO students learn in preparing for these concerts?
A: A lot of the pieces don't have conductors because I wanted to develop the leadership and independence of the students. They have practiced listening to each other and their rehearsals have been so productive!
For example, Sophie's piece has a pulse you cannot simply "feel" in order to know when to come in. She writes in a Second Viennese School style with some long notes and sudden changes of tempo and dynamics. The students had never been confronted with those challenges before. I gave them some techniques, and though I could not supervise every rehearsal, they grew 150% by the final performance!
ASO students have had to learn a lot of new skills and have grown so much due to COVID-19. They have been taking more initiative to organize and run their own rehearsals and I have seen an increased maturity among the group. Due to the number of pieces involved, two music education majors, Cailin Clarke and Robin Ayers, had the opportunity to conduct, which will be a great experience for them for their future careers.
Q: Is there anything else you would like to share about the concert?
A: At the first dress rehearsal on Thursday I was stunned by the beauty of the music they produced. I think everybody will enjoy the variety of styles and the involvement of the students!
On a personal note, it will be emotional because it is my last concert with the Appalachian Symphony Orchestra. I am so proud of what the ASO has accomplished!
---
Program Notes and Composer Biographies
Scherzo, World Premiere - Leona Liu (b. 2003)
Winner: HSoM Composition Competition [HS category]
Program notes: Scherzo (2019, revised 2021) was written over the course of several late nights and early mornings. Although "scherzo" means "joke", the piece is sometimes dramatic, lyrical, and tumultuous. Through-composed with frequent changes in key and meter, it is intended to convey a wild, intense spirit.
About the Composer: Leona Liu (b. 2003) is a composer, pianist, violinist, and violist. A senior at Horace Greeley High School in Chappaqua, New York, Leona has been composing independently since age 10, and her work has received recognition from the American Composers Forum as well as being selected five times for NYSSMA's Young Composer Honors program. Her pieces have also been performed by The Chappaqua Orchestra. In her spare time, Leona reads, plays casual Tetris, and dabbles in novice audio production.
Migration, World Premiere - Spencer Cha

Runner up: HSoM Composition Competition [HS student category]
About the Composer: Spencer Cha, 16, is an accomplished pianist and composer who has been taking piano lessons since the age of 3. He currently studies piano with Lena Grozman and composition with John Syzygy. He has won the CAPMT State Honors Competition, CAPMT Northern California Concerto Competition in two age categories, the Marilyn Mindell Competition, the Chopin SF Competition in two age categories, and the Thera Rabinowitch Competition. He performed with the Palo Alto Philharmonic in 2019. He won Outstanding Gold Medalist twice in the 2018 U.S. Open Music Competition. In 2017, he performed at Carnegie Hall after winning 1st place in the American Protégé Competition of Romantic Music.
Spencer has been 1st place alternate in the MTAC Solo Competition and MTAC Concerto Competition and has performed at the MTAC State Convention. He won 2nd place nationally in the 2019-2020 MTNA Composition Competition and 1st place nationally in the 2020-2021 MTNA Composition Competition. Spencer received 2nd place in the 2020 MTAC Composition Competition, and he is a part of the MTAC Young Composers Guild. He is a 11th grader at the Harker School and is an oboist in his school's orchestra. Outside of music, Spencer also enjoys soccer, skiing, and tennis.
String Quartet No. 1 (2020) - Jason Wise (b. 2001)
Program Notes: Jason Wise's first string quartet was composed over the course of 4 weeks and was influenced by composers like Dmitri Shostakovich. The composition is polytonal and has many varying styles and tempos. The first movement is marked 'Adagietto' which is slow and dreadful. The melodic line starts off quiet and grows overtime, eventually arriving at the second movement. The second movement is marked 'Allegro vivace' and is urgent and bombastic. The third movement is marked 'Largo' and is the most lyrical movement of the quartet with the first violin and cello sharing the melody.
The fourth movement is marked 'Allegretto' and is the flashiest movement of the quartet. This movement includes many fast passages and short articulated rhythms. The composition all together is only around 5 minutes long with each movement being rather short. Wise's compositions tend to make the point of a piece clear and concise without any wasted time or prolongation of the work.
About the Composer: Jason Wise (b. 2001) is an American composer and trombonist. He was born in Huntingdonshire, England and raised in Pinehurst, NC. He is currently studying Theory and Composition at Appalachian State University in Boone, NC with the intent of receiving a BMA. Jason has written for brass sextet, trombone chamber groups, string quartet, orchestra, wind band, and marching band. He has also composed electronic music and film scores.
His music has been performed by Pinecrest High School and various ensembles at Appalachian State University. Jason's compositions are filled with lyrical melodies, crisp articulations, and rich harmonies. His main influences include Ravel, Respighi, Bruckner, Mahler, Shostakovich, Tchaikovsky, and film composers like John Williams, James Newton Howard, Benjamin Wallfisch, and Don Davis.
The Blue Ridge, World Premiere (2021) - Jason Wise
Program Notes: The Blue Ridge is a chamber ensemble piece composed by Jason Wise. Wise's composition which was composed over his school's winter break is inspired by the different seasons of the Blue Ridge Mountain range in Boone, NC. The piece is separated into two distinct sections, each representing a different season. The first section of the piece represents winter. The opening oboe melody evolves throughout the ensemble and is passed to other instruments like the strings. The ensemble is restrained in this section to illustrate the delicate, barren nature of the cold and to create a mystical yet beautiful atmosphere. The second section which is marked 'Jubilant' represents spring. The spring section is light, bouncy, and full of harmonic changes and syncopation. The fast paced phrases are filled with brass fanfares, woodwind flutters, and rhythmic string lines.
Quietly Unspoken, World Premiere (2021) - Sophie Rymarowicz (b. 1996)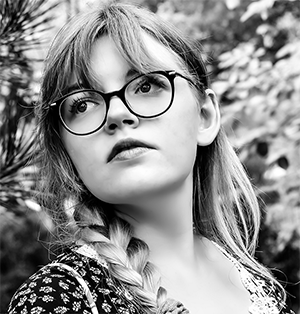 Runner up: HSoM Composition Competition [HSoM student category]
Program Notes: Quietly Unspoken is an arrangement of a duet originally written for two violins. The idea was to have two instruments of the same kind – sharing pitches, playing in unison rhythms – yet coming apart at the seams. In the original violin duet, the two violins play double stops, stacking intervals together into, essentially, a four-part harmony. Extreme dynamics: loud crescendos and subito piano, also play a part in the construction of the sound world. The working title of this duo was Duet in One Voice, for Two Violins, which one can still find on the hand-written copies. However, while this title is very accurate in terms of its construction, it lacks the emotional context that is intended to pour out of the sonorities, and the motivic themes hidden within the texture. Above all else, central pitches and harmonic progressions were chosen primarily on emotional responses and stems from improvisation.
About the Composer:
is a composer whose musical works have been described as Webern-esque, melodic clusters. She has participated in the annual John Donald Robb Composer's Symposium, where she had the opportunity to hear readings of her own work. With each new piece, she strives to imbue each sonic world with a sense of the unknown and the eerie. A violinist, Sophie Rymarowicz earned her BM in Performance from the University of New Mexico. Her past experiences forming a student chamber group and performing orchestral works as a violinist give her an advantage when it comes to works featuring strings. She is currently working towards her Master's in composition at Appalachian State University.
Through the Gates, World Premiere - Kyle Sapp (b. 2003)
Program Notes: When you look back on life, what do you think about? The happy moments? The sad moments? Or those which are in between? An accurate representation of this piece would be a sad dark situation, and finally, it's over and you emerge victoriously, but if you were to look deeper into the title, you would learn there is more to discover. I was given the inspiration for this piece by my high school ensemble director. I was struggling with finding inspiration and she told me, 'Just look at what is happening in the world around you, loss of life, loss of friends, loss of opportunity.' What she said to me just clicked. Immediately the thought came to me of passing from this world and our situations, into being welcomed into the gates of heaven. Triumph, Relief, Victory.
About the Composer: Kyle Sapp was born on August 18th, 2003. Kyle is a Junior, at West Forsyth High School in Clemmons, North Carolina. Kyle grew up in the Moravian Church, so music had always been a part of his life. Hearing hymns and chorales, fugues and preludes, started his fascination at a young age. He wrote his first hymn at the age of 10, and a few more in the years to follow. In middle school, he arranged a piece for the 265th Anniversary of the founding of his home church. In middle school, he became fascinated with marches, in particular the marches of Sousa. In 8th grade, he composed his first march, The Firecracker, then followed by another, The Sentimental March.
In the fall of his sophomore year, he entered the PTSA Reflections composition competition with his piece entitled Broken Reflections. This piece won 2nd place in North Carolina. He then completed 4 other wind band pieces, as well as his first orchestral piece, Serenade and Minuet, in 2020 as well as several small ensemble pieces. Kyle then went on to start his first symphony for wind ensemble entitled A Gaze, Upon the Stars, a 28 minute, 5 movement piece.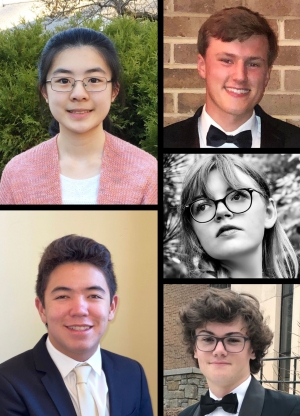 Tags: