No matter how frightful the weather, come hear the haunting sounds of organ and orchestra this Halloween night!
The Hayes School of Music's Halloween Spooktacular Concert has two showings on October 31: 8:00 AND 10:00pm! Reserve your free ticket at theschaefercenter.org/tickets for a classic Hayes School of Music Halloween in Rosen Concert Hall.
Dr. Joby Bell and the organ studio will treat audiences to mysterious organ music. Dr. Régulo Stabilito and the Appalachian Symphony Orchestra will perform only the most spine-tingling of orchestral works. Finally, audiences can join in the fright with some pumpkin carols! See the program here.
Face coverings and physical distancing will be required.
The concert will also be livestreamed at music.appstate.edu/performances.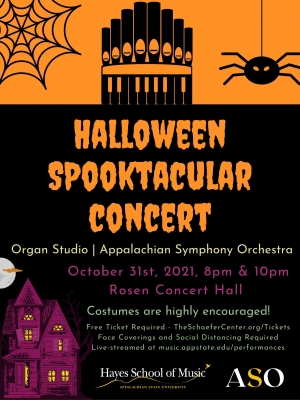 Tags: