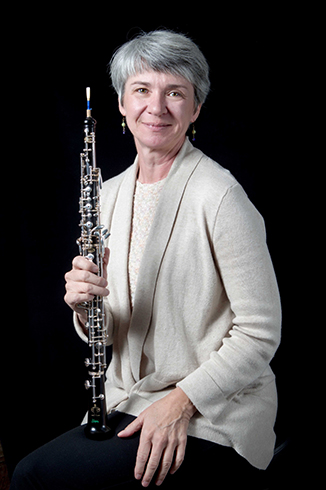 Main Title:
Assistant Professor of Oboe
Office Location:
Room 110, Broyhill Music Center
Alicia Chapman joined the Appalachian State applied music faculty as instructor of oboe in January 2001. She is principal oboist with the Harrisburg (PA) and Asheville symphonies and plays English horn with the Greensboro Symphony Orchestra. She has also served as principal oboist of the Heritage Chamber Orchestra (SC), the Masterworks Chorus and Orchestra (NY), and the Bridgeport Symphony (CT). Chapman has recorded with New York Philomusica, Manhattan Chamber Orchestra, and New York Kammermusiker. She has toured internationally as a chamber musician, performing in festivals in Prague, Dresden, and Salzburg. A tour of Southeast Asia with the New York Symphonic Ensemble included concerts in Singapore, Bangkok, Kuala Lumpur, Manila, Jakarta and Bandar Seri Begawan (Brunei). While living in New York, Alicia Chapman was an extra and sub with the Metropolitan Opera, and played for several national tours with the New York City Opera.
At Appalachian, Dr. Chapman is the director of the Collegium Musicum - the student early music class and ensemble - and is coordinator of Woodwind Chamber Music. She is a founding member of Harmonia Baroque, Appalachian's resident professional early music ensemble, performing on historical instruments. Harmonia Baroque brings early music to Western North Carolina with performances on concert series and through Arts Councils in Hendersonville, Asheville, Belmont, and West Jefferson.
A native Vermonter, Alicia Chapman began musical studies at the age of sixteen with Neil Boyer at the University of Vermont. Chapman earned both Bachelor and Master of Music Degrees from the Mannes College of Music and the Doctor of Musical Arts degree from the City University of New York. Her major teachers were Elaine Douvas, Ronald Roseman, and Mark Hill.
Dr. Chapman studies and performs abroad on the historical oboe during the summer months. In addition to her teaching commitment at Appalachian, she maintains an active studio of private students in the Western North Carolina region.
Professional Experience:
Principal oboe, Harrisburg Symphony 1986-present
Principal oboe, Asheville Symphony 1999-present
English horn, Greensboro Symphony 1997-present
North Carolina Baroque Orchestra 2010-present
Harmonia Baroque 2000-present
Principal oboe, Asheville Lyric Opera 1999-2006
English horn, Eastern Phil. Orch. (NC) 1996-2001
NY City Opera National Company Tour 1991; 1996; 1997
Principal oboe, Bridgeport Symphony (CT) 1989-1998
Principal oboe, Connecticut Grand Opera 1990-1995
New York Philomusica 1991-1998
Bach Choir of Bethlehem 1992-1995
Solo Performances:
Solo Artist, AmiciMusic, 2013, 2012
Harrisburg Symphony, concerto soloist, 2008, 1995, 1992, 1987
Asheville Symphony, concerto soloist, 2012, 2009
Music at St. Albans (NC), Baroque oboe concerto soloist, 2006, 2005
Faculty recitals, Appalachian State University, 1995-present
Faculty recitals, Mannes College of Music, 1986-1996
Trinity/St. Paul series (NYC), 1993, 1990, 1987, 1985
Additional Performance:
Mallarme Chamber Players, 2011, 2010
Music at St. John the Divine (NY), 2010, 2009
North Carolina Symphony, EH sub, 1995-present
Winston-Salem Symphony, sub, 1996-2002
Prague Spring Festival, S.E.M. Ensemble, 1995
NY Symphonic Ensemble tour, Southeast Asia, 1990
NY Kammermusiker tours, DDR, 1988; Europe, 1989
Metropolitan Opera, extra and sub, 1989-2001
Audition Finals:
Phoenix Symphony, EH/Assistant Principal
Lucarelli International Solo Oboe Competition (semi-finalist)
Charleston Symphony (runner up)
North Carolina Symphony
Albany Symphony (runner up)
Barcelona Orchestra
Hartford Symphony (runner up)
Teaching:
Asheville Music School, joined faculty 2013
Faculty, Appalachian State University, 1998-present
Faculty, Western Carolina University, 1997-1998
Private Studio, New York 1985-1995; North Carolina 1995-present
Faculty, Mannes College of Music, preparatory division, NY, 1985-1995
Music Festivals:
Amherst Early Music Festival and Opera, 2013
Keowee Chamber Music Festival, 2011, 2010, 2008, 2004
Cambridge (UK) Early Music, 2002, 2001
Eastern Music Festival, 1996-2001
A.I.M.S. Festival, Graz, Austria, 1991
Salzburg Festival, 1989
Handel Festival, Dresden Germany, 1988
International Academy, France, 1985
Education:
Doctor of Musical Arts, City University of New York, 2005
Post-graduate study with Elaine Douvas
Master of Music, Mannes College of Music; student of Elaine Douvas, 1986
Bachelor of Music, Mannes College of Music, student of Mark Hill, 1985
Baroque oboe studies with Virginia Brewer, Gail Hennessy, Washington McClain, Marc Schachman