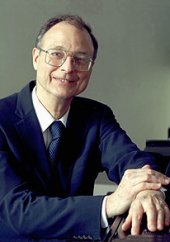 Main Title:
Professor Emeritus of Music
Allen Kindt (April 3, 1939 - July 18, 2011) was a graduate of the Curtis Institute of Music and held a master's degree in performance from the Juilliard School of Music. He earned his Doctor of Music Arts degree from the University of Michigan while studying with Gyorgy Sandor and working as his assistant. His other instructors were Nadia Boulanger, Clifford Curzon, and Robert Casadesus at the Fontainebleau School of Music; Lee Luvisi of the Curtis Institute of Music; Rosina Lhevinne and Martin Canin of the Juilliard School of Music; and Walter Hautzig.
Dr. Kindt has to his credit a long list of awards and scholarships. He performed throughout the United States with symphony orchestras and as a recitalist. Reviewers have praised his "whirlwind renditions," "mature and communicative playing," his "great talent," and "warmth and pulsing vitality." They speak of the "spectacular performance of a creative man reflecting the efforts of his renowned teachers" and call him "one of the rare creators," saying he "has artist understanding" and "[performs] with intellect and power." Dr. Kindt taught for twenty-eight years at Appalachian State University's Hayes School of Music. While at Appalachian State, he taught applied piano, class piano, and piano literature, as well as accompanying faculty and student recitals and performing solos and chamber music. He has participated in NET television concerts on the Young Musical Artists series. Dr. Kindt was a visiting professor of piano at the Shenyang Conservatory of Music, and he performed the Tschaikowsky First Piano Concerto with the Liaoning Provincial Symphony in Shenyang, China.
In 1994, Dr. Kindt was the recipient of the Appalachian State University Alumni Association's Outstanding Teaching Award. He was granted emeritus status by the Appalachian State University Board of Trustees in September of 2000.
Sources: Appalachian State University files, and personal correspondence.
-Kathy C. Deas