Dr. Charles L. Isley, Jr., ED.D.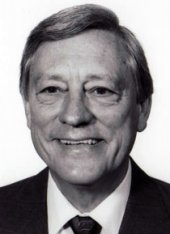 Main Title:
Professor Emeritus of Music
Charles L. Isley, Jr. (December 21, 1920-September 11, 2015), was born in Cooleemee, North Carolina, the son of Sophie Cope and Charles Lee Isley, Sr. His sisters are Sophie Imogene Robinson of Winston-Salem, North Carolina, and Ellen Moser Sowell of McDonough, Georgia.
Isley began his college study at Davidson College, NC, in 1937. He received his B.S. degree in music in 1942. At Davidson, Isley was a charter member of the Gamma Kappa Chapter of Phi Mu Alpha fraternity and a member of Sigma Phi Epsilon fraternity. He withdrew from Davidson for one year to serve as band director at Albemarle High School. During his senior year, he played in the Charlotte Symphony and was choir director at Sugar Creek Presbyterian Church in Charlotte. After graduation, Isley accepted a teaching position at Waynesville High School, Waynesville, North Carolina, where he taught band, orchestra, and choral music for sixteen years. His high school music groups competed in the highest levels of state competition, consistently winning superior ratings, and his marching band was twice selected as the North Carolina Lions Club's official representative at the Lions International conventions, in Miami, Florida, and Chicago, Illinois. Isley's orchestra was also to perform before the Southern Regional Music Educators' National Conference in New Orleans. During his last years at Waynesville, Isley was the only music instructor in the state teaching chorus, band, and orchestra. In 1951, the Waynesville Jaycees awarded him their first Distinguished Service Award. While teaching and conducting, Isley began graduate studies at Appalachian State Teachers' College (now Appalachian State University), and in 1954, he received his M.A. degree in music education from the college.
Isley married Lois Elizabeth Caldwell, daughter of Maude Lee and Marion Hubert Caldwell. Maude was born in Cadillac, now a part of the Great Smokey Mountain National Park. Dr. and Mrs. Isley had three children: Elizabeth Ann (born in Quantico, Virginia, while Isley was in the Marine Corps and stationed there–now deceased), Sarah Catherine Hull, and Susan Caldwell Lyons (both born in Waynesville, North Carolina).
In 1958, Isley and his family left Waynesville so that he could take a position as associate professor at Appalachian State University. While at Appalachian State, Isley worked on his doctorate at North Texas State University and completed his Ed.D. degree there in 1972. In the same year, Dr. Isley was awarded the rank of full professor at Appalachian State. He was director of bands for seventeen of his twenty years at the university and in each of those seventeen years, he hosted the annual Northwest North Carolina High School Band Clinic. Isley was also active in the founding of Cannon Music Camp, serving as camp director in its first year.
Dr. Isley was very active in professional organizations. He held the office of president in the North Carolina Music Educators' Association from 1961 to 1963, and, in addition to being chair of its orchestra and choral sections, he held an honorary life membership in the association. He was also a member of the College Band Directors' National Association, Tubist Universal Brotherhood Association, the Music Educators' National Conference, Phi Kappa Lambda Honorary Music Society, and the International Trombone Association.
Isley was equally active on the Appalachian State campus, serving on the Academic Policies and Procedures Committee, the Faculty Senate (six years), the Teacher Education Council, the new Music Building Committee, the Appalachian Collection Committee, the Departmental Chair Review Committee, and the Student Life Association. He was also a music camp counselor, and an area coordinator for instrumental music. During his last three years at Appalachian State, he was a joint appointee, representing the Department of Music in the College of Learning and Human Development. For his service to the community (which included service as president of the Boone Civitan Club in 1961-62 and work as an educator), Dr. Isley received the 1975 Outstanding Educator of America Award. After twenty years of dedicated service to Appalachian State University and to the community, Isley retired on June 30, 1978.
In retirement, Isley worked in the instrumental music program in the Watauga County schools, helping develop a county-wide program in orchestral strings and serving for two years as band director at Watauga High School. He directed the adult choir and brass choir at the Boone First Presbyterian Church for five years and directed the choir at Three Forks Baptist Church during its bicentennial year. Isley was active in the Blue Ridge Community Theatre; he song in a barbershop quartet, and was conductor of the Watauga County Community Band.
In 1986, Lois, Isley's wife, was diagnosed with Alzheimer's Disease, and for the next 15 years, he served as her care-giver. She died in May 2001, and the next year Isley moved into Appalachian Brian Estates, where he organized weekly musicals for the residents. Dr. Isley is survived by two daughters, three granddaughters, three great-grandaughters and a number of special nieces and nephews.
Sources: Appalachian State University files, long association, and personal interviews.
-Dr. Richard D. Howe