Dr. Joby Bell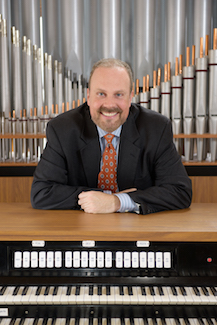 Main Title:
University Organist and Professor of Music
Coordinator, Sacred Music curriculum
Office Location:
Room 420, Broyhill Music Center
Joby Bell has earned a reputation as one of the finest and approachable performers, teachers, and service players of his generation. He is known for "the breadth of his repertoire, technical virtuosity, and for the personal warmth which shines through in his performances." His acclaimed blog at <www.JobyBell.org> deals with a comprehensive range of organ-related topics including teaching philosophies, recital preparation, church music, and professional concerns.
Since 2004, Dr. Bell has served on the faculty of the Hayes School of Music, where he teaches organ and church music studies. His church music teaching emphasizes the practical knowledge needed for a solid undergraduate foundation toward successful work and further studies in sacred music. His organ teaching specializes in practice techniques, memorization, service playing, choral accompanying, and maintaining grace under pressure – lessons always best taught by example. Dr. Bell is all things keyboard: whether performing an organ recital, a piano chamber program, playing for church, playing and music directing in the pit for a musical, or teaching students how to do all of those, he is equally at home at the organ, piano, and harpsichord, and he thrives onstage, in the classroom, and in the applied organ lesson. Dr. Bell is also honored to serve as the voice of the Appalachian Marching Mountaineers.
He has made a number of recordings on the Centaur label. American Classic Widor is a seven-volume series of the complete solo organ works of Charles-Marie Widor, recorded on Aeolian-Skinner and E.M. Skinner instruments around the country. American Classic English is an all-British program recorded on the landmark Aeolian-Skinner at First Baptist Church, Longview, Texas. Sonatas and Variations features large works by Jongen, Brahms, and Reubke, recorded on the Fritts organ at St. Philip Presbyterian, Houston. Music City Mixture is a self-produced project recorded on six mechanical-action organs of Nashville. Live Performances is a self-produced promotional compilation from performances at Appalachian State University, Rice University, Houston Baptist University, and the Washington National Cathedral. Dr. Bell is also featured on let the rain kiss you, a collaborative project with acclaimed soprano Melissa Givens. His most recent recording is of the complete solo organ works of Jeffrey Nytch, recorded at the University of Dubuque.
Born in 1968 in Statesville, N.C., Dr. Bell attended high school at the [University of] North Carolina School of the Arts, where he studied piano with Marian Hahn and Robert McDonald. He earned the Bachelor of Music degree in organ and piano from Appalachian State University and the Master of Music and Doctor of Musical Arts degrees in organ from Rice University. His teachers include H. Max Smith and Clyde Holloway, organ, and Rodney Reynerson and Allen Kindt, piano. He has served church posts in Houston and throughout North Carolina.