Dr. Julia Pedigo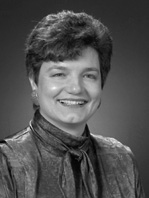 Office Location:
Room 215, Broyhill Music Center
Soprano Julia Pedigo has taught voice, vocal pedagogy, and song literature on the music faculty of the Appalachian State University Hayes School of Music since 1985 and has served as Coordinator of Voice. Dr. Pedigo earned the Bachelor of Music Education degree from Illinois Wesleyan University, Master of Music in Voice Performance from the College-Conservatory of Music, University of Cincinnati and Doctor of Musical Arts in Voice Performance from the University of Michigan where she studied with Leslie Guinn.
Dr. Pedigo has appeared throughout the United States, Canada, and Europe as both soloist and recitalist, with such notable artists as Kathleen Battle, Richard Margison, and Stephen Morscheck.
She has embraced all aspects of solo singing, including opera, recital, concerts, oratorio, chamber music, and contemporary music. She has performed a great deal of contemporary chamber music, including Schoenberg's Pierrot Lunaire, Crumb's Ancient Voices of Children, Carter's Syringa with composer in residence, and Ginastera's Cantata para America Magica among others.
Her operatic roles have included Alice Ford in Verdi's Falstaff, Pamina in Mozart's The Magic Flute, Cherubino in Mozart's The Marriage of Figaro and Baba the Turk in Stravinsky's The Rake's Progress under the direction of Robert Altman.
In addition to her many recitals, recent performances have included Orff's Carmina Burana with the North Carolina Symphony and for the ASU Centennial, Mozart's Great c minor Mass under the direction of Carl St. Clair with the Cayuga Chamber Orchestra (NY) and Handel's Messiah with the Naples Philharmonic (FL), Barber's Knoxville: Summer of 1915, Mark Camphouse's Symphony from Ivy Green, and Warren Benson's Shadow Wood.
With a full complement of voices on the voice faculty, Dr. Pedigo was instrumental in organizing APPropos!, the voice faculty quintet with Dr. Rodney Reynerson accompanying. Since its inception in 1995, APPropos! has entertained audiences throughout North Carolina and has recorded a compact disc performing the songs and quartets written specifically for the group by Dr. William G. Harbinson, Dean of Hayes School of Music.
She is the recipient of many awards and fellowships which have taken her for study and performance to the summer festivals of Aspen, Blossom, and Banff Centre, Canada, as well as the Universita Italiana per Stranieri in Perugia, Italy.
Dr. Pedigo's teachers and coaches include Leslie Guinn, Sammy Scifres, Martin Katz, Elly Ameling, Hakan Hagegard, Dalton Baldwin and Martin Isepp.
Ensembles/Responsibilities:
Member of APPropos!
Professor of Voice, Vocal Pedagogy, and Song Literature
Performances:
Chamber Music
Schoenberg's Pierrot Lunaire
Crumb's Ancient Voices of Children
Carter's Syringa with composer in residence
Ginastera's Cantata para America Magica
Operatic Roles
Alice Ford in Verdi's Falstaff
Pamina in Mozart's The Magic Flute
Cherubino in Mozart's The Marriage of Figaro
Baba the Turk in Stravinsky's The Rake's Progress
Recent Performances
Orff's Carmina Burana with the North Carolina Symphony and for the Appalachian State Centennial
Mozart's Great C minor Mass under the direction of Carl St. Clair with the Cayuga Chamber Orchestra (NY)
Handel's Messiah with the Naples Philharmonic (FL)
Barber's Knoxville: Summer of 1915
Mark Camphouse's Symphony from Ivy Green
Warren Benson's Shadow Wood