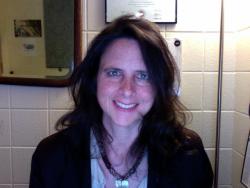 Main Title:
Associate Professor of Musicology
Office Location:
Room 322-B, Edwind Duncan Hall
Reeves Shulstad has been a member of the Appalachian faculty since 2009. With earned degrees that include a Masters and Ph.D. in Historical Musicology, Shulstad teaches music history and appreciation, world music and music and gender courses at the Hayes School. In addition to teaching, Shulstad is working on a book about microtonalist composer Tui St. George Tucker, a contemporary of John Cage who split her time between Greenwich Village and Camp Catawba, a boys camp outside of Blowing Rock, NC. Shulstad is also working on a critical edition of Tucker's music. Other research interests include the Scholarship of Teaching and Learning with her most recent project on student engagement. Shulstad is also active in curriculum development and assessment, serving as the chair of the Hayes School of Music's curriculum committee and on university-wide general education assessment committees.