Dr. Samuel Ambrose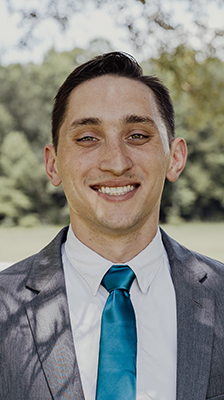 Main Title:
Visiting Assistant Professor of Tuba and Euphonium
Office Location:
Room 309, Broyhill Music Center
Dr. Samuel Ambrose is the Visiting Assistant Professor of Tuba and Euphonium at Appalachian State University. Dr. Ambrose turns back-row tuba playing into front stage artistry, bringing high-caliber style to performances, outreach, and educational experiences. His sound supports a variety of ensembles, most recently with the Capital Wind Symphony and Rockville Brass Band. Samuel has also performed for the North Carolina Symphony Orchestra, Richmond Symphony Orchestra, Johnstown Symphony Orchestra, Augusta Symphony Orchestra, and Sunrise Pops Orchestra, as well as freelancing in the Mid-Atlantic region. He has significant chamber music and solo experience, performing in a variety of styles in the classical and commercial music realms.
As an educator, Dr. Ambrose's teaching ranges from private instruction to master classes, clinics, and ensemble instruction. He has spent a decade in the Maryland public school system serving as a band and orchestra director. He is also a co-founder and Director of Program Development with the Brass Institutes of America, a 501(c)(3) nonprofit focusing on bringing excellence in brass performance and education. Dr. Ambrose has spent significant time adjudicating, consulting, and teaching numerous drum corps and marching ensembles throughout the country.
Ambrose holds a Doctorate of Musical Arts from the University of Maryland, a Master's degree in Tuba Performance from The Peabody Institute of the Johns Hopkins University, and a Bachelors of Music Education degree from Florida State University. His teachers have included David Fedderly and Paul Ebbers.