James G. Daugherty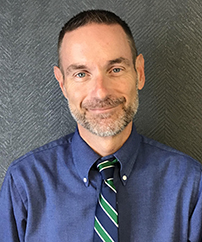 Main Title:
Cannon Music Camp Director
A native of Ashe County, North Carolina, James G. Daugherty is currently serving as an Instructional Program Specialist for Fine Arts and Distance Learning in the Davidson County (NC) Schools and is the Director of Cannon Music Camp at Appalachian State University in Boone. Previous to these appointments in 2015, he served for twenty-one years as band director and instructor of music theory at Central Davidson High School in Lexington, assisting daily with the band instruction at Central Davidson Middle School. In 2019 he completed his twenty-ninth summer on the faculty/staff of Cannon Music Camp where he had served as the Dean of Men for twenty years.
While at Central Davidson both the Symphonic Band and the Wind Ensemble consistently earned ratings of excellent and superior at regional, state and national music festivals across the Southeast. More festival superior ratings for the bands were earned in Mr. Daugherty's twenty-one years than during the school's history at that time. In 2012 the bands of Central Davidson performed at the Dixie Classic Festival in Williamsburg, VA with the Wind Ensemble earning "Honor Band" status for the event. In 2004 the band program was invited to represent the State of North Carolina at the National Festival of States in Washington, D.C. commemorating the new WWII Memorial. The Wind Ensemble performed for the North Carolina Music Educators Annual In-Service Conference in November of 2005 with a "Midwest Clinic" format program of music for all ability levels. The Marching Band (an all-volunteer group) also performed with the world-renowned "Dallas Brass" at the North Carolina Music Educators In-Service Conference in 1997.
In 1996 and in 2013, he was named "Teacher of the Year" at Central Davidson High School and in 1997 for Davidson County Schools (a system of approximately 27,000 students) placing again as a top-three finalist for the Davidson County Schools "Teacher of the Year" in 2013. In January 1998 he was presented a distinguished "Outstanding Young Educator" by the Lexington Jaycees and in April 2006 was nominated for a "Young Alumnus Award" from Appalachian State University. He has been nominated for "Who's Who Among American Teachers" by his students over four times and was also recognized by the group "Who's Who In America."
Mr. Daugherty's educational background includes a Bachelor's degree in music education from Appalachian State University as well as a Master of Music degree in music education with a concentration in band directing from Appalachian. He also holds certification in Education Leadership/School Administration from High Point University and is a licensed K-12 School Administrator. While attending Appalachian, Mr. Daugherty was a recipient of the prestigious North Carolina Teaching Fellows Scholarship. He holds professional memberships in the American School Band Director's Association (ASBDA), National Band Association, the National Association for Music Education (NAfME), the North Carolina Music Educators Association, the North Carolina Bandmasters Association, the North Carolina Association of Educators, the Florida Bandmasters Association, Phi Mu Alpha Sinfonia, Pi Kappa Lambda, Kappa Delta Pi, Phi Eta Sigma and is a faculty life member of the Tri-M Music Honor Society.
In November 2015, Mr. Daugherty began a two-year term of service as President of the North Carolina Music Educators Association, a division of the National Association for Music Education. Daugherty is a Past-President of the North Carolina Bandmasters Association (2012-2014). He was elected to serve as District Five President for the North Carolina Music Educators Association in 2006 and served in that capacity until 2009. Within the district and state band associations, he has previously served the Northwest District Bandmasters Association as chairman from 2008-2010, as treasurer for eight years 2000-2008, and from 2003-2009, he served as the state clinic chair for the North Carolina High School Honors Band. Mr. Daugherty considers one of his most humbling honors to be selected by his colleagues as the "Award of Excellence" recipient for the Northwest North Carolina Bandmasters Association in February of 2007. Mr. Daugherty was featured in the February 2009 edition of Teaching Music (a publication of the National Association for Music Education) in an article entitled "Accentuate the Positive" and was also listed in December 2009 as one of "50 Directors Who Make A Difference" in School Band and Orchestra Magazine. He has adjudicated for marching band events in North Carolina and Virginia and has also served as a guest conductor within those states. He has additionally served as a performance and sight-reading adjudicator for the North Carolina Bandmasters Association Concert Band MPA and the Virginia Band and Orchestra Directors Association MPA.
Active in the Lexington community, Mr. Daugherty is a member of Coggins Memorial Baptist Church and sings in the sanctuary choir also volunteering as the assistant music director.