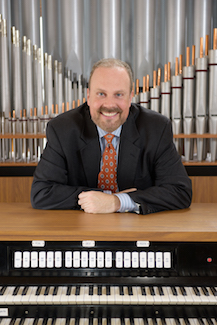 Main Title:
Associate Professor of Music
Organ, Harpsichord
Undergraduate Sacred Music Program Coordinator
Office Location:
Broyhill Music Center, Room 420
Since 2004, Dr. Bell has served on the faculty of the Hayes School of Music, teaching organ and church music studies. His teaching specializes in practice techniques, memorization, service playing, choral accompanying, and maintaining grace under pressure – lessons always best taught by example.
He brings to his performances a contagious affability and a keen sensitivity to an audience's increased appreciation for organ music. His recital programming demonstrates a varied and interesting repertoire, always enhanced by illuminating program notes designed to embrace all audiences. His acclaimed blog at <www.JobyBell.org> deals with a comprehensive range of organ-related topics including teaching philosophies, recital preparation, church music, and professional concerns.
He has served the American Guild of Organists as a faculty member of Pipe Organ Encounters for young people, as dean of the Houston (Tex.) and Boone (N.C.) chapters, and from 2006-2010 as director of the National Young Artists Competition in Organ Performance. He garnered Second Prize and the Audience Prize in that competition in 2000.
Dr. Bell attended high school at the [University of] North Carolina School of the Arts, where he studied piano with Marian Hahn and Robert McDonald. He earned the Bachelor of Music degree in organ and piano from Appalachian State University and the Master of Music and Doctor of Musical Arts degrees in organ from Rice University. His teachers include H. Max Smith and Clyde Holloway, organ, and Rodney Reynerson and Allen Kindt, piano. His doctoral thesis, "The Grand Organs of Notre-Dame and Saint-Sulpice, Paris: The Magna Opera of Aristide Cavaillé-Coll and a Critical Comparison of Their Alterations," explored those important instruments' tonal relationships and the subsequent changes made to them.
He is featured on several recordings. His latest, Sonatas and Variations, available on the Centaur label, features large works by Jongen, Brahms, and Reubke, recorded on the Fritts organ at St. Philip Presbyterian Church in Houston. Music City Mixture is recorded on mechanical-action organs of Nashville. Live Performances is a compilation of works played live at Appalachian State University, Rice University, Houston Baptist University, and the Washington National Cathedral. Dr. Bell is also featured on let the rain kiss you, a collaborative project with Augusta, Ga.-based soprano Melissa Givens. He is currently recording the complete Widor Symphonies on Aeolian-Skinner instruments throughout the United States.
Visit the ASU organ studio's Facebook page
Visit Dr. Bell's website and blog: www.JobyBell.org
Previous professional and performing posts:
Organist, St. Luke's Episcopal Church, Boone, N.C., 2017-
Interim Organist, First Presbyterian Church, Statesville, N.C., 2016-2017
Interim Organist, First Presbyterian Church, Lenoir, N.C., 2009-2011
Organist, First Presbyterian Church, Houston, Tex., 1997-2005
Organist, St. Philip Presbyterian Church, Houston, Tex., 1995-1997
Interim Organist/Choirmaster, Episcopal Church of the Holy Spirit, Houston, Tex., 1994-1995
Associate Organist/Choirmaster, Episcopal Church of St. John the Divine, Houston, Tex., 1990-1994
Organist, Boone United Methodist Church, Boone, N.C. 1989-1990
Organist/Choirmaster, Crossnore Presbyterian Church, Crossnore, N.C. 1988-1989
Ensembles/Responsibilities:
Teacher and advisor for all organ majors
Teacher and advisor for all church music majors
Harpsichord instruction
Coordinator, church music curriculum
Education:
Doctor of Musical Arts, Organ Performance, Rice University, 2002
Master of Music, Organ Performance, Rice University, 1997
Bachelor of Music, Organ and Piano Performance, Appalachian State University, 1990
Diploma, piano concentration, North Carolina School of the Arts, 1986
Professional Affiliations & Honors:
Aircraft Owners and Pilots Association
American Guild Of Organists – Boone, European, District of Columbia chapters
Association of Anglican Musicians
Organ Historical Society
Phi Eta Sigma
Phi Mu Alpha Sinfonia
Pi Kappa Lambda
Westfield Center for Historical Keyboard Studies