Prof. Andy Page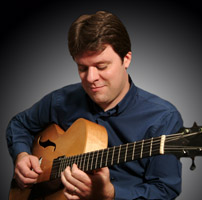 Office Location:
Room 421, Broyhill Music Center
Jazz guitarist Andy Page maintains an active schedule in the Southeast with a variety of jazz and rock ensembles. He has performed internationally at the Montreux Jazz Festival in Switzerland, Japan's Muroran Jazz Cruise, and for jazz workshops in Friburg, Germany. Andy worked in the cruise ship industry in the South Pacific, Mediterranean and Caribbean seas and also traveled with a nationally touring theatrical production. In recent years he has performed at Asheville's Django Reinhardt Celebration and the Dizzy Gillespie Jazzfest in South Carolina, and has been a featured composer at the Jazz Composers Forum based in Asheville, NC. Andy has performed private engagements for former President Bill Clinton and poet Maya Angelou, and has performed with jazz artists such as Phil Woods, Jamey Aebersold, Tony Monaco, Matt Wilson, Gary Smulyan, Don Braden, Chris Vidala, Jack Wilkins, Jon Metzger, and David Baker. Andy recently served as clinician/performer at Clemson University's inaugural Jazz Guitar Festival in October 2015.
A versatile musician, Andy has played with the funk/rock group The Deciders at the 2009 Gathering Of Nations Native American Pow-wow in Albuquerque, NM, with Swing Guitars at Musicfest 'n Sugar Grove (Doc Watson festival). Andy has worked as a session player on numerous recordings, and has a released a recording of gypsy waltzes entitled Souvenir de Django with the trio Musette Guitars. More recently, Andy divides time between the Todd Wright Quartet, the Page Brothers, Maureen Renihan and Friends, Metaphonia and Bafoodus.
Andy has a Masters degree in Jazz Studies from the University of Tennessee and a Bachelor's degree in Music Performance from University of North Carolina-Wilmington. He has studied privately with renowned jazz educators Jerry Coker and Donald Brown and with guitarists Mark Boling, Bob Russell, and Robert Nathanson. Andy currently is on the music faculty at Appalachian State University where, in addition to Applied Jazz Guitar, he also teaches History of Rock Music, Jazz in American Society, and Jazz/Pop Theory.