Prof. Mark Freed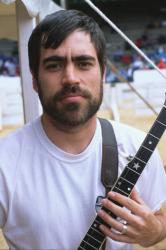 Main Title:
Adjunct Instructor of Appalachian Music
Mark Freed teaches MUS 2016 Appalachian Music as an adjunct instructor and works as folklorist for the Watauga County Arts Council. He holds a master's degree in Appalachian studies from Appalachian State University and a master of library science from Clarion University of Pennsylvania. Mark is the director of the Watauga County Junior Appalachian Musicians and serves on the board of Junior Appalachian Musicians, Inc., a regional organization that helps develop and promote community programs that provide instruction in traditional southern Appalachian Music. He also oversees the Watauga Arts Council's Concerts on the Lawn series and hosts a weekly acoustic jam session at the Jones House Community and Cultural Center in downtown Boone. Mark worked with the North Carolina Folklife Institute to help create the Blue Ridge National Heritage Area's Traditional Artist Directory. Mark performs with various local and regional traditional mountain music groups and teaches private lessons in a variety of folk music styles. He plays banjo, piano, guitar, and mandolin.
Education:
Clarion University of Pennsylvania, Clarion, PA - M.L.S., December, 2008
Appalachian State University, Boone, NC - M.A. - Appalachian Studies, December, 2005
Indiana University of Pennsylvania, Indiana, PA - B.A. - Journalism, June, 2000
Professional Affiliations & Honors:
2008-present, Special Libraries Association
2009, American Libraries Association -Association of College and Research Libraries
2008-present, Vice President, Junior Appalachian Musicians, Inc.
2007-2009, Nominating Committee, Blue Ridge Hall of Fame, Wilkesboro, NC
Publications & Presentations:
(2011). "Creative Research." General Education Faculty Newsletter - Spring 2011. Online.
(2009). "Doc Watson - North Carolina Legend." Tar Heel Junior Historian, 41(1), 9-11.
(2007). "Ora Watson Watauga County's Senior Musician." The Old-Time Herald, 11(1), 16-21.
(2007). "Give Me that Old-Time Music and Dancin'." High Country Magazine, 2(6), 14-21.
(2005). [Review of the book Strings of Life - Conversations with Old-Time Musicians from Virginia and North Carolina]. Appalachian Journal, 33(1),
(2004). "Preliminary Bibliography of Best-Known Black Appalachian Musicians." Black Music Research Journal, 24(1), 91-168.
Santa Claus String Band (2007). "Breakin' Up Christmas." Christmas In the Mountains. Audio recording.