Appalachian Symphony Orchestra and Western Region Orchestra Perform on Feb. 26 and 27
The Appalachian Symphony Orchestra (ASO) and the Western Region Orchestras (WRO) will perform in the Schaefer Center at 6:00 this Saturday and Sunday, February 26 and 27, 2022. The ASO will perform first on each program, followed by the WRO.
See the ASO program and program notes here.
The concerts are in the Schaefer Center. Tickets are not required.
Face coverings will be required and physical distancing is recommended.
The ASO concert will be live-streamed at music.appstate.edu/performances.
Western Region Orchestra Clinic
The Western Region Orchestra Clinic is a program of the North Carolina Music Educators Association. This weekend's clinic consists of the Repertory Orchestra (meeting on Saturday) and the Honors Orchestra (meeting on Sunday). Students in these orchestras are selected by audition from high schools and studios across western North Carolina.
The high school musicians' time on Appalachian State University's campus is an opportunity to learn from excellent clinicians, play alongside skilled peers, and enjoy the feel of a college campus. The weekend also includes an opportunity to hear the Appalachian Symphony Orchestra perform their February concert.
The Hayes School of Music welcomes the Western Regional Orchestra to campus. "We learn, grow, and are inspired by the work that is happening at all levels, and we reconnect with our passion," says Dean James Douthit. "It is my hope that we can continue to play a role in our region as a source of information and inspiration for students who want to transform their passion for music into a profession for life."
Appalachian Symphony Orchestra: Inspirations
Under the direction of Dr. Régulo Stabilito, the Appalachian Symphony Orchestra shares four pieces along the theme of "Inspirations", from reflective and courageous to joyful.
See the ASO program and program notes here.
"Voices Shouting Out" (2001/02). Nkeiru Okoye (b.1972)
Fantasia on a Theme by Thomas Tallis (1911 rev. 1933), Ralph Vaughan Williams (1872-1958)

The Fantasia features a string quintet of Hayes School of Music faculty and friends:

Dr. Nancy Bargerstock, violin
Ms. Margaret Bragg, violin
Dr. Eric Koontz, viola
Dr. Ellie Wee, cello
Dr. Adam Booker, double bass

An American Af(fair) (2020) Jason Wise (b.2001)
Symphonic Suite "Santa Cruz de Pacairigua" (1954) Evencio Castellanos (1915-1984)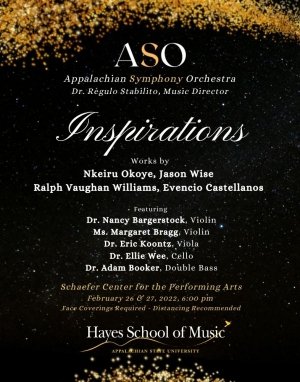 Tags: