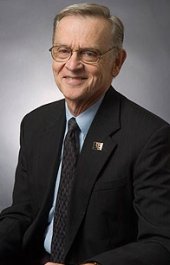 Last Name:
Emerson Unsworth, Jr., ED.D.
Main Title:
Dean of the Hayes School of Music
Professor Emeritus of the Hayes School of Music
Arthur Emerson Unsworth, Jr., (November 30, 1935-) was born to Bessie Mae Barker and Arthur Emerson Unsworth, Sr., in Atlantic City, New Jersey. He is the oldest in a family of four children; his siblings - Gari Beth Unsworth Cline, Geri Grace Unsworth Paterno, and Norman Joseph Unsworth - were also born in New Jersey. Although Unsworth's father was part owner of an automobile dealership, his interest was in jazz; he performed regularly as a pianist in the New Jersey, New York, and Philadelphia areas. At age fourteen, Unsworth began playing trumpet on club dates with his father's quartet, and he has continued to perform in commercial music venues since that time. In addition, Unsworth has performed on trumpet with the Sun Valley Symphony, the Phoenix Symphony, and the Brigham Young University Faculty Brass Quintet. As a pianist, he was featured in many recitals while at Appalachian State University.
Following graduation from Vineland High School in 1954, Unsworth attended Trenton State College (The College of New Jersey, Ewing), receiving a B.S. degree in music education and a M.A. degree in music composition. He then earned an Ed.D. degree, with a major in music theory, from Arizona State University in Tempe. While involved in doctoral study, Unsworth married his favorite accompanist, Shirley Blanche Decker.
Dr. Unsworth began his collegiate teaching career in 1971 at Delta State University, Cleveland, Mississippi, where he taught music theory and history courses. After three years at Delta State, the Unsworths moved to Provo, Utah, for a five-year stint at Brigham Young University, where Dr. Unsworth was coordinator of lower division music theory. During this period, he designed and produced a series of sixty-five video tapes, with accompanying drill materials, for teaching music theory concepts. A move to administration was next, as Dr. Unsworth went to the Crane School of Music at Potsdam College in the State University of New York System, where he spent eleven years as associate dean of music. The final change of locale was the move to Boone, NC, where he assumed the position of dean of the Hayes School of Music at Appalachian State in 1989.
After eleven years as dean of music, Dr. Unsworth requested a promotion to the music faculty, where he served as director of the music industry studies and taught music theory courses for four years prior to his retirement. His teaching efforts have been rewarded with excellence awards from the Student Government Association (2001) and the School of Music (2002). During his tenure at Appalachian State, Unsworth also co-authored (2003) the music appreciation text Crossroads in Music, which is published by Wadsworth/Thomson.
While mothering six children, Shirley, Unsworth's wife of almost four decades, has managed to acquire two masters' degrees (music and English), thus setting a wonderful example of meeting the academic challenge. She currently is on the faculty of the Watauga Campus of Caldwell Community College. The Unsworths' children are, in chronological order: Erik, who has degrees in music composition (Appalachian State), jazz bass (University of Indiana, Bloomington), and studio recording (Institute of Audio Engineering), and who teaches jazz and commercial music at the University of Texas, El Paso; Adam, who has degrees in music performance (Northwestern University, Evanston, Illinois, and the University of Wisconsin), and who plays the French horn in the Philadelphia Orchestra; Andrew, who has degrees in organ performance (Brigham Young University, Provo, Utah) and musicology (Duke University, Durham, North Carolina), is the organist at the Cathedral of the Madeleine in Salt Lake City; Austin, who has a degree in industrial design (Brigham Young University), works as a designer for a dental equipment firm in Portland, Oregon; Allison, who has degrees in violin performance (Brigham Young University), is currently loving her position as a full-time, stay-at-home mom; and Alan, who is currently a graduate student in Library Science at the University of North Carolina–Chapel Hill. The Unsworths feel that a healthy, active, and close family is certainly life's most wonderful blessing.
Finally, for five years, Dr. Unsworth held the position of president of the local branch of the Church of Jesus Christ of Latter-day Saints, and he has taught religion classes for college-age students.
Sources: Personal correspondence and long association.
-Dr. Richard D. Howe