Dr. Dakota Corbliss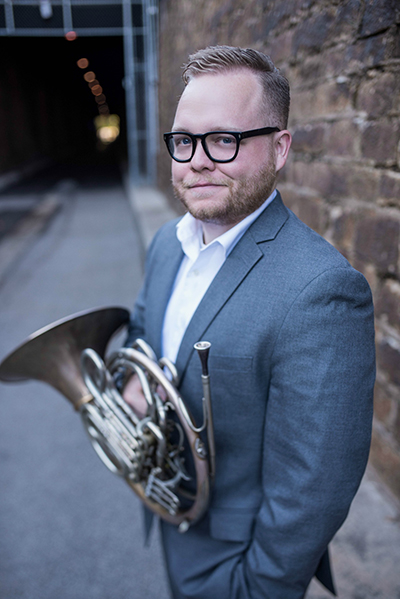 Main Title:
Assistant Professor of Horn
Brass Area Coordinator
Office Location:
Room 308, Broyhill Music Center
Dr. Dakota Corbliss currently serves as the Assistant Professor of French Horn at Appalachian State University. He has earned degrees from the University of South Carolina (DMA), University of Miami (MM), and Virginia Tech (BA).
As an ensemble performer, Dr. Corbliss is the Third Horn in the Roanoke Symphony Orchestra while playing frequently with many other regional orchestras including the North Carolina Symphony, Charlotte Symphony, Augusta Symphony, Virginia Symphony, South Carolina Philharmonic, and Long Bay Symphony. In the past, he has performed with the likes of New World Symphony, Miami City Ballet, the United States Navy Band Southwest, the United States Air Force Heritage of America Band, South Florida Philharmonic, and many others.
An avid chamber musician, Dr. Corbliss helped found Vice City Brass, a collective of brass and electronic musicians aiming to bridge the generational gap between the past, present, and future. Corbliss has recently co-founded a new music group called PIVOT, a horn and saxophone duo dedicated to promoting perspective shifts among their audience.
In an administrative role, Dr. Corbliss is currently the Chief Operations Officer for the Brass Institutes of America, a series of brass chamber music festivals that take place across the country. He has also worked logistics on many projects including the Savvy Arts Venture Challenge and the College Music Society Summit.