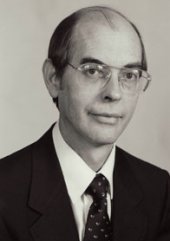 Main Title:
Professor Emeritus of Music
Herbert Max Smith (August 24, 1931-July 6, 2012) was born in Fayetteville, Arkansas, the youngest of seven children of Daisy McDonald and Charles Smith. After attending elementary and high school in Parsons, Kansas, Smith graduated Phi Beta Kappa from the University of Missouri in Columbia, where he was inducted into the Phi Mu Alpha Sinfonia national music fraternity. He earned the Master of Music degree in organ performance at the University of Oklahoma, in Norman, where he was Mildred Andrews' pupil. After some years as a church organist, he pursued work in New York and completed the Doctor of Sacred Music degree at Union Theological Seminary, New York, New York. Concurrently, Smith studied organ with Carol Weinrich at Princeton University, Princeton, New Jersey. He was twice first-place winner of the regional American Guild of Organists' competition for young organists, resulting in performances at the guild's national conventions held in San Francisco and New York.
In 1959, Smith accepted a post as artist-in-residence at Southeastern Theological Seminary, Wake Forest, NC, where he later became an associate professor. He was then invited to join the music faculty at Appalachian State University, and he taught at the university for 25 years, retiring in 1994.
At Appalachian State, Smith developed, and was the first director of, the University Honors Program and was instrumental in establishing Watauga College. For four years, he served as chair of the music faculty, during which time plans were made and construction begun for the Broyhill Music Center. In 1974, Smith was honored with the Trustees' Award for Outstanding Teaching.
An off-campus scholarly assignment gave Dr. Smith the opportunity to study musicology at the University of North Carolina–Chapel Hill. Within this period, he also edited and published the first volume of German Classic Organ Music, 1750-1800 (Hinshaw Publishing Company) and studied harpsichord in New York with Kenneth Cooper. He then participated in the exchange professor program and taught at the Universidad Americana in San German, Puerto Rico. Shortly before retirement, Smith held the Sharpe Chair in the Fine Arts.
During his Appalachian State tenure, Smith taught applied organ and harpsichord, music history and theory, and courses in the church music curriculum. At the graduate level, he taught various specialized courses and music bibliography.
As a concert organist, Smith has performed hundreds of recitals in twenty-six states and five European countries. In addition, he has acted as a consultant to over one hundred churches regarding the purchase, design, and installation of pipe organs. Smith has, as well, served as clinician and workshop leader at numerous state and national conventions of church musicians.
Dr. Smith was devoted to his many former students, who visited him regularly. He was always eager to learn of their many successes. In retirement, Smith served on the board of directors of the Carolina Chamber Symphony in Winston-Salem, NC, and he was also on the board of directors at the Hiddenite Center, Hiddenite, NC. He continued to travel and to climb on the organ bench most Sunday mornings.
Sources: Appalachian State University files and long association.
-Dr. Richard D. Howe