Dr. James Douthit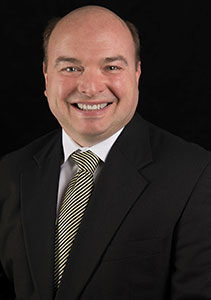 Office Location:
Broyhill Music Center Room 114
James Douthit, DMA, a native of Western North Carolina, returns to the region where he began his education and musical training to assume the position of Dean of the Mariam Cannon Hayes School of Music at Appalachian State University. Prior to this position, Douthit served Nazareth College in Rochester, New York, in the roles of the Associate Vice President for Academic Affairs and Chair of the Department of Music. Under his leadership, the Department of Music saw a significant and sustained increase in enrollment, advanced partnerships with international music programs, established a new undergraduate degree program in music business, as well as a graduate degree in creative arts therapy. Douthit laid the programmatic foundation for the recently initiated construction of the Jane and Laurence Glazer Music Performance Center, a 15.5 million dollar project with attention to acoustic detail that will make it one of the premiere music venues of the Rochester area for performances and recording. As the Associate Vice President of Academic Affairs at Nazareth College, Douthit led the development of the Center for Life's Work, a unique program that links professional career development to academic study for students across the college. He provided leadership for the college strategic plan, as well as the development of strategic plans for graduate studies and diversity and inclusion.
Douthit has maintained an extensive career as a professor, pianist, and piano pedagogy clinician. He has performed extensively in the United States, as well as in Austria, Poland, China, and Great Britain. Douthit is noted for his performance of piano compositions of Theodor Leschetizky (1830-1915), one of the most renowned piano pedagogues of the nineteenth century. Invited by the Leschetizky Association of America to present a concert honoring the birthday of Theodor Leschetizky, the review of the New York recital stated, "The crowd loved it and responded with a standing ovation." (Leschetizky Association News Bulletin). In 2008, he presented a recital of Leschetizky compositions at the birthplace of the teacher/composer in Łańcut, Poland. Other reviews of Douthit's recitals evidence a pianist with extensive technical and interpretive skills. "His sweeping gestures at the piano and obvious technical abilities extend his passion for the music and its communication to the audience". (The Shepherd College Picket). A performance of Beethoven's "Emperor Concerto" with the Southwest Symphony in Hobbs, New Mexico, drew strong reviews, declaring that Douthit's performance "was both technically proficient and musically poetic". (Hobbs Sun Times) In addition to his performance career, Douthit has published articles in Clavier, The American Music Teacher, and The National Piano Pedagogy Forum.
Douthit holds a Doctor of Musical Arts in Piano Performance from the Eastman School of Music, a Masters Degree in Piano Performance with an emphasis in accompanying and chamber music from Northwestern University and a Bachelor of Music Degree in Piano Performance (summa cum laude) from Mars Hill University. He has also studied higher education leadership at Institute for Educational Management in the Harvard University Graduate School of Education.