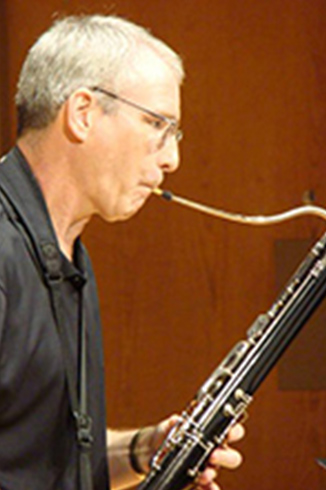 Office Location:
Room 316, Broyhill Music Center
Dr. Jon Beebe earned B.A. and M.M. degrees from the University of Nevada, Las Vegas, and a D.M.A. from the University of Wisconsin-Madison. In 1991 he received a "Distinguished Alumni" award from UNLV's music department, and he was the recipient of the Hayes School of Music's "Excellence in Teaching" award in 2017.
Dr. Beebe has performed with the North Carolina Symphony, the Las Vegas Symphony, the Madison (WI) Symphony and the Wisconsin Chamber Orchestra and has been principal bassoonist of the Oshkosh (WI) Symphony and the Western Piedmont Symphony in Hickory, NC.
Dr. Beebe is a frequent recitalist who often champions little known and new music, with nearly a dozen works composed for him. Several have since become quite widely known in the bassoon community. He has been a guest artist at the Conference of the International Double Reed Society, and also at the Southern Division Conference of the College Band Directors National Association and National Band Association. He is the author of Music for Unaccompanied Solo Bassoon, an Annotated Bibliography, and is the creator of bassoONLY, a database devoted to information about music for unaccompanied bassoon and contrabassoon.
Although primarily a bassoonist, Dr. Beebe has an extensive background in the area of music theory, having studied with Bruce Benward, Joseph Straus, Milton Babbitt, Carl Schachter, Robert Crane, and Virko Baley.
Ensembles/Responsibilities:
Dr. Beebe's responsibilities include bassoon, music theory, chamber music ("Blazing Bassoons"), and a graduate course devoted to the Philosophy of Music. Dr. Beebe also serves as the Coordinator of Programming for the Hayes School of Music Performance Seminar and the Faculty Performance Series.