Dr. Roger Zare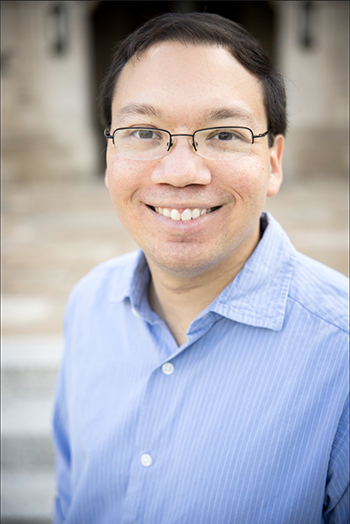 Main Title:
Assistant Professor of Music - Composition & Theory
Office Location:
Room 318, Broyhill Music Center
Roger Zare has been praised for his "enviable grasp of orchestration" (New York Times) and for writing music with "formal clarity and an alluringly mercurial surface." His colorfully descriptive compositions often take inspiration from science, nature, mathematics, and mythology, and he is especially interested in interdisciplinary collaboration. He was born in Sarasota, Florida, and began playing piano at age 5 and violin at age 11; he started composing at age 14. Roger holds a Doctorate of Musical Arts (2012) from the University of Michigan, a Master of Music (2009) from the Peabody Conservatory of Music, and a Bachelor of Music (2007) from the University of Southern California. Zare serves as Visiting Assistant Professor of Music at Appalachian State University and previously taught at Illinois State University.

An award-winning composer, Roger has written works for a variety of ensembles, including solo, chamber, choral, wind ensemble, and full orchestra works. In early 2005, the New York Youth Symphony commissioned Roger to write an orchestral piece for them as part of their First Music competition. The 65th composer to win this commission, Roger wrote an orchestral composition titled "The Other Rainbow," which was premiered in Carnegie Hall in February 2006. In 2007, Roger won a BMI student composer award for his orchestral work, "Green Flash," a work describing a rare and almost magical atmospheric phenomenon, and has subsequently been awarded the 2009 ASCAP Foundation Rudolf Nissim Prize and the 2008 American Composers Orchestra Underwood Commission for the same work. Another of Zare's orchestral works, "Aerodynamics," received a 2009 BMI student composer award and was premiered by the Minnesota Orchestra as part of the 2009 Minnesota Orchestra Composer Institute. Zare has received a Charles Ives Scholarship from the American Academy of Arts and Letters and was a fellowship recipient at the 2010 Aspen Composition Masterclass and the 2010 Cabrillo Festival of New Music Composer-Conductor workshop. He has been composer in residence of the Chamber Music Festival of Lexington (2010), the Salt Bay Chamberfest (2012), the Sioux City Symphony (2012), the Chesapeake Chamber Music Festival (2015), and the SONAR new music ensemble.

Zare's clarinet concerto, "Bennu's Fire," describing the life of the Phoenix bird through various mythologies, was written for and premiered by Alexander Fiterstein at the 2011 International Clarinet Association's ClarinetFest and was the recipient of both a BMI Student Composer Award and an ASCAP Morton Gould Award. In 2014, Zare partnered with CERN to present his saxophone quartet, "LHC," performed by the Donald Sinta Quartet at the Montreux Jazz Festival in Switzerland in a program featuring the collision of music and physics. In 2015, Zare received a prestigious Copland House Residency Award. In the summer of 2016, Zare attended the Bowdoin International Music Festival as the Kaplan Fellow in composition and another interdisciplinary collaboration partnered Roger with Elizabeth Hicks, an astrophysicist, and Megan Rhyme, a choreographer, producing "Far from Equilibrium," an evening-length dance piece for clarinet quartet and eight dancers based on the physics of turbulence. In 2021, Zare collaborated with clarinetist Andy Hudson to write "Elements of Contemporary Clarinet Technique." Published by Conway Publications, Zare composed 21 concert etudes for unaccompanied clarinet that focus on various aspects of 20th and 21st century technique. Following the success of Elements, Zare and Hudson teamed up again with Conway Publications to write "SPACE BASS," a book of 13 concert etudes for bass clarinet. Zare frequently serves as guest composer with middle school through collegiate bands and orchestras to clinic his numerous educational compositions.

During his years at USC's Thornton School of Music, Roger has studied with Donald Crockett, Tamar Diesendruck, Frederick Lesemann, and Morten Lauridsen. At Peabody, Roger studied with Christopher Theofanidis, David Smooke, and Derek Bermel, and at the University of Michigan, Roger studied with Bright Sheng, Michael Daugherty, Kristin Kuster, and Paul Schoenfield. His compositions are published by Theodore Presser Inc, the FJH Music Company, Manhattan Beach Music, and Roger Zare Music. He is a member of ASCAP and a founding member of the Blue Dot Collective. Zare also loves hiking, running, biking, and lives with his wife, Alexandra Dee, and his cat, Percy.