Emil Schlee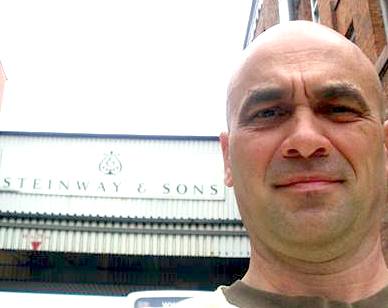 Main Title:
Registered & Certified Piano Technician - RPT, CPT
Office Location:
Room 428, Broyhill Music Center
"There is geometry in the humming of the strings, there is music in the spacing of the spheres." - Pythagoras
An aural tuner and piano-action restoration specialist, Emil studied and completed certification (CPT), in the Piano Technology Certification Program at Western University, Ontario, Canada, where he was honored as a 'Graduate of Distinction.' Also formerly a Registered Piano Technician (RPT), with the Piano Technicians Guild Inc, he has tuned and serviced pianos for: the Eastern Music Festival, Greensboro, NC; Georgetown University, Catholic University of America, the Smithsonian Institute, United States Peace Institute, The Newseum, the French, Swiss, and Chilean Embassys of Washington, DC, and other performance venues and institutions throughout the DC Metro area; the Schaefer Center, and the Appalachian Theater of the High Country in Boone NC, as well as privately in the greater Boone area.
"If you want to find the secrets of the universe, think in terms of energy, frequency, and vibration." - Nikola Tesla