Prof. Corinne Cassini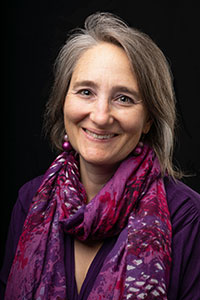 Main Title:
Adjunct Instructor of Alexander Technique
Ms. Corinne Cassini, Alexander Technique teacher and cellist, left her New York City teaching practice to take the position of adjunct professor of the Alexander Technique (AT) at Appalachian State University, Hayes School of Music. As an AT teacher, she is certified by both AmSAT (American Society for the Alexander Technique) and ATI (Alexander Technique International) and is an active member of these professional organizations, taking part in Annual General Meetings and International Congresses.
An Ohio native, Ms. Corinne Cassini lived in France while growing up, and later in Germany and The Netherlands. She completed her three-year AT training in Amsterdam, The Netherlands, while working as a free-lance Baroque cellist, teaching the cello, and also teaching French as a foreign language. She has just completed two years of post graduate work under Tommy Thompson at the Alexander Technique Center at Cambridge, MA. She also holds a BM in performance and pedagogy in both Modern (Rice University) and Baroque cello with a minor in the Viola da Gamba (Utrecht School for the Arts).
As a professional musician, Ms. Corinne Cassini loves to work with other fellow musicians and brings to her AT teaching the merger of her intimate and personal experience of playing an instrument, performance issues, and the physical and mental challenges of the profession.
As a multi-lingual and multi-cultural citizen, she understands people from many different backgrounds and walks of life. To her the AT is also a language, the language of touch, spoken and understood by all regardless of origin, age or race. With her trained hands, she practices the art of communicating directly to someone's being through their body. She strives to elicit the twinkle in students' eyes as they discover, learn and apply something new for themselves.
Ms. Corinne Cassini teaches AT at Cannon Music Camp and looks forward, as she settles down in Boone, to growing a flourishing private AT practice for the community that complements her Appalachian State University teaching.
Website: www.lightinbeing.com