Beethoven 250!
Program 3: October 18, 2020, 4pm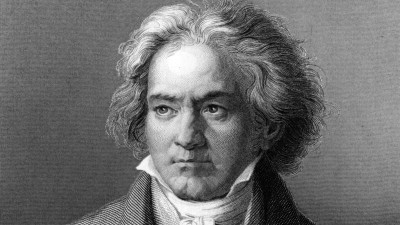 Program
Duo No. 2 in F Major, WoO 27 (ca. 1790-92)
Allegro affettuoso
Aria. Larghetto
Rondo. Allegretto moderato
Performers:
Soo Goh, clarinet
Jon Beebe, bassoon
Rondo in C Major, Op. 51, No. 1 (1797)
Performer: Hiu-Wah Au
Trio for Flute, Bassoon, and Piano in G Major, WoO 37 (1786)
Allegro
Adagio
Andante con variazioni
Performers:
Nancy Schneeloch-Bingham, flute
Jon Beebe, bassoon
Junie Cho, piano
Piano Sonata No. 31 in A-flat Major, Op. 110 (1821)
Moderato cantabile, molto espressivo
Scherzo: Allegro molto
Adagio ma non troppo – Arioso dolente
Fuga: Allegro ma non troppo
Performer: Bair Shagdaron
Program Notes
Duo No. 2 in F Major, WoO 27 (ca. 1790-92)
This program begins with a duet with clarinet and bassoon that may or may not have been composed by Beethoven. There are three duets on this collection and they were published in Paris before 1815, but they reflect the earlier compositional period of Beethoven before his move to Vienna. The opening movement certainly allows for each instrument to display some playful virtuosity. The clarinet takes on the lyrical melody of the Aria movement over top the undulating bassoon accompaniment. The Rondo allows both instruments to take center stage, often with a conversational texture reminiscent of the compositional style of Franz Joseph Haydn, Beethoven's short-lived composition teacher in Vienna during the early 1790s.
Rondo in C Major, Op. 51, No. 1 (1797)
This delightful Rondo is a popular one-movement member of Beethoven's piano repertoire. After completing Op. 51 in c.1798, he eventually dedicated it to Countess Henriette Lichnowsky, sister of Prince Karl Lichnowsky, an important patron of Beethoven's during his early years in Vienna. The Countess eventually married and moved to Paris, continuing her connection to musicians by moving in social circles that included Frédéric Chopin.
Trio for Flute, Bassoon, and Piano in G Major, WoO 37 (1786)
This trio is the earliest work on the program. Beethoven, still in Bonn, was studying with Christian Gottlob Neefe, the court organist, during this time. Although he was composing and this piece might be one of his works, Beethoven was better known as a virtuoso performer during the early years of his career. This piece certainly reflects Beethoven's early compositional style as it is very connected to the High Classical style of Haydn and Mozart. After the first movement Allegro, the lovely Adagio allows each instrument to have a featured expressive moment. The last movement is a stately theme and variation that eventually picks up speed to drive towards the final cadence.
Piano Sonata No. 31 in A-flat Major, Op. 110 (1821)
Beethoven completed Op. 110 in December of 1821, after a year of particularly poor health. Rheumatic fever and jaundice kept the composer bed ridden much of the first part of that year. His ill health did not prohibit him from composing a sonata full of compositional notions that truly mark him as a forward-thinking Romantic composer. The opening Moderato cantabile of this piece leads to an unusual Scherzo for the second movement. Beethoven reverses the usual internal flow of a four-movement sonata by having the lyrical Adagio, ma non troppo follow the quick Scherzo. Lewis Lockwood refers to the slow movement as "a dramatic and atmospheric Recitativo that closes into a 'Song of Lament'." The final movement of this piece reflects the intensity of Beethoven's third compositional period. Earlier in his career, Beethoven would often include fugal passages in the development sections of his sonata forms. But for this late work, the entire last movement is a fugue with a harkening back to the lamenting tune of the third movement inserted within it.
Program notes by Reeves Shulstad, Ph.D.