Beethoven 250!
Program 1: October 4, 2020, 4pm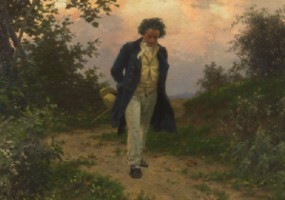 As we remember the 250th anniversary of Ludwig van Beethoven's birth, it is interesting to consider why his music has maintained such powerful place in Western culture. Much has to do with a German nationalist ideology that is inherent in the developing field of musicology during the 19th century. But those outside of academia have an affiliation with Beethoven's music because they have connected it to aspects of their own lives. The music on today's concert has a poignant connection to musicians with disabilities and resilience. Beethoven's gradual loss of hearing over the course of his career was a constant source of frustration for him, and, until 1802, he sought out medical advice to alleviate this affliction. In a small, spa town called Heiligenstadt where he attempted a rest cure, Beethoven realized that his hearing was continuing to decline, causing him to consider ending his life. In a letter to his brothers, often referred to as the Heiligenstadt Testament, Beethoven declared his intention to live for his music despite his impending deafness. He wrote, "…it seemed to me impossible to leave the world until I had produced all the works that I felt the urge to compose." Scholar Robin Wallace challenges audiences to reconsider the ways in which we hear Beethoven in relation to his disability. As you listen to the selections this evening which range between 1801 and 1808, consider Beethoven not as a hero overcoming his deafness, as is often the narrative of what some call his Heroic compositional period, but as a determined musician adapting to his increasing disability and choosing to dedicate his life to this adaptation.
Program
Piano Sonata No. 22 in F Major, Op. 54 (1804)
In tempo d'un menuetto
Allegretto – Piú allegro
Performer: Joby Bell

Serenade in D Major for Flute, Violin and Viola, Op. 25 (1801)
Entrata: Allegro
Tempo ordinario d'un Menuetto
Allegro molto
Andante con Variazioni
Allegro scherzando e vivace
Adagio – Allegro vivace e disinvolto
Performers:
Nancy Schneeloch-Bingham, flute
Nancy Bargerstock, violin
Eric Koontz, viola
Piano Sonata No. 17 in D Minor, Op. 31, No. 2 'Tempest' (1802)
Largo – Allegro
Adagio
Allegretto
Performer: Rodney Reynerson

Symphony No. 5 in C Minor, Op. 67 (1808), Arranged for Piano Four Hands by Otto Singer
I. Allegro con brio
Performers: Joby Bell and Rodney Reynerson


Program Notes
Piano Sonata No. 22 in F Major, Op. 54 (1804)
Beethoven composed this miniature sonata in between the monumental "Waldstein," Op. 53 and "Appassionata," Op. 57. Scholar Lewis Lockwood describes this work as "a little masterpiece that belongs in the quiet category of Beethoven's more subtle works." Both movements are in F major. The first movement is a rondo form intended to have characteristics of a minuet. The Allegretto begins with dolce sixteenth-note arpeggios that constantly propel this movement forward to its conclusion.
Serenade in D Major for Flute, Violin and Viola, Op. 25 (1801)
Beethoven did not compose a great deal of chamber music featuring the flute, but this Serenade certainly gives the instrument some virtuosic latitude. The exact date of composition is unknown, but it was published in 1802. Angus Watson describes this piece as a miniature ballet, beginning with the fanfare of the 'Entrata', followed by various dances. The second Trio in Movement II features a brilliant flute solo. The following movements take the listener through a variety of moods ending with an impressive, fast-paced proclamation of the rondo theme.
Piano Sonata No. 17 in D Minor, Op. 31, No. 2 'Tempest' (1802)
This sonata is the second of three in this opus and is referred to as The Tempest, although not a title Beethoven used. The quick shifts between Largo and Allegro at the beginning of this first movement certainly evoke a tempestuous atmosphere. This rollicking movement is followed by a lyrical Adagio and the final movement returns to the original d minor key. Lockwood describes this as a "movement [that] completes and grounds the whole sonata with a demonic fury …"
Symphony No. 5 in C Minor, Op. 67 (1808), Arranged for Piano Four Hands by Otto Singer
The opening motive of the fifth symphony is well-known and often utilized to symbolize a feeling of foreboding or conflict. As the first movement of this symphony unfolds, the motive serves as a seed for melodic development and its rhythmic pattern appears even without the insistent intervallic pattern. This C-minor movement sets the stage for an orchestral narrative that ends triumphantly in C major in the final movement. This symphony along with Beethoven's other eight have become pillars of orchestral repertoire, providing a standard that other composers strode to meet. In order for more people to perform and hear this music, other musicians in the 19th century transcribed these symphonies for piano, including Franz Liszt, Hugo Ulrich, and Otto Singer II, the transcriber of this evening's performance. These transcriptions made it possible for participants in salons, which included women, to perform this music as there were few female musicians in orchestral ensembles until the second half of the 20th century. Novels, like E. M. Forester's Howard's End, vividly describe a performance of the transcribed 5th and the powerful impact it has on the men and women in the audience and on the stage.
Notes by Reeves Shulstad, Ph.D.