Dr. Stephen Hopkins passes the baton after 30th Holiday Scholarship Concert
By Lisl Kuutti Doughton
On Friday, Dec. 2 at 7:30pm, Appalachian State University's Hayes School of Music presents its 30th Holiday Scholarship Concert - and the last one for Dr. Stephen Hopkins, Director of Choral Activities at App State, who has organized the concert since its beginning.
Over the past 29 years, the concert has raised over $250,000 in music scholarships through ticket sales and the generosity of sponsors, helping thousands of App State students transform their passion for music into a profession for life.
Tickets can be purchased through The Schaefer Center or at music.appstate.edu/holiday. Tickets are $12. All proceeds support scholarships in the Hayes School of Music.
Around 200 App State students participate in the concert each year. This year's concert features ensembles such as…
Steely Pan Steel Band - Appalachian Symphony Orchestra - University Singers - Flute Ensemble - Jazz Ensemble I - Horn Choir - Treble Choir - Blazing Bassoons - Brass Choir - Tuba/Euphonium Collective - Saxophone Quartet - Trumpet Choir - Chamber Singers
Reflecting on Dr. Hopkins' direction
Dr. Stephen M. Hopkins is Director of Choral Activities in the Hayes School of Music at App State, a position he has held since 1992. He conducts the Chamber Singers and University Singers and teaches choral conducting, choral techniques, and choral literature. Choirs under Dr. Hopkins' direction have performed at regional and national choral conferences.
"The Hayes School of Music has been fortunate to have the work of Dr. Hopkins in our community," says Dean James Douthit, DMA. "The choral conductor occupies a unique position, encouraging people to sing together, bringing only themselves and their instruments - which are in their bodies - to pause their singular pursuits and work in concert to support a much more powerful message."
In 2006, Dr. Hopkins was honored with a University Award for Excellence in Teaching by the Faculty Awards Committee and was designated the Hayes School of Music Teacher of the Year, an award voted on by the Dean's Student Advisory Council.
In addition, Dr. Hopkins has served as Director of Choral Activities for Cannon Music Camp since 1993 and as Camp Director from 2001-2015. The camp builds up young musicians' musical and social skills and inspires many to attend App State's Hayes School of Music.
Dr. Stephen Hopkins looks back on 30 years of music at App State
What has been the most rewarding thing about the Holiday Scholarship Concert over the years?
That we've built a tradition that people have put into their holiday routines. Almost every year after the show I hear someone say something like "Now Christmas can begin!"
As I originally proposed this event, it was not supposed to be an annual thing. But after we did it the first time, it was so successful we decided this was the best option for an annual event that would benefit our scholarship fund.
How has the Holiday Scholarship Concert changed over the 30 years you have led it? What has stayed the same?
I think we've always started with the processional [14th century chant Personent hodie, arranged by Laura Hoggard] and ended with the "Hallelujah" Chorus from Handel's Messiah. The basic format has been the same except for the year that the Schaefer Center was being renovated and we had a series of concerts instead of our usual one-night event. There was one online concert event during the peak of COVID-19.
We've made little changes from time to time, some of which the audience might not have noticed. For example, we now use battery-powered stand lights for the groups performing in the balcony. The audience can't tell the difference, but the performers don't have to worry about tripping over cords as they move around!
Also, the renovation of the concert hall has changed things in subtle ways. I think I've had to restructure where and how we walk during the processional three or four times.
How does it feel to be leaving the helm of the Holiday Scholarship Concert after 30 years?
On one level, a relief! On another level, a little sad. I'll miss the excitement that we generate with the show every year, but I won't miss all the planning that goes into getting it ready.
What have you learned, or what advice would you give, about producing an event of such scale and complexity?
It's not only devils that are in the details but angels as well. The more you can make it easy for all the participants to do their jobs, the better the rehearsal and concert will be for everyone.
What are some things you look back on with pride or happiness from your time in the Hayes School of Music?
I think we've been able to make good music and share it with appreciative audiences. To me, that's the essence of what we do.
I enjoy staying connected to former students and having them come back from time to time to sing again.
I would say the single thing I'm most proud of is this concert. It's raised quite a bit of scholarship money for students over the years, it has a loyal following of university and community audience support, and it makes people happy. I don't know what anyone could ask for more than that.
What do you plan to do once you retire?
Like most people, catch up on all the things that have been left undone while I was working! I enjoy woodworking and hope to do that on a more regular basis. No big plans really, just a different routine than I've had during forty years of teaching.
Join us for the 30th Holiday Scholarship Concert on Friday, December 2, at 7:30 in the Schaefer Center! Tickets are available at music.appstate.edu/holiday.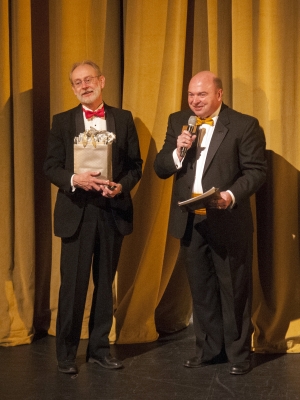 Tags: