Split Rail Records Highlights Local Artists in Split Fest '21
By Lisl Doughton - April 19, 2021
Split Rail Records, the student-run record label at Appalachian State University's Hayes School of Music, will host Split Fest Spring '21 from Thursday, April 22 to Saturday, April 24.
The virtual event, which will stream via the Split Rail YouTube, Instagram and Facebook pages, consists of newly recorded performances and interview segments from a half dozen local and regional artists. This semester's performers include several acts with ties to the HSOM, including some Split Rail alumni.
Split Fest began in the fall of 2019 with a successful live event featuring seven bands at Ransom Pub in downtown Boone. This Spring's event is online due to COVID-19 restrictions on public gatherings.
Students from Hayes School of Music's Music Industry Studies program produce the event, gaining valuable career experience. David Brewer, Faculty Advisor to Split Rail Records, says that even in the online format, "Producing Split Fest from start to finish still allows the students to apply a variety of skills needed for their survival in the music industry - from choosing talent, recording, editing and producing multitrack audio and video recordings to engaging in various promotional efforts through social and traditional media."
All shows will stream on the Split Rail YouTube, Instagram and Facebook pages at 10:00pm:
Thursday, April 22
Friday, April 23
Saturday, April 24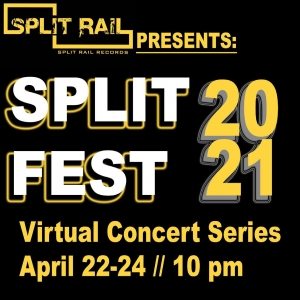 Tags: