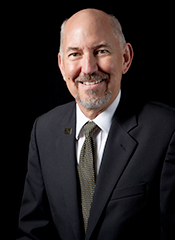 Welcome to Appalachian State University and the Mariam Cannon Hayes School of Music! I feel very honored to be serving in my eighth year at the Hayes School, following in the footsteps of the School's visionary first deans, Dr. Arthur Unsworth and Dr. William Harbinson.
One of the great pleasures of my position at Appalachian is that every day I observe remarkable people engaged in outstanding music making in classrooms, rehearsal halls, recording studios, practice rooms, faculty studios, performance halls, and many locations off campus. If this website is your first experience with the Hayes School, I hope you will soon learn what I know about us—that an expert, dedicated, and caring faculty works tirelessly to promote students' development and achievement in virtually all areas of music making. If you know us fairly well already, I hope you are able to discover more information here about the opportunities we provide our students, the Appalachian community, and the region beyond. And if you are an alumnus of Appalachian, please consider coming back up the mountain to see us again soon!
Dr. William Pelto, Dean
Hayes School of Music
---
See the Music Notes newsletter for weekly updates from the dean.