New Faculty and Staff
New Faculty and Staff
The Hayes School of Music welcomes our new faculty and staff joining us in 2022 and 2023!
Dr. Jacob Kopcienski - Assistant Professor of Musicology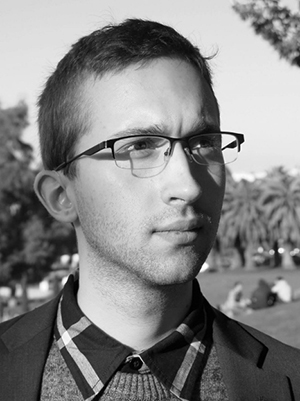 Dr. Jacob Kopcienski (He/They) is a multifaceted scholar and artist whose work explores music, listening, and community through writing, teaching, collaboration, and community-engaged projects. A graduate of the Ohio State University (Ph.D. Musicology), his dissertation, "Sounding Queer Appalachia" considers how music and cultural activity sustain LGBTQ communities, placemaking, and activism in Appalachia. Using ethnography, archival research, and media analysis, his research examines how Appalachians use music and performance to rework ideas like "pride," "queer," and "intersectional feminism" in from the 1970s to the present.
An accomplished saxophonist and contemporary music specialist, Dr. Kopcienski has performed on concerts, conferences, and festivals throughout the United States, Europe, and Southeast Asia. He recently appeared on the OSU Sonic Arts Ensemble's collaborative composition/improvisation project album Live from the Multiverse. Dr. Kopcienski is also a staff writer for the website I Care if You Listen.
Dr. Kopcienski has earned degrees from Bowling Green State University (B.M) and West Virginia University (M.M., and M.A.), and has completed studies in saxophone at the Conservatoire à Rayonnement Régional de Boulogne-Billancourt in France.
Dr. Jake Taylor - Assistant Professor and Director of Choral Activities
Dr. Jake Taylor is the newly appointed Director of Choral Activities at the Hayes School of Music at Appalachian State University, where he will serve as conductor of the University Singers and Chamber Singers. In addition to his conducting responsibilities, he will mentor pre-service educators and teach courses in choral methods and conducting. Before his appointment at Appalachian State, Dr. Taylor was the Director of Choral Studies at New Mexico State University. There, he conducted the department's three choral ensembles and taught courses in conducting, choral methods, and graduate-level music education.
Before working at the university level, he taught high school choir for six years in Houston and San Antonio, TX. In 2014, he co-founded The Houston Men's Choir, a collaborative ensemble of tenor-bass singers that rehearses and performs without a traditional conductor and is a recognized 501(c)(3) non-profit organization committed to the art of singing and its positive impact through performance and education.
Dr. Taylor earned his Doctorate of Musical Arts in choral conducting from Texas Tech University, a master's degree in choral conducting, and a bachelor's degree in music education from Stephen F. Austin State University. He maintains an active schedule as a guest conductor and clinician and has given numerous presentations on score study, conducting gesture, rehearsal techniques, and music literacy in the secondary choral classroom.
Robert (RJ) Wuagneux - Assistant Professor of Theory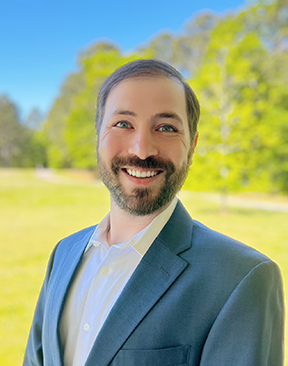 Robert James (RJ) Wuagneux is an interdisciplinary music theorist and a passionate educator. His dissertation, "The Ground on Which We Listen: Phish, Improvisation, Affect, and World-Building" is a case study using the contemporary rock band Phish to consider how live improvised music and complementary scene aesthetic work to generate and sustain a highly affective musical environment. In turn, the project explores how participatory scene practices are manifest in fans' world-building efforts toward racial equity in the live music scene at large. RJ's work has recently been recognized by the Alumni Association Doctoral Summer Fellowship (2023) and the Ackerman Award for Excellence in Music Scholarship (2022) from Stony Brook University.
RJ enjoys instructing students ranging from the freshman to the graduate level in music theory, aural skills, and popular music. His teaching style is very hands-on, encouraging students to participate and perform frequently. RJ is also an advocate for diversifying the music theory core curriculum, using musical examples from popular genres as well as works composed by women and people of color. As a graduate alumnus of Appalachian State University, RJ is excited to return to the Hayes School of Music as an Assistant Professor of Music Theory.
Dr. Roger Zare - Assistant Professor of Theory and Composition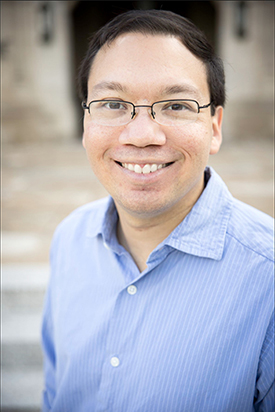 Now Assistant Professor of Theory and Composition! Roger Zare has been praised for his "enviable grasp of orchestration" (New York Times) and for writing music with "formal clarity and an alluringly mercurial surface." Often inspired by science, nature, and mythology, he seeks to create compositions that are vividly descriptive. His works have been performed across the United States and on six continents by such musicians and ensembles as the American Composers Orchestra, the Minnesota Orchestra, the Sarasota Orchestra, Boston Musica Viva, the Akropolis Reed Quintet, the Sinta Quartet, violinist Cho-Liang Lin, and clarinetist Alexander Fiterstein. Zare's awards include the ASCAP Nissim Prize, three BMI Student Composer Awards, an ASCAP Morton Gould award, a New York Youth Symphony First Music Commission, the 2008 American Composers Orchestra Underwood Commission, a Copland House Residency Award, and a Charles Ives Scholarship from the American Academy of Arts and Letters.
Always interested in interdisciplinary collaboration, Zare has worked with CERN to present music inspired by particle physics in Switzerland and Bulgaria in programs about the collision of music and physics, and teamed up with astrophysicist Elizabeth Hicks and choreographer Megan Rhyme to put on an evening-length program about the physics of turbulence titled "Far from Equilibrium" in 2016. In the past two years, Zare has worked closely with clarinetist Andy Hudson to write Elements of Contemporary Clarinet Technique and SPACE BASS. Published by Conway Publications, these two books feature numerous concert etudes for unaccompanied soprano and bass clarinet that focus on various aspects of 20th and 21st century technique.

Zare holds degrees from the University of Michigan, the Peabody Conservatory, and the University of Southern California. His teachers include Bright Sheng, Michael Daugherty, Paul Schoenfield, Kristin Kuster, Christopher Theofanidis, Derek Bermel, and Morten Lauridsen. His music is published by the Theodore Presser Company, Manhattan Beach Music, Murphy Music Press, and FJH Music, among others. Zare currently serves as Visiting Assistant Professor of Music at Appalachian State University and previously taught at Illinois State University, where he also served as co-director of the RED NOTE new music festival for the past two years.
Dr. David A. Wells - Assistant Professor of Bassoon
Assistant Professor of Bassoon (Beginning Fall 2023)
Dr. David A. Wells has wide-ranging musical tastes, abilities, and experiences. Currently, he is mostly engaged in historically-informed performances on period bassoons ranging from the 17th to the early 20th centuries with groups including the Carmel Bach Festival, American Bach Soloists, Sinfonia Spirituosa, Sacramento Baroque Soloists, Aston Magna Festival, and Philharmonie Austin. He is also an adept performer on the modern bassoon and contrabassoon, equally at home with standard orchestral/chamber/solo repertoire and demanding modern works involving extended techniques and/or electronics. In addition, Wells has a penchant for taking the bassoon to unexpected places, most notably having spent nine years in a Django Reinhardt-inspired hot swing sextet.
Wells serves as Co-Executive Director of Meg Quigley, a non-profit organization devoted to improving diversity, equity, and inclusion within the bassoon world. He is also active as a music scholar, having presented papers at the conferences of the American Musicological Society, the Society for American Music, and the International Double Reed Society. He holds both a D.M.A. in Bassoon Performance and an M.A. in Musicology from the University of Wisconsin-Madison, and he also studied at Florida State University and Arizona State University.
Dr. DaVaughn L. Miller - Associate Professor of Music (Gospel Choir and Choral Ensembles)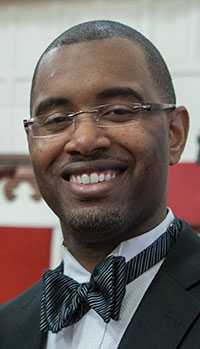 As an Associate Professor of Music, choral conductor, and researcher, Dr. DaVaughn Miller joined the Hayes School of Music in the fall of 2022. Currently, he conducts the Appalachian Chorale, Glee Club, and App State Gospel Choir. Over the years, Dr. Miller has taught numerous music courses, including Conducting, Music History, African American Sacred Music History, Hymnology, and Music in Worship. As a conductor, Dr. Miller has performed numerous concerts and tours across the eastcoast, including collaborative performances with the Salisbury Symphony Orchestra and Charlotte Symphony Orchestra. While serving as the Director of the Choral Activities at Livingstone College, one of Dr. Miller's most notable performances was at Carnegie Hall, New York.
In addition to teaching and performance, Dr. Miller has publications in the research areas of musical stereotyping, musical preference, and racial identity development. His research primarily exposes the connection between identity development and musical preference and its impact on musical stereotypes. To this end, Dr. Miller has rendered numerous lecture demonstrations on Music and the Mind, Musical Preference, and Musical Stereotyping – while highlighting the impact of these phenomena on individual musical tastes.
Dr. Miller holds a Bachelor of Arts Degree with a concentration in Ethnomusicology from Hampshire College in Amherst, MA; a Bachelor of Music Degree in Music Education and a Master of Music Degree in Choral Conducting from Appalachian State University in Boone, NC; and the Master of Education Degree and the Doctorate of Education from Columbia University in New York, NY.
Dr. Adam Kossler - Assistant Professor of Guitar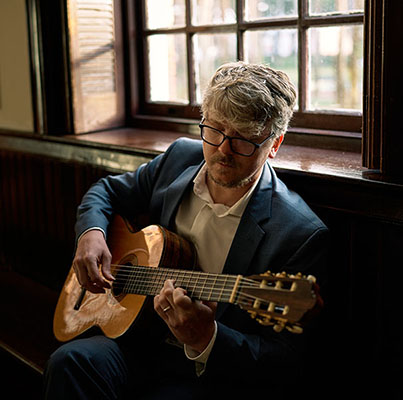 American guitarist Dr. Adam Kossler is an active performer, recording artist and educator. His international career has taken him throughout North America, Central America and Asia, where he regularly appears as a soloist, clinician and chamber musician.
Dr. Kossler began his musical studies with his father William Kossler. He went on to earn his BM degree at East Carolina University with Dr. Elliot Frank, his MM degree at Appalachian State University as a teaching assistant to Dr. Douglas James, and completed a DMA in Guitar Performance at Florida State University, where he served as a teaching assistant to Bruce Holzman.
Most recently, Dr. Kossler has been the Visiting Professor of Music at Stetson University, where he taught guitar, chamber music, music theory, and Jazz and 20th Century American Music. He was also the Director of Guitar Studies at Loudoun County Public School in Sterling, VA, teaching guitar and general music as well as organizing trips and festivals.
Dr. Kossler has been involved with Appalachian State for many years as a graduate student, GuitarFest prizewinner, GuitarFest featured artist, and as the Visiting Professor of Guitar in 2018, conducting and directing the Appalachian Guitar Orchestra. He has appeared on four recordings and received numerous awards for his playing and teaching, including being selected as a Quarterfinalist for the GRAMMY Music Educator Award in 2018. Dr. Kossler will begin as the Assistant Professor of Guitar at Appalachian State University in Fall 2022.
Dr. Alexandra Dee - Director of Orchestral Activities
Dr. Alexandra Dee is the new Director of Orchestral Activities at the Hayes School of Music, starting in Fall 2022!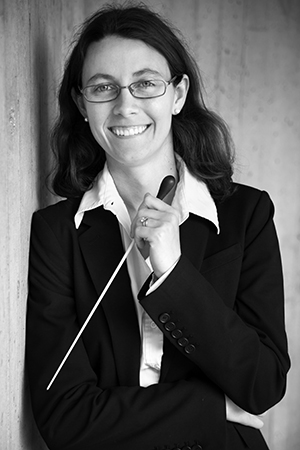 Prior to joining the faculty of the Hayes School of Music, Dee has been the Director of Orchestral Studies and assistant professor of violin and viola at Indiana University of Pennsylvania. Her previous positions include Director of Orchestral Activities at the University of St. Francis in Joliet, Illinois; music director and conductor of Chicago's South Loop Symphony Orchestra; and a cover conductor for the Joffrey Ballet, with whom she debuted in 2017 conducting the Chicago Philharmonic.
Also at home in the opera pit, Dee has conducted multiple productions with Northwestern University Opera Theater, Manitoba Underground Opera (Winnipeg), and IUP's Main Stage Productions. Dee completed her doctoral studies in orchestral conducting at Northwestern University, where she studied with Victor Yampolsky. She is also an alumna of the Florida State University, where she completed both Master of Music in orchestral conducting and Bachelor of Music Education degrees. While at FSU, Dee studied conducting with Alexander Jiménez and choral conducting with André Thomas. Her conducting positions at FSU included founding music director and conductor of the Campus Orchestra, a string orchestra geared toward non-music majors from across the university community.
A consistent advocate for contemporary music, Dee has performed and premiered numerous works by living composers. In particular, she is a vigorous champion of the works of her husband, composer Roger Zare.
Amber Joy Koeppen - Instructor of Harp
The Hayes School of Music welcomes Amber Joy Koeppen as the new Instructor of Harp, beginning in the 2022-23 academic year!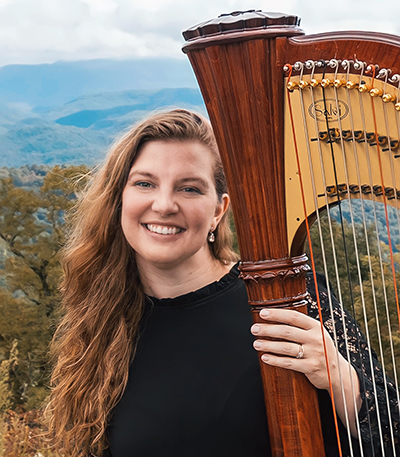 Amber Joy Koeppen (Carpenter) is a harpist and vocalist and an avid teacher in both disciplines. She has received degrees in Harp Performance and Vocal Pedagogy from UNC Charlotte and a Masters in Music from the University of Michigan.
As a solo performer, she has been a prize winner in a number of national and international harp competitions, including being awarded First Place in the Rosen-Schaffel Competition for Young and Emerging Artists. As a recipient of this award, she has twice been a guest concerto artist with the Eastern Music Festival Orchestra under the direction of Gerard Schwarz. In addition to her extensive solo work, Mrs. Koeppen has also performed with the New York City Ballet, the Battle Creek Symphony Orchestra, the Charlotte Symphony Orchestra, and the Union Symphony Orchestra, as well as various chamber groups. She has performed across the United States and abroad, including the World Harp Congress in Sydney, Australia, and has lectured at the WAAE music education conference in Auckland, New Zealand.
Mrs. Koeppen also maintains an active teaching career. She has taught at various summer music programs including Interlochen Center for the Arts and the American Harp Society's Camp Innovation, and she has helped to found and run Brush Strokes and Music Notes' summer program for children which incorporates a diverse body of students from various backgrounds in a week of arts and music immersion. She has been the Music Director and a member of the vocal and harp faculty of GreenSpring International Academy of Music and also has a private music studio offering harp and voice lessons to both children and adults. Her students are active musicians who have been accepted into notable music programs, performed in venues such as the White House and Biltmore Estate, and have been prize winners in solo competitions.
Mrs. Koeppen is on the harp faculty at Appalachian State University and also serves as the Executive Director for the Brush Strokes and Music Notes Foundation.
Dr. Dakota Corbliss - Assistant Professor of Horn
Dr. Dakota Corbliss has been named the Assistant Professor of French Horn at Appalachian State University! Prior to this, he served as the Visiting Assistant Professor of French Horn for the 2021-22 academic year.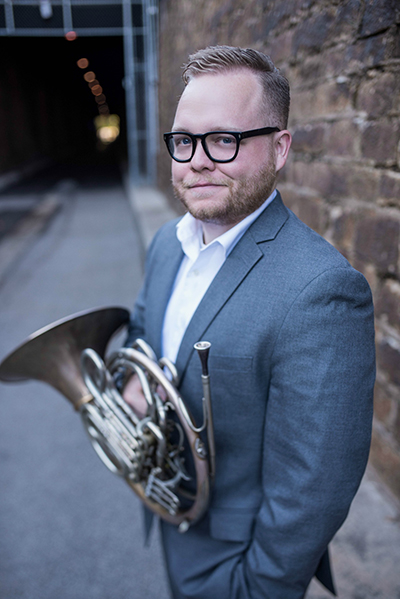 Dr. Corbliss has earned degrees from the University of South Carolina (DMA), University of Miami (MM), and Virginia Tech (BA). As an ensemble performer, Dr. Corbliss is the Third Horn in the Roanoke Symphony Orchestra while playing frequently with many other regional orchestras including the North Carolina Symphony, Charlotte Symphony, Augusta Symphony, Virginia Symphony, South Carolina Philharmonic, and Long Bay Symphony. In the past, he has performed with the likes of New World Symphony, Miami City Ballet, the United States Navy Band Southwest, the United States Air Force Heritage of America Band, South Florida Philharmonic, and many others.
An avid chamber musician, Dr. Corbliss helped found Vice City Brass, a collective of brass and electronic musicians aiming to bridge the generational gap between the past, present, and future. Corbliss has recently co-founded a new music group called PIVOT, a horn and saxophone duo dedicated to promoting perspective shifts among their audience.
In an administrative role, Dr. Corbliss is currently the Chief Operations Officer for the Brass Institutes of America, a series of brass chamber music festivals that take place across the country. He has also worked logistics on many projects including the Savvy Arts Venture Challenge and the College Music Society Summit.