New Faculty and Staff
The Hayes School of Music welcomes our new faculty and staff for the 2022-23 academic year!
Dr. Adam Kossler - Assistant Professor of Guitar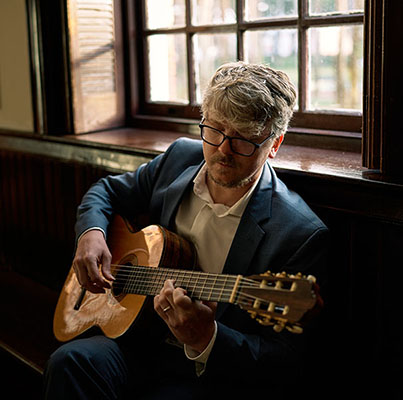 American guitarist Dr. Adam Kossler is an active performer, recording artist and educator. His international career has taken him throughout North America, Central America and Asia, where he regularly appears as a soloist, clinician and chamber musician.
Dr. Kossler began his musical studies with his father William Kossler. He went on to earn his BM degree at East Carolina University with Dr. Elliot Frank, his MM degree at Appalachian State University as a teaching assistant to Dr. Douglas James, and completed a DMA in Guitar Performance at Florida State University, where he served as a teaching assistant to Bruce Holzman.
Most recently, Dr. Kossler has been the Visiting Professor of Music at Stetson University, where he taught guitar, chamber music, music theory, and Jazz and 20th Century American Music. He was also the Director of Guitar Studies at Loudoun County Public School in Sterling, VA, teaching guitar and general music as well as organizing trips and festivals.
Dr. Kossler has been involved with Appalachian State for many years as a graduate student, GuitarFest prizewinner, GuitarFest featured artist, and as the Visiting Professor of Guitar in 2018, conducting and directing the Appalachian Guitar Orchestra. He has appeared on four recordings and received numerous awards for his playing and teaching, including being selected as a Quarterfinalist for the GRAMMY Music Educator Award in 2018. Dr. Kossler will begin as the Assistant Professor of Guitar at Appalachian State University in Fall 2022.
Dr. Alexandra Dee - Director of Orchestral Activities
Dr. Alexandra Dee is the new Director of Orchestral Activities at the Hayes School of Music, starting in Fall 2022!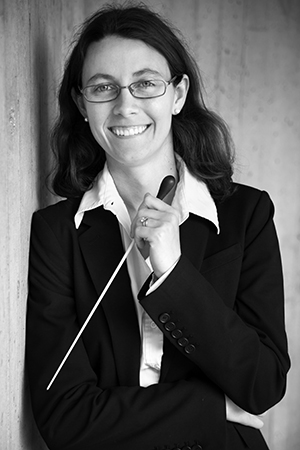 Prior to joining the faculty of the Hayes School of Music, Dee has been the Director of Orchestral Studies and assistant professor of violin and viola at Indiana University of Pennsylvania. Her previous positions include Director of Orchestral Activities at the University of St. Francis in Joliet, Illinois; music director and conductor of Chicago's South Loop Symphony Orchestra; and a cover conductor for the Joffrey Ballet, with whom she debuted in 2017 conducting the Chicago Philharmonic.
Also at home in the opera pit, Dee has conducted multiple productions with Northwestern University Opera Theater, Manitoba Underground Opera (Winnipeg), and IUP's Main Stage Productions. Dee completed her doctoral studies in orchestral conducting at Northwestern University, where she studied with Victor Yampolsky. She is also an alumna of the Florida State University, where she completed both Master of Music in orchestral conducting and Bachelor of Music Education degrees. While at FSU, Dee studied conducting with Alexander Jiménez and choral conducting with André Thomas. Her conducting positions at FSU included founding music director and conductor of the Campus Orchestra, a string orchestra geared toward non-music majors from across the university community.
A consistent advocate for contemporary music, Dee has performed and premiered numerous works by living composers. In particular, she is a vigorous champion of the works of her husband, composer Roger Zare.
Amber Joy Koeppen - Instructor of Harp
The Hayes School of Music welcomes Amber Joy Koeppen as the new Instructor of Harp, beginning in the 2022-23 academic year!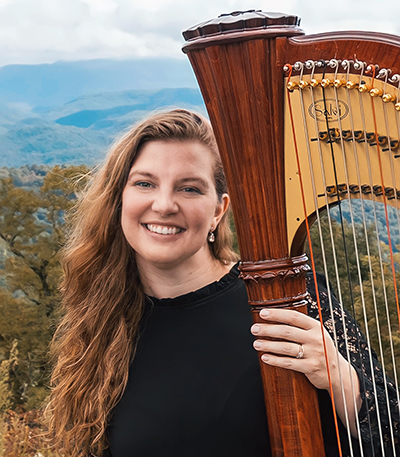 Amber Joy Koeppen (Carpenter) is a harpist and vocalist and an avid teacher in both disciplines. She has received degrees in Harp Performance and Vocal Pedagogy from UNC Charlotte and a Masters in Music from the University of Michigan.
As a solo performer, she has been a prize winner in a number of national and international harp competitions, including being awarded First Place in the Rosen-Schaffel Competition for Young and Emerging Artists. As a recipient of this award, she has twice been a guest concerto artist with the Eastern Music Festival Orchestra under the direction of Gerard Schwarz. In addition to her extensive solo work, Mrs. Koeppen has also performed with the New York City Ballet, the Battle Creek Symphony Orchestra, the Charlotte Symphony Orchestra, and the Union Symphony Orchestra, as well as various chamber groups. She has performed across the United States and abroad, including the World Harp Congress in Sydney, Australia, and has lectured at the WAAE music education conference in Auckland, New Zealand.
Mrs. Koeppen also maintains an active teaching career. She has taught at various summer music programs including Interlochen Center for the Arts and the American Harp Society's Camp Innovation, and she has helped to found and run Brush Strokes and Music Notes' summer program for children which incorporates a diverse body of students from various backgrounds in a week of arts and music immersion. She has been the Music Director and a member of the vocal and harp faculty of GreenSpring International Academy of Music and also has a private music studio offering harp and voice lessons to both children and adults. Her students are active musicians who have been accepted into notable music programs, performed in venues such as the White House and Biltmore Estate, and have been prize winners in solo competitions.
Mrs. Koeppen is on the harp faculty at Appalachian State University and also serves as the Executive Director for the Brush Strokes and Music Notes Foundation.
Dr. Dakota Corbliss - Assistant Professor of Horn
Dr. Dakota Corbliss has been named the Assistant Professor of French Horn at Appalachian State University! Prior to this, he served as the Visiting Assistant Professor of French Horn for the 2021-22 academic year.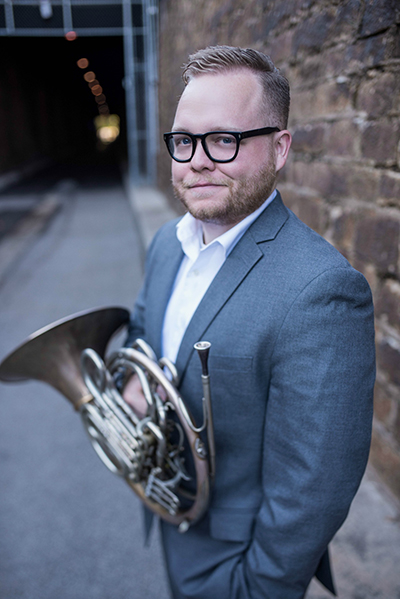 Dr. Corbliss has earned degrees from the University of South Carolina (DMA), University of Miami (MM), and Virginia Tech (BA). As an ensemble performer, Dr. Corbliss is the Third Horn in the Roanoke Symphony Orchestra while playing frequently with many other regional orchestras including the North Carolina Symphony, Charlotte Symphony, Augusta Symphony, Virginia Symphony, South Carolina Philharmonic, and Long Bay Symphony. In the past, he has performed with the likes of New World Symphony, Miami City Ballet, the United States Navy Band Southwest, the United States Air Force Heritage of America Band, South Florida Philharmonic, and many others.
An avid chamber musician, Dr. Corbliss helped found Vice City Brass, a collective of brass and electronic musicians aiming to bridge the generational gap between the past, present, and future. Corbliss has recently co-founded a new music group called PIVOT, a horn and saxophone duo dedicated to promoting perspective shifts among their audience.
In an administrative role, Dr. Corbliss is currently the Chief Operations Officer for the Brass Institutes of America, a series of brass chamber music festivals that take place across the country. He has also worked logistics on many projects including the Savvy Arts Venture Challenge and the College Music Society Summit.