Beethoven 250!
Program 2: Sunday, October 11, 2020, 4pm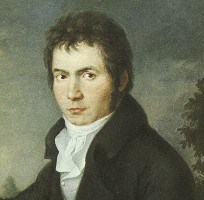 Program
Bagatelles, Op. 33 (1801-02)
1. Andante grazioso quasi allegretto
2. Scherzo, Allegro
3. Allegretto
4. Andante
5. Allegro ma non troppo
6. Allegretto quasi andante
7. Presto
Performer: Rodney Reynerson, piano
Bagatelles, Op. 126 (1823-24)
1. Andante con moto, Cantabile e compiacevole
2. Allegro
3. Andante, Cantabile e grazioso
4. Presto
5. Quasi allegretto
6. Presto; Andante amabile e con moto
Performer:
Melissa Lesbines, piano
Trio for Clarinet, Cello, and Piano in B-Flat Major, Op. 11 (1798)
Allegro con brio
Adagio
Thema: Pria ch'io l'impegno (Allegretto) mit Variationen
Performers:
Soo Goh, clarinet
Ellie Wee, cello
Melissa Lesbines, piano
Program Notes
Bagatelles, Op. 33 (1801-02)
During the summer of 1802, Beethoven was in Heiligenstadt acclimating to the fact that his gradual loss of hearing could not be cured. Dedicating his life to his music despite this affliction, Beethoven completed his Second Symphony along with other chamber and solo works, including the Bagatelles. Op. 33 is a collection of what he called Kleinigkeiten (trifles), small keyboard works that he had been composing since his youth. Movements one through five are filled with figurations appropriate for miniature pieces, and the set ends with a pensive movement marked "With a certain speaking quality of expression" followed by an exciting Presto that is a quasi scherzo.
Trio in B-flat for Clarinet, Cello and Piano, Op. 11 (1797)
Beethoven's patrons contributed to his success in Vienna after his relocation from Bonn in the 1790s. Unlike his predecessors, Beethoven insisted on being treated as an equal rather than being subservient to his patrons. Mozart had attempted this lifestyle in Vienna during the previous decade, but without the same success. This trio was dedicated to Countess Maria Wilhelmine von Thun who was the mother-in-law of two of Prince Lichnowsky and Count (later Prince) Razumovsky, all three patrons of Beethoven. Various letters reveal that he might have been placating the Countess, an important patroness of the arts, as she would often request to hear Beethoven and he often refused her. What is interesting about this trio, according to scholar Angus Watson, "is the 'democratic' distribution of melodic material, shared with almost unprecedented fairness between all three instruments" throughout the piece. The final movement of this trio is a theme and variations using the song "Pria ch'io l'impegno" (Before I go to work) from Joseph Weigl's drama giocoso L'amor marinaro, which the clarinetist Josef Beer suggested to Beethoven. The nine variations of this irreverent, popular tune bring this trio to a rousing conclusion.
Program notes by Reeves Shulstad, Ph.D.