Beethoven 250!
Program 4: October 25, 2020, 4pm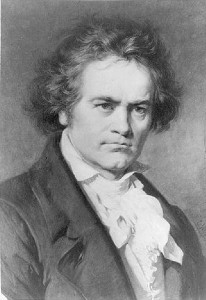 Program
Seven Variations on a theme "Bei Männern, welche Liebe fühlen" from Mozart's "The Magic Flute" WoO 46 (1801) (arr. Carolyn Hove)
Performers:
Alicia Chapman, English horn
Melissa Lesbines, piano
An die ferne Geliebte (To the distant beloved), Op. 98 (1816)
1. Auf dem Hügel sitz' ich spähend
2. Wo die Berge so blau
3. Leichte Segler in den Höhen
4. Diese Wolken in den Höhen
5. Es kehret der Maien, es blühet die Au
6. Nimm sie hin denn, diese Lieder
Performers:
Gennard Lombardozzi, tenor
James Douthit, piano
Piano Sonata No. 30 in E Major, Op. 109 (1820)
Vivace ma non troppo, Adagio espressivo
Prestissimo
Gesangvoll, mit innigster Empfindung
Performer: Bair Shagdaron
String Trio in G Major, Op. 9, No. 1 (1799)
Adagio – Allegro con brio
Adagio, ma non tanto, e cantabile
Scherzo – Allegro
Presto
Performers:
Nancy Bargerstock, violin
Eric Koontz, viola
Ellie Wee, cello
Program Notes
Seven Variations on a theme "Bei Männern, welche Liebe fühlen" from Mozart's "The Magic Flute" WoO 46 (1801) (arr. Carolyn Hove)
The primary theme for this set of variations is Mozart's duet, "Bei Männern welche Liebe fühlen," from The Magic Flute Singspiele, sung by the princess Pamina and Papageno, a birdcatcher. During this duet, both express great joy towards the sacred duties of marriage, each having their own line that then ties into the other's. Beethoven took the melody and harmony from this duet and blended them into his own set of seven variations for cello and piano, now transcribed for English horn and piano. Beethoven gives each instrument a chance to represent Pamina and Papageno, having the voices trade playing the melody and accompaniment, but the truly special moments are when both voices are singing their lines together. Each variation is unique in its own right; stylistic changes, added ornaments, different tempi, and moves to various keys appear. All of the variations are tied together by Beethoven's masterful melodic development, never letting the melody leave the listener's ear until the last bar.

An die ferne Geliebte (1816)
Lieder or Art Songs are not commonly associated with Beethoven, but this cycle, translated as To a Distant Beloved, was an immediate success and influenced other contemporary composers well-known for their Lieder, like Robert Schumann. The six poems were written by Alois Jeitteles, a young Czech medical student in Vienna who most probably wrote them at Beethoven's request. The texts are often connected to Beethoven's acquiescence to living alone so that he could dedicate all of his energy to his music. (Lyrics and translations below.)
Piano Sonata No. 30 in E Major, Op. 109 (1820)
The first movement of this late piano sonata lacks the weight that Beethoven's first movements often do. Marked Vivace ma non troppo, it has a spritely feel rather than an insistent establishment of the tonic key. The second movement has a similar sense of urgency, marked Prestissimo, and ends rather abruptly. The last movement completely contrasts the first two as it is marked "Songlike, with the greatest inwardness of feeling" and much slower. As Lewis Lockwood notes, this movement "is a magnificent specimen of 'hymnlike' melodies in Beethoven slow movements."
String Trio in G Major, Op. 9, No. 1 (1799)
The Hayes School of Music celebration of Beethoven's music concludes with a string trio that the composer called "the best of his works." Dedicated to Count Johann Georg von Brown-Camus, an officer in the Russian officer who was another important patron of Beethoven's during his fledgling years in Vienna, this trio also reflects Haydn's influence as we heard in the Trio for Flute, Bassoon and Piano last week. Although their teacher/student relationship did not last long and was fraught with problems, Beethoven had a great deal of respect for Haydn's compositional style, particularly when it came to his music for strings. This trio follows a standard four-movement plan, well established by the other members of the first Viennese School. After a slow introduction, the Allegro finally establishes the tonic key. The Cantabile second movement is followed by a Scherzo rather than a minuet, and the final Presto pushes frenetically to the end of this piece.
Program notes by Reeves Shulstad, Ph.D. and Noah Brown, B. Mus. Ed. '22
An die ferne Geliebte (1816) English translations by Richard Stokes
1. Auf dem Hügel sitz ich spähend
Auf dem Hügel sitz ich spähend
In das blaue Nebelland,
Nach den fernen Triften sehend,
Wo ich dich, Geliebte, fand.
Weit bin ich von dir geschieden,
Trennend liegen Berg und Tal
Zwischen uns und unserm Frieden,
Unserm Glück und unsrer Qual.
Ach, den Blick kannst du nicht sehen,
Der zu dir so glühend eilt,
Und die Seufzer, sie verwehen
In dem Raume, der uns teilt.
Will denn nichts mehr zu dir dringen,
Nichts der Liebe Bote sein?
Singen will ich, Lieder singen,
Die dir klagen meine Pein!
Denn vor Liebesklang entweichet
Jeder Raum und jede Zeit,
Und ein liebend Herz erreichet
Was ein liebend Herz geweiht!
1. I sit on the hill, gazing
I sit on the hill, gazing
Into the misty blue countryside,
Towards the distant meadows
Where, my love, I first found you.
Now I'm far away from you,
Mountain and valley intervene
Between us and our peace,
Our happiness and our pain.
Ah, you cannot see the fiery gaze
That wings its way towards you,
And my sighs are lost
In the space that comes between us.
Will nothing ever reach you again?
Will nothing be love's messenger?
I shall sing, sing songs
That speak to you of my distress!
For sounds of singing put to flight
All space and all time;
And a loving heart is reached
By what a loving heart has hallowed!
2. Wo die Berge so blau
Wo die Berge so blau
Aus dem nebligen Grau
Schauen herein,
Wo die Sonne verglüht,
Wo die Wolke umzieht,
Möchte ich sein!
Dort im ruhigen Tal
Schweigen Schmerzen und Qual.
Wo im Gestein
Still die Primel dort sinnt,
Weht so leise der Wind,
Möchte ich sein!
Hin zum sinnigen Wald
Drängt mich Liebesgewalt,
Innere Pein.
Ach, mich zög's nicht von hier,
Könnt ich, Traute, bei dir
Ewiglich sein!
2. Where the blue mountains
Where the blue mountains
From the misty grey
Look out towards me,
Where the sun's glow fades,
Where the clouds scud by –
There would I be!
There, in the peaceful valley,
Pain and torment cease.
Where among the rocks
The primrose meditates in silence,
And the wind blows so softly –
There would I be!
I am driven to the musing wood
By the power of love,
Inner pain.
Ah, nothing could tempt me from here,
If I were able, my love,
To be with you eternally!
3. Leichte Segler in den Höhen
Leichte Segler in den Höhen,
Und du, Bächlein klein und schmal,
Könnt mein Liebchen ihr erspähen,
Grüßt sie mir viel tausendmal.
Seht ihr, Wolken, sie dann gehen
Sinnend in dem stillen Tal,
Laßt mein Bild vor ihr entstehen
In dem luft'gen Himmelssaal.
Wird sie an den Büschen stehen,
Die nun herbstlich falb und kahl.
Klagt ihr, wie mir ist geschehen,
Klagt ihr, Vöglein, meine Qual.
Stille Weste, bringt im Wehen
Hin zu meiner Herzenswahl
Meine Seufzer, die vergehen
Wie der Sonne letzter Strahl.
Flüstr' ihr zu mein Liebesflehen,
Laß sie, Bächlein klein und schmal,
Treu in deinen Wogen sehen
Meine Tränen ohne Zahl!
3. Light clouds sailing on high
Light clouds sailing on high,
And you, narrow little brook,
If you catch sight of my love,
Greet her a thousand times.
If, clouds, you see her walking
Thoughtful in the silent valley,
Let my image loom before her
In the airy vaults of heaven.
If she be standing by the bushes
Autumn has turned fallow and bare,
Pour out to her my fate,
Pour out, you birds, my torment.
Soft west winds, waft my sighs
To her my heart has chosen –
Sighs that fade away
Like the sun's last ray.
Whisper to her my entreaties,
Let her, narrow little brook,
Truly see in your ripples
My never-ending tears!
4. Diese Wolken in den Höhen
Diese Wolken in den Höhen,
Dieser Vöglein muntrer Zug,
Werden dich, o Huldin, sehen.
Nehmt mich mit im leichten Flug!
Diese Weste werden spielen
Scherzend dir um Wang' und Brust,
In den seidnen Locken wühlen. –
Teilt ich mit euch diese Lust!
Hin zu dir von jenen Hügeln
Emsig dieses Bächlein eilt.
Wird ihr Bild sich in dir spiegeln,
Fließ zurück dann unverweilt!
4. These clouds on high
These clouds on high,
This cheerful flight of birds
Will see you, O gracious one.
Take me lightly winging too!
These west winds will playfully
Blow about your cheeks and breast,
Will ruffle your silken tresses. –
Would I might share that joy!
This brooklet hastens eagerly
To you from those hills.
If she's reflected in you,
Flows directly back to me.
5. Es kehret der Maien, es blühet die Au
Es kehret der Maien,
Es blühet die Au,
Die Lüfte, sie wehen
So milde, so lau,
Geschwätzig die Bäche nun rinnen.
Die Schwalbe, die kehret
Zum wirtlichen Dach,
Sie baut sich so emsig
Ihr bräutlich Gemach,
Die Liebe soll wohnen da drinnen.
Sie bringt sich geschäftig
Von kreuz und von Quer
Manch weicheres Stück
Zu dem Brautbett hieher,
Manch wärmendes Stück für die Kleinen.
Nun wohnen die Gatten
Beisammen so treu,
Was Winter geschieden,
Verband nun der Mai,
Was liebet, das weiß er zu einen.
Es kehret der Maien,
Es blühet die Au.
Die Lüfte, sie wehen
So milde, so lau;
Nur ich kann nicht ziehen von hinnen.
Wenn alles, was liebet,
Der Frühling vereint,
Nur unserer Liebe
Kein Frühling erscheint,
Und Tränen sind all ihr Gewinnen.
5. May returns, the meadow blooms.
May returns,
The meadow blooms.
The breezes blow
So gentle, so mild,
The babbling brooks flow again,
The swallow returns
To its rooftop home,
And eagerly builds
Her bridal chamber,
Where love shall dwell.
She busily brings
From every direction
Many soft scraps
For the bridal bed,
Many warm scraps for her young.
Now the pair lives
Faithfully together,
What winter parted,
May has joined,
For May can unite all who love.
May returns,
The meadow blooms.
The breezes blow
So gentle, so mild;
I alone cannot move on.
When spring unites
All lovers,
Our love alone
Knows no spring,
And tears are its only gain.
6. Nimm sie hin denn, diese Lieder
Nimm sie hin denn, diese Lieder,
Die ich dir, Geliebte, sang,
Singe sie dann abends wieder
Zu der Laute süßem Klang!
Wenn das Dämmrungsrot dann ziehet
Nach dem stillen blauen See,
Und sein letzter Strahl verglühet
Hinter jener Bergeshöh;
Und du singst, was ich gesungen,
Was mir aus der vollen Brust
Ohne Kunstgepräng erklungen,
Nur der Sehnsucht sich bewußt:
Dann vor diesen Liedern weichet
Was geschieden uns so weit,
Und ein liebend Herz erreichet
Was ein liebend Herz geweiht!
6. Accept, then, these songs
Accept, then, these songs
I sang for you, beloved;
Sing them again at evening
To the lute's sweet sound!
As the red light of evening draws
Towards the calm blue lake,
And its last rays fade
Behind those mountain heights;
And you sing what I sang
From a full heart
With no display of art,
Aware only of longing:
Then, at these songs,
The distance that parted us shall recede,
And a loving heart be reached
By what a loving heart has hallowed!