Mariam Cannon Hayes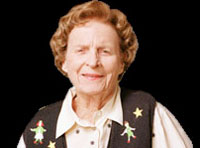 The daughter of the late Charles A. and Ruth Cannon, Mariam Cannon Hayes was a champion of people and programs devoted to education, health services, historical preservation, and the arts. Born January 22, 1916 in Cabarrus County, Mrs. Hayes was a loving and supportive wife of Robert G. Hayes and mother of Congressman Robert C. "Robin" Hayes. As the President and Director of The Cannon Foundation and Trustee of the Charles A. Cannon Charitable Trust, she was a successful and respected business leader. She has generously supported the establishment and the development of the Northeast Medical Center of Concord, Queens College of Charlotte, The Charles A. Cannon, Jr. Memorial Hospital in Linville, The University of North Carolina at Charlotte, Wingate University, The North Carolina Museum of Natural History, The Blowing Rock Hospital, The North Carolina Symphony, Cannon Music Camp, and the Hayes School of Music at Appalachian State University.
Mrs. Hayes was a graduate of Mount Vernon Seminary and Queens College. While her husband Robert was stationed in the United States Navy and posted in Oklahoma, she pursued graduate study at the University of Oklahoma. She has been honored with several degrees: the Honorary Degree of Doctor of Humane Letters from Wingate University, the Honorary Degree of Doctor of Humanitarian Service from Catawba College, and the Honorary Degree of Doctor of Humane Letters from Campbell University. She was a recipient of the Algernon Sydney Sullivan Award from Queens College and the Adrian L. Shuford, Jr. Award for Distinguished Service to Catawba College. She received the D. D. Dougherty Medallion in May 2001 and the Appalachian Medallion in 1994 from Appalachian State University.
Mrs. Hayes' affiliation with Appalachian began in 1969 when her father helped establish Cannon Music Camp. She served on the Board of Trustees, the Appalachian Summer Festival Advisory Board and the Hayes School of Music Advisory Board. Although she never played an instrument, she loved music and frequently visited campus to attend concerts and spend time with students and faculty. Her historic gift to Appalachian State University in 2001, $10 million and the largest gift to date, created an endowment in the School of Music that now proudly bears her name.
Mariam Cannon Hayes passed away at her home in Blowing Rock Aug. 4, 2007.
"She made it possible for me to go to school and continue as a graduate student. My daily experience is more fulfilling because of what she made possible." - violinist Page de Camara '05, Hayes Scholarship recipient and member of the Hayes String Quartet.
"We will miss her smile and her friendship more than we can express, but we will be forever reminded of her generosity and kindness through her historic gift." – William Harbinson, dean of the Mariam Cannon Hayes School of Music.
"It is indeed rare that such a person comes along in our lifetime. She gave for the right reason, never expecting to receive anything in return. For that, for her life, and for her enduring spirit, this community is truly grateful." – Charlie Clement, chair of the music school's advisory board.
"Our university and this entire region of our state has lost a dear friend." – Chancellor Kenneth E. Peacock.