Community Music School
Welcome to the Community Music School at Appalachian State University! We offer group programs, ensembles, and private lessons for all ages. Tuition assistance options are available for our lessons and classes.
Summer Lessons: We offer private lessons online and at the Broyhill Music Center this summer! Learn more on our Registration page and reserve your time now.
Group programs will resume in the Fall.
Interested in music programs at the HUB Station? Take our Hudson Community Interest Survey and let us know what programs you would like to see at the HUB Station. See our current Hudson programs here.
Explore Our Programs!
Who We Are
The Community Music School is a non-profit organization that proudly serves Boone and the surrounding communities by making the musical arts accessible for people of all ages and backgrounds. We offer private music lessons, classes, ensembles, and community events. Connect with us at asucommunitymusic@appstate.edu or call us at 828-262-6629. Join us in making music and get involved!
Follow the Community Music School on Instagram and Facebook! @appcommunitymusic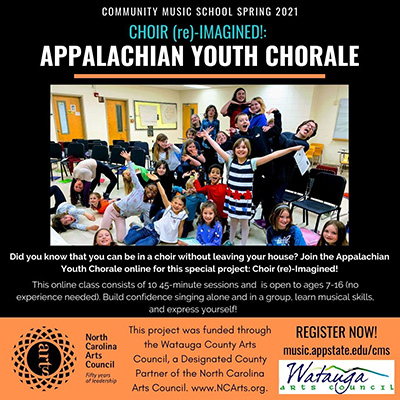 Thank You to the Watauga Arts Council and NC Arts Council!
The Spring 2021 semester of the Appalachian Youth Chorale was supported by a Grassroots Grant! This project was funded through the Watauga County Arts Council, a Designated County Partner of the North Carolina Arts Council (www.NCArts.org). CMS would like to thank Amber Bateman, Executive Director of the Watauga Arts Council, and the WAC team for making this grant possible!