Our Mission
Our mission is to transform lives through sustained and deeply engaging experiences in music. Appalachian State University Community Music School provides non-credit music instruction for children and adults in our local community as well as surrounding Western NC counties. We are uniquely able to combine university expertise with area teaching artists to provide outstanding musical training. Come and celebrate musical excellence with us!
New Offerings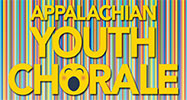 We're excited to be offering 2 new opportunities this semester!
Appalachian Youth Chorale - Does your child love to sing? Come try us out! No commitment for first 2 classes!
Piano Club - Small group classes to learn about the foundations of beginning piano
Lesson and Rate Information
Students/families will be able to register for a minimum of 3 lessons at a time. You can register for the number of lessons that you and your teacher agree upon during the initial consultation. Please remember to arrange and schedule lessons with your teacher PRIOR to registering. Throughout the year, students/families will be able to add lessons to their registration at no additional registration fee cost as needed and determined in consultation with your teacher.
Tuition Assistance
We do offer payment plans, & assistance; your balance does not need to be paid all at once!
Our assistance funding comes primarily through donations. We appreciate your honesty about your needs, as we have limited funds and want to make these programs possible for the maximum number of families.
The application for tuition assistance is included during registration. Please email CMS director for any additional questions, Dr. Nicole Sonbert (sonbertn@appstate.edu).
Location & Contact
Lessons take place at 134 Doctor Drive, Boone, NC 28607
If you are working with an App State Faculty member, these lessons will be held in their office on campus in the Broyhill Music Center
The Appalachian Youth Choir will take place in the Broyhill Music Center Room 225.
Piano Group Class will take place at 134 Doctor Drive, Boone, NC 28607
Physical Address:
134 Doctor Drive
Boone, NC 28607

Director: Dr. Nicole Sonbert, sonbertn@appstate.edu
Find us on Facebook