Welcome to the ASU Community Music School!
Welcome to the ASU Community Music School! We offer private lessons, the Appalachian Youth Chorale, Piano Club, and more programs to come in the future. Browse the links in the sidebar to learn about our programs and policies.
Our Mission
We provide OPPORTUNITY
We, in collaboration with the Hayes School of Music, provide access to a quality music education for people of all ages and all socioeconomic status in Boone and surrounding areas.
We focus on ENGAGEMENT
We focus on engaging and partnering with the community to cultivate and nurture creativity and a passion for music
We strive to EMPOWER
We strive to empower the individual while embodying a dynamic community of diversity and inclusion.
We create MUSIC
We create an artistic environment of acceptance, musical exploration, while embracing the integral role of music in our lives.
Appalachian Youth Chorale Registration Now Open!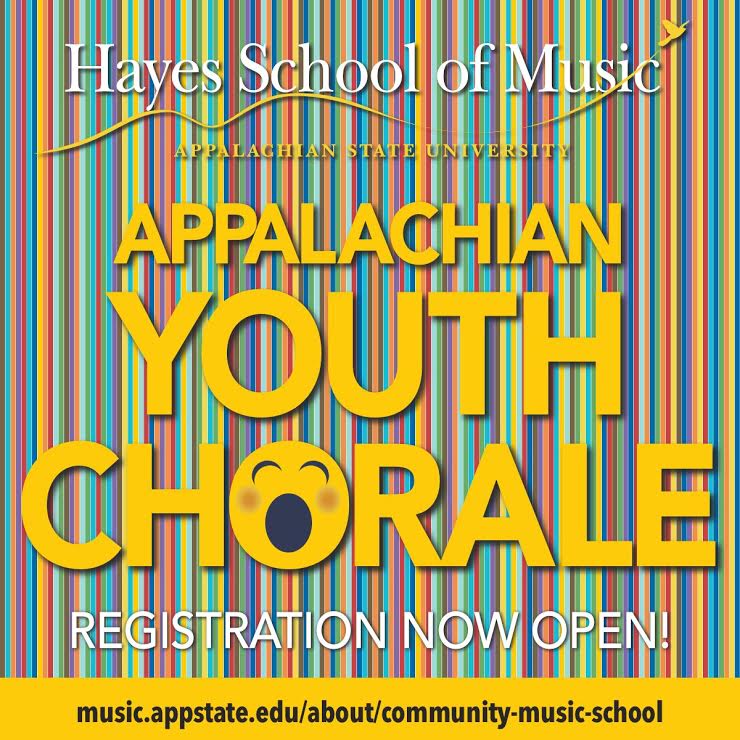 Please Come, One and All!
Appalachian Youth Chorale's first rehearsal of the spring semester will be at 6:00pm on Monday, January 27th in Room 225 Broyhill Music Center, ASU. All students ages 7-14 are welcome to join!
Haven't registered? Come give us a try - no commitment for the first 2 rehearsals!
Click here to learn more about AYC!
Private Lessons
Individual lessons are offered in piano, voice, guitar, violin, viola, cello, clarinet, flute, saxophone, trombone, trumpet and drum set/snare. Learn more about private lessons and how to register!
Tuition Assistance
We do offer payment plans, & assistance; your balance does not need to be paid all at once!
Our assistance funding comes primarily through donations. We appreciate your honesty about your needs, as we have limited funds and want to make these programs possible for the maximum number of families.
The application for tuition assistance is included during registration. Please email CMS director for any additional questions, Dr. Nicole Sonbert (asucommunitymusic@appstate.edu).
Location & Contact
Lessons take place at 134 Doctor Drive, Boone, NC 28607
If you are working with an App State Faculty member, these lessons will be held in their office on campus in the Broyhill Music Center
The Appalachian Youth Choir will take place in the Broyhill Music Center Room 225.
Piano Group Class will take place at 134 Doctor Drive, Boone, NC 28607
Physical Address:
134 Doctor Drive
Boone, NC 28607

Director: Dr. Nicole Sonbert, asucommunitymusic@appstate.edu
Find us on Facebook