Community Music School
Welcome to the Community Music School at Appalachian State University! We offer group lessons for students 5-18 and private lessons for all ages. Tuition assistance options are available for our lessons and classes.
During our Summer term (June 1 - July 30) we offer private lessons for all ages (but no group programs).
Students can choose to have 4 or 8 lessons. Registration is open through July 2.
Some teachers will be offering in-person lessons at the Broyhill Music Center! Online lessons are still an option as well.
Cannon Music Camp and the Community Music School
The Community Music School (CMS) is proud to offer online private lessons with Cannon Music Camp faculty this summer! These experienced teachers, many of whom are App State faculty, will offer private lessons through the regular CMS registration process.
In addition to private lessons through CMS, Cannon Music Camp will be offering free online masterclasses for high school music students. No registration or sign-up is required for these masterclasses. Classes will be available in July on the camp website. For more information visit cannon.appstate.edu This summer's Cannon Music Camp masterclass offerings will have a special focus on North Carolina All-District/State Band, Honors Orchestra, and Honors Choir auditions for 2021-2022 for those areas, as well as offerings for piano and guitar.
The following Cannon Music Camp faculty and App State professors will be offering private lessons through the Community Music School this summer:
Dr. Nancy Bargerstock, violin
Dr. Joseph Brown, trombone
Dr. Gennard Lombardozzi, voice
Dr. John Ross, clarinet and conducting

Dr. Nancy Schneeloch-Bingham, flute
Dr. Nicole Sonbert, voice
Dr. Meg Stohlmann, voice
Dr. Bethany Wiese, tuba
RJ Wuagneux, guitar and music theory
Have a question? Connect with us at our office hours or by email!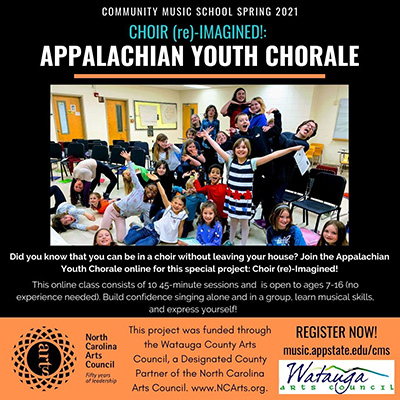 Thank You to the Watauga Arts Council and NC Arts Council!
The Spring 2021 semester of the Appalachian Youth Chorale was supported by a Grassroots Grant! This project was funded through the Watauga County Arts Council, a Designated County Partner of the North Carolina Arts Council (www.NCArts.org). CMS would like to thank Amber Bateman, Executive Director of the Watauga Arts Council, and the WAC team for making this grant possible!

Who Are We?
The Community Music School is a non-profit organization that proudly serves Boone and the surrounding communities by making the musical arts accessible for people of all ages and backgrounds. We offer private music lessons, classes, ensembles, and community events. We invite you to learn more about our programs and events. Contact us for more information by emailing us at asucommunitymusic@appstate.edu or call us at 828-262-3029. Join us in making music and get involved!
Connect With Us
Follow the Community Music School on Instagram and Facebook! @appcommunitymusic